Festival boosts exchanges between Australia and China
Share - WeChat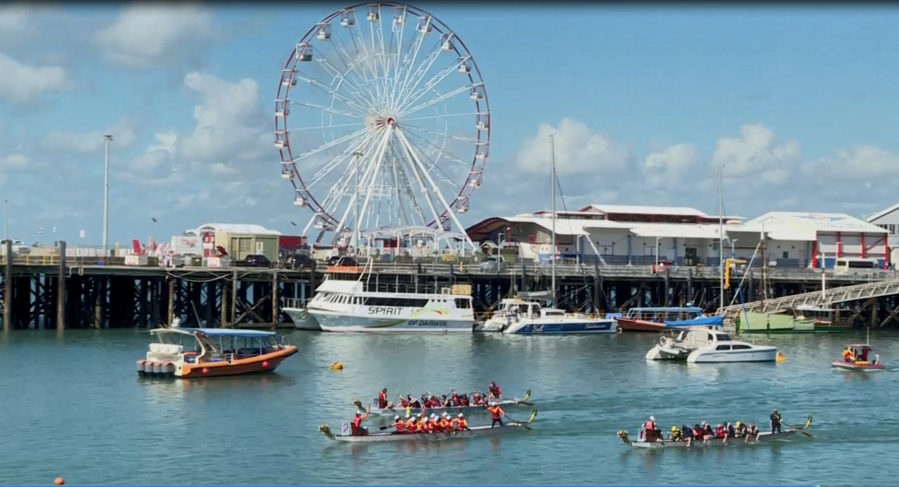 DARWIN, Australia — The first Darwin International Dragon Boat Festival opened on Sunday, promoting sports and cultural exchanges between Australian and Chinese cities.
The festival features two-day activities, including a dragon boat race on Sunday and the Darwin International Trade Show on Monday.
Three teams from Australia and two teams from China's Guangzhou and Qingdao, respectively, participated in the 200-meter race at Darwin Waterfront.
The team from Guangzhou, the capital of China's Guangdong province, won the race after several rounds of competitions.
Kon Vatskalis, lord mayor of Darwin, told Xinhua that the dragon boat race, a traditional event in China, has also become very popular in Darwin.
"We've got a big thriving Chinese community that contributes a lot to our territory. They brought with them the traditions, the customs, and of course, the dragon boat is one of the customs. So we had the races many times in the past," he said.
"It's going to be fun, but at the same time, this event will bring people from different nationalities together."
Vatskalis said Darwin, a multicultural city that has got 120 different nationalities, invited sister and friendship cities from around the world to join the event.
John Holland, chair of the Australian Dragon Boat Federation, told Xinhua that the sport was loved in the country.
"It's an outdoor sport. It's a water sport, and very popular with women. We have more women than men as members," he said.
Zhao Rongrong, the leader of the Guangzhou team, said she was happy with their performance and it was a good experience in Darwin.
While addressing the opening ceremony on Sunday, the Chinese Ambassador to Australia Xiao Qian said as the Dragon Boat Festival was approaching, the event would enable more Darwin people and tourists to appreciate the elegance of Chinese culture.
Xinhua