Turkiye's Erdogan continues to face challenges in ties with NATO allies after re-election
Share - WeChat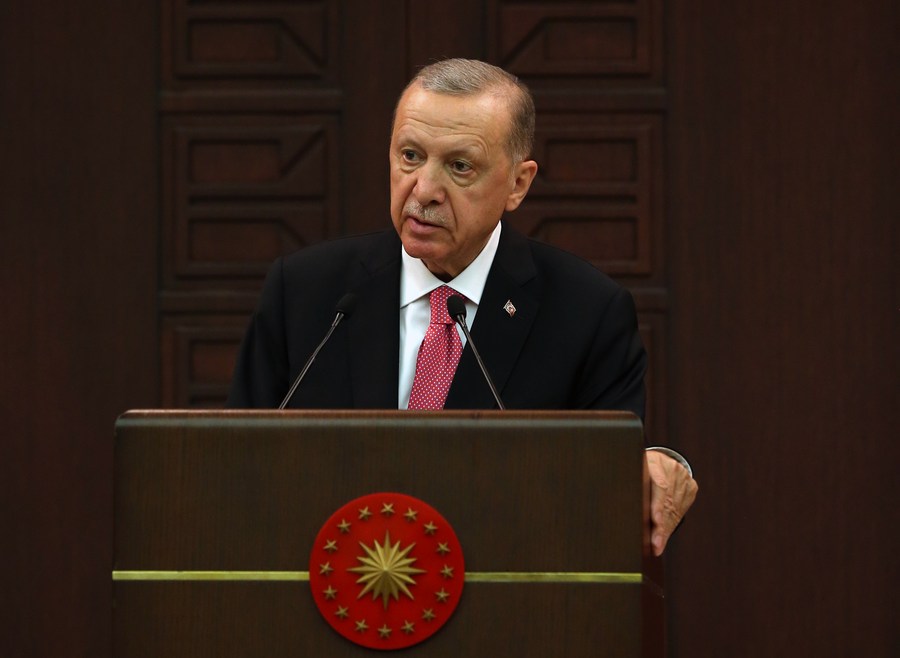 ANKARA - Turkiye's relationship with NATO allies following the re-election of President Recep Tayyip Erdogan for five more years is likely to remain challenging, experts said.
Erdogan won his third presidential term in an election runoff on May 28, which is considered a substantial force in how Turkiye-West ties would stay and change, especially at a time when its relations with the United States, a major NATO ally, are fraught.
Since US President Joe Biden took office in January 2021, his administration has kept its distance from Turkiye mainly because of the latter's increasing cooperation with Russia, a trend that disturbs many Western officials and NATO.
Turkiye's decision to oppose Sweden's NATO membership bid has also impacted Ankara's relationship with the United States and other members of the Western defense alliance.
"A crisis seems to loom in Turkiye-NATO relations around Ankara's decision to stall Sweden's bid to join the alliance," Serkan Demirtas, an Ankara-based foreign policy analyst, told Xinhua.
Turkiye has "legitimate security concerns" over the Nordic country's accession to the alliance and is expecting more despite Stockholm's legal efforts to satisfy its demands, Demirtas noted.
"We will soon know if Ankara is satisfied or not, but a deadline is approaching," the Turkish analyst said, referring to the alliance's summit in Vilnius, Lithuania, in July, where NATO wants to finalize Sweden's admission process.
Some experts believe that a compromise may be forthcoming after a phone call from Biden congratulating Erdogan on his re-election touched upon NATO expansion.
The two presidents "expressed their shared commitment to continue working together as close partners to deepen cooperation between our countries and people. They also discussed their readiness as NATO Allies to address regional and global challenges, including strengthening transatlantic security at the NATO Summit in Vilnius," said a White House issued on May 29.
"I suspect that Erdogan will ratify Sweden's membership until the NATO summit. In this way, the Erdogan administration will want to make progress on the F-16 warplanes it wants to buy from the US," Moscow-based Turkish analyst Kerim Has told Xinhua.
Despite Ankara and Washington repeatedly denying Turkiye's approval of Sweden's bid is a quid pro quo for buying more US arms, Has argued that the two issues are connected.
Being kicked out of the F-35 fighter jet program by Washington for purchasing Russian S-400 missiles, Ankara has sought to buy more F-16 jets, but the request has been pending for months with the Biden administration and US Congress.
For Has, the Turkish leader has pushed the issue about as far as he can, and may finally concede to a compromise, given his country's economic problems which could prompt him to adopt a conciliatory approach in the hope of securing much-needed capital.
Ankara ratified Finland's NATO bid in March but is still reluctant about a similar bid from Sweden over the country's alleged support for Kurdish militants considered by Turkiye "terrorists."
For Washington, the accession of the two Scandinavian states to the alliance is a must amid the Russia-Ukraine conflict since it increases NATO interoperability.
On May 31, US Secretary of State Antony Blinken urged Turkiye to finalize Sweden's accession to NATO, saying the Nordic country had already taken significant steps to address Ankara's objections.
A foreign diplomat based in Ankara whose country is a NATO member told Xinhua that Turkiye will remain a "crucially important member, despite frustration from the alliance."
"The relationship is complicated and will remain to stay so," the source said on condition of anonymity.
According to Tulin Daloglu, an independent analyst based in Ankara, given Turkiye's growing geostrategic importance amid Russia's special military operation in Ukraine, "the current strained but manageable relations will continue as it is for the foreseeable future".
"The US-dominated NATO decision-makers want Sweden to join the club as soon as possible. Turkiye is not against this membership or NATO's open door policy," she told Xinhua.