Xiconomics: China's green development philosophy is contributing to global sustainable growth
Share - WeChat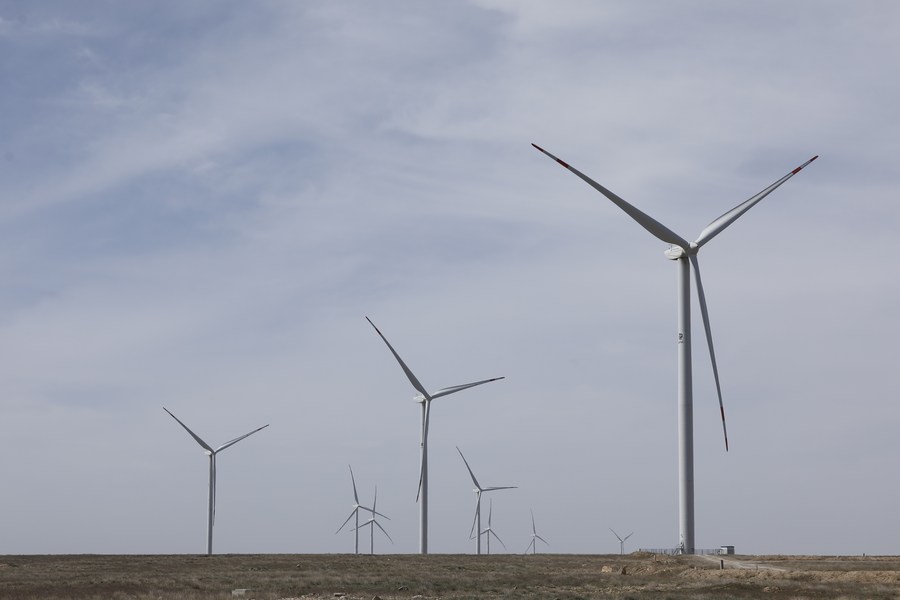 BEIJING - The life of Maksat Abilgaziev, a resident of Zhanatas, a small town in southern Kazakhstan, has changed immensely since a Chinese company built a wind farm there a few years ago.
The 33-year-old was once an electrical engineer at a local phosphate mine company. Believing the future of his homeland and Kazakhstan lies in clean energy, especially wind energy, he quit the job in 2020 and became a wind power engineering trainee at the Zhanatas wind farm.
"Our Chinese friends have brought equipment, investment, technology and experience to Kazakhstan. They have also cultivated clean energy talents in our country. The wind power projects have created jobs and tax revenues for Zhanatas, bringing the town back to life," said Abilgaziev, who has been promoted to senior maintenance engineer with an income that more than doubled in three years.
This is one example of China's efforts to bolster global sustainable development over the years. The world's second-largest economy has increased its green areas at home and contributed to global sustainable growth.
PIONEERING GREEN ACTIONS
For some time, better air quality was widely expected among residents of smog-shrouded north China in winter.
Over the past decade, Chinese President Xi Jinping has led the country in an unswerving fight against pollution, rolling out effective measures, including publishing an action plan on the prevention and control of air pollution and increasing the supply of clean energy.
Air quality is crucial to the people's sense of happiness, Xi said in a discussion with national legislators from Southwest China's Guizhou province in 2014.
Today the blue skies are back, and city dwellers are breathing noticeably cleaner air. China's PM2.5 density fell 57 percent from 2013 to 2022, and its carbon dioxide emissions per unit of GDP declined 34.4 percent. The country's annual number of days with serious air pollution dropped sharply by 92 percent.
"China will prioritize ecological protection, conserve resources and use them efficiently, and pursue green and low-carbon development," Xi said at the opening session of the 20th National Congress of the Communist Party of China last year.
For years, China has placed a high value on ecological conservation, with a commitment to protecting natural resources. As a result of decades of efforts, tangible achievements have emerged in forestation, wetlands and biodiversity protection, bolstering the country's green credentials.
Take afforestation. The country has created the world's most extensive planted forest area, doubling its forest coverage rate from 12 percent in the early 1980s to 24.02 percent in 2022.
The country's afforestation area reached 960 million mu (64 million hectares) over the past decade. A 2019 finding published in Nature Sustainability showed that at least 25 percent of the foliage expansion since the early 2000s globally came from China, based on data from NASA satellites.
Thick forests have also become a substantial source of revenue for locals. Last year, the output value of China's forestry and grassland industry reached about $1.18 trillion, while the foreign trade volume of forest products was 191 billion dollars.
Neak Chandarith, director of the Cambodia 21st Century Maritime Silk Road Research Center, hailed China as a green development leader. "The Chinese government sees green development and environmental protection as top priorities as these strategies have been integrated into all of the country's socio-economic development plans," he said.