Thai produce sees growing China appetite
Share - WeChat Editor's note: This year marks the 10th anniversary of the launch of the Belt and Road Initiative. A decade of practice has demonstrated that it's a broad and prosperous way for China and the world to share opportunities and seek common development. In a more than 10-part series, China Daily finds out how the road of peace, prosperity, openness, green development, innovation and civilization will contribute more to the shared future of mankind.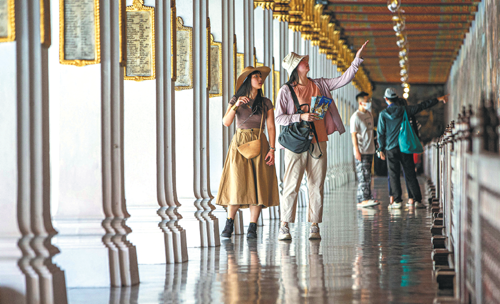 Exporters of tropical fruits such as durian eye stronger trade with key market
Since late April, Wootichai Kunjet has been in his annual "super busy" mode, monitoring daily precipitation waterfall and soil quality. The 40-year-old Thai national is not a scientist, but a durian farmer who is eyeing his first truly fruitful harvest season in three years as the sector shakes off the effects of the COVID-19 pandemic and returns to normal in international trade.
Owning a durian orchard of 14.4 hectares, Wootichai makes an annual gross income of 10 million Thai baht ($296,150) from the thorny fruit. With an output of about 150 metric tons of durian a year, his orchard is located in Chanthaburi, an eastern Thai province that is famous for durian and other tropical fruit such as mangosteen, rambutan and longan.
Like most other farmers in the province, Wootichai's biggest market is China.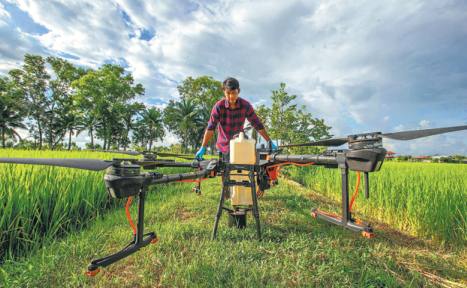 Many farmers in Chanthaburi speak at least a little Chinese. Apart from nihao (hello) and zaijian (goodbye), "haochima? (yummy?)" is among the oft-spoken Chinese words.
Wootichai, who is the president of the Thai Durian Association, said about 80 percent of durians in Chanthaburi were exported to China and that the trading volume has kept growing in recent years.
"Chinese market provides Thai fruit farmers stable incomes. The (Chinese) enthusiasm for durian has reshaped the orchards in Chanthaburi. In the past 10 years, durian orchards (increasingly) replaced those for other fruits as people see durian (as) more profitable," he said.

Wootichai's family has been growing durian for three generations. "Compared with the older generation, we are more focused on the fruit quality instead of the quantity," he said, taking out an iPad and showing a system that collects data on two key indicators — water amount and soil nutrients — in his orchard, that provide guidance to workers on how much extra water and fertilizers are needed for optimum crop yield.
The monitoring system was procured from Austria. Wootichai said the younger generation is opting for smart farming and more scientific inputs.
"The ultimate competitive power is the taste of the durian. The best durian grows under the best environmental conditions… The greatest durian tastes creamy with a concentrated flavor and rich nutrition, and that should be guaranteed by scientifically guided caring," he said.
A report by Chinese e-commerce giant JD last year suggested that durian was most popular among young people, with over 60 percent of the fruit in China being bought by consumers aged between 16 and 35.
Consuming power
"This spiky fruit with high nutrition is believed as the 'Fruit King' and welcomed by Chinese people, especially the younger generation. To some, eating durian is not simply a taste of tropical fruit, but a way of showing their consuming power," said Zhang Jingming, a Chinese durian trader in Chanthaburi.
Durian is the No 1 imported fruit in China. Data from Thailand's commerce ministry show that China was the largest export market for Thai durian last year, accounting for more than 96 percent of the total export volume, valued at $3.09 billion.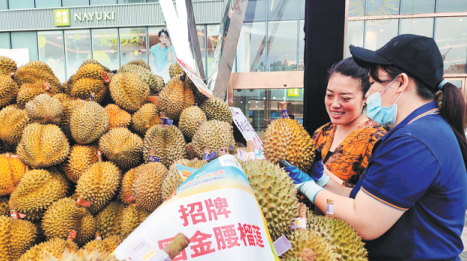 Thailand's Ministry of Agriculture and Cooperatives estimated that the exports are expected to grow 9.8 percent this year, reaching a value of 120 billion baht.
According to Keerati Rushchano, permanent secretary of Thailand's Ministry of Commerce, fresh fruit exports to China are anticipated to increase by at least 10 percent this year based on better land transport flow as cross-border trade facilitation improves.
He said the transport of fresh fruit across land borders is expected to increase significantly, with durian accounting for 80 to 90 percent of the transported fruit.
Durian exports to China had suffered from unstable prices over the past three years due to logistics problems from the impact of COVID-19, said Kamon Poomipongthai, representative of the Modern Age Fruit Trade Association in Chanthaburi.
The association has exported about 100 containers of fresh fruit to the Chinese mainland. For premium products, airfreight is their main choice despite the high costs, which could be nearly triple compared to transporting by sea or by land.
"Taste is the biggest value of fresh fruits. Chinese demand for premium Thai fruits is driven by the quality, which can only be guaranteed by the logistics," Kamon said, while expressing confidence about the prospects of railway logistics as the China-Laos-Thailand Railway is speeding up construction on the Thai section of the cross-border rail link.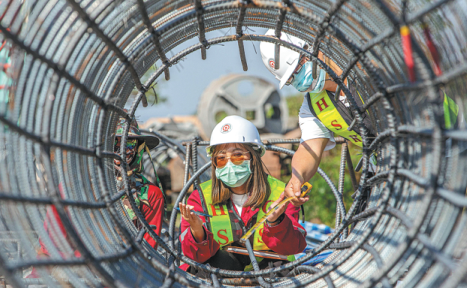 Under the Belt and Road Initiative, or BRI, proposed in 2013, the rail link will be an important connection between China and Southeast Asia for boosting personnel exchanges, trade and other communications among countries along the railway.
According to data from the World Bank, the China-Laos Railway has significantly reduced land transport costs by as much as 40 to 50 percent between Laos' capital city of Vientiane and China's Yunnan provincial capital city, Kunming, and potentially increased the aggregate income of Laos by up to 21 percent after connecting the landlocked country to the vast Belt and Road network.
As a member of ASEAN, which has a free-trade agreement with China, Thailand enjoys a preferential policy that allows products, including fresh fruits, to enjoy tariff-free status. The China-Laos-Thailand rail route runs south from Vientiane, crosses the border to Thailand at Nong Thai, and its free trade zone, and continues to Bangkok, the country's capital, which is about a three-hour drive from Chanthaburi.
"The initiative is very important to Thailand, which is accelerating the implementation of the Thailand 4.0 strategy and the Eastern Economic Corridor, emphasizing economic integration and all forms of development through the use of innovation, knowledge and creativity," said Korn Dabbaransi, former Thai deputy prime minister and president of the Thai-Chinese Friendship Association.
For Thailand, the BRI helps to restore the economy with new engines of growth, he said. And the infrastructure and regulatory linkages facilitated by the subregional framework of Cambodia, Laos, Myanmar, Vietnam and Thailand through the BRI are expected to enhance regional economic integration and better connect the ASEAN with the global economy.
"The improved infrastructure construction and strengthened bilateral trade between Thailand and China will definitely (bolster) the two countries' demand and supply chains," said Ukrit Wongthongsalee, chairman of the Chanthaburi Chamber of Commerce.
He said that Chinese consumers are aware of only a limited number of durian types, such as the Monthong or Jin Zhen Tou (Golden Pillow).
"In fact, there are hundreds of durian species in Thailand, with each having its (own) unique flavor and taste that deserves a place in the Chinese market," he said, citing names such as Nokyip (a species widely appreciated by local Thai people), Ganyao, Chanee, and Puangmanee (a species that has a taste very similar to that of the Musang King variety in Malaysia).
"For some species, such as Chanee, the golden taste period only has one day. If you have tried Chanee at its golden period once in your lifetime, you will never forget it," Ukrit said.
"We really want to communicate with Chinese consumers more, bringing them informative knowledge and greater diversities of Thailand durian, which is more than just a fruit but a fantastic creature of Mother Nature," he said.
Promising opportunities
Speaking of the outlook for the province's future trade with the world, and China in particular, Ukrit said the BRI will bring promising opportunities to Chanthaburi, known as the "Paradise of Tropical Fruit in Thailand" — with more overseas consumers.
"Our future strategy is to be diversified and sustainable. Durian is our signature product, but definitely not the only one. The orchards of mangosteen, rambutan and longkong will enjoy a bigger share of the market with their premium taste," he said.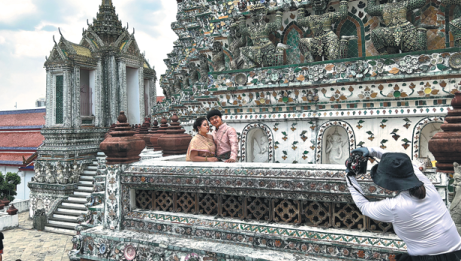 Ukrit said more innovations and high-tech should be introduced to make the business sustainable, to explore new processed food products using fresh fruits or recycling the "waste" of fruits — such as shells of durian and pericarp (outermost layer) of mangosteen for their fibers.
"We know that China has very advanced technologies, which we are looking forward to benefiting the fruit industry in Chanthaburi in the near future," he said.
Before achieving the goal of shaping an ideal industrial structure, Ukrit said his business chamber is looking into other more immediate concerns. He said the Thai farmers are currently vulnerable to price fluctuations in the Chinese market, as they do not have a proper risk alert and evaluation system.
Given that situation, some local farmers had piloted a new mechanism — establishing a mangosteen auction center — to make the fruit trade more controllable. The initiative has yielded significant results, according to Ukrit.
The auction center, which was built in 2016, serves as a transparent trading platform for farmers and buyers. Starting from 4 pm every day, orchard owners send fresh mangosteen to the center, which has workers who conduct general selection and classification.
Preparation work for the auction usually ends at around 7 pm. Then, the center comes up with a table of prices for mangosteen with different qualities based on the daily supply. After that, fruit dealers can participate in the auction in accordance with their needs.
Compared with the traditional direct dealing, the auction system has changed the farmers' role from passive to active, as they have a certain say on the price, said Pattama Namwong, president of the Chanthaburi Mangosteen Association, adding that this can "largely reduce" the farmers' risk.
New dealers usually visit the center to confirm the mangosteen quality, she said. But in the case of experienced dealers, they can simply make the deal via phone, which is very convenient.
From a very small group supported by orchard owners, the center has grown to emerge as a big auction center with collective efforts of more than a hundred members, Pattama said, adding she is happy to see farmers benefiting from the scientific management of their produce.
She said about 98 percent of mangosteen in Chanthaburi is exported to China every year. Due to climate reasons, output this year will see a drop, which means higher prices.
"As the Thai-China bilateral trade has gradually recovered and logistics is improving, we are optimistic (about) the future," Pattama said.