Lao students visit Beijing as part of BRI activity
Share - WeChat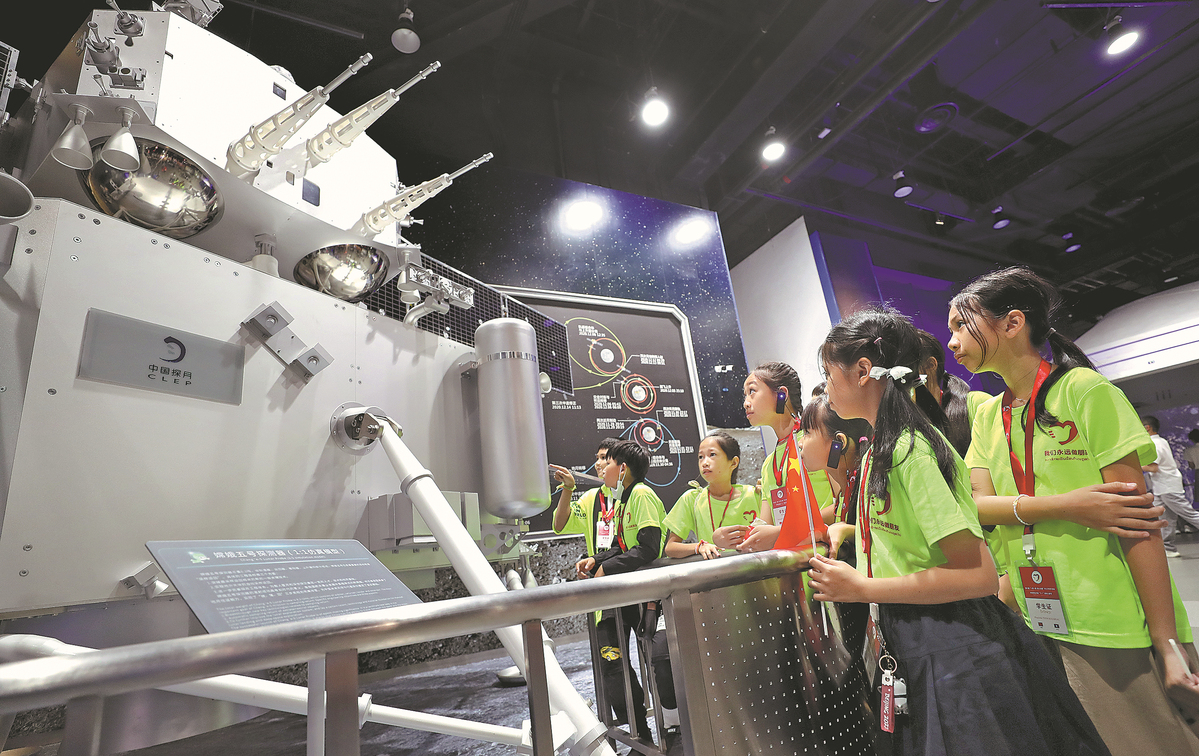 One hundred Laotian students age 10 to 12 gathered at the China Science and Technology Museum in Beijing on Wednesday to learn about the nation's scientific and technological achievements.
It was the latest stop on the children's 16-day journey in China aimed at promoting exchanges and mutual understanding between children from both countries.
Part of the sixth "Belt and Road People to People" activity, the visit was co-hosted by the China Charity Federation and the Laotian Ministry of Education and Sports, and coincided with the 73rd International Children's Day.
Zhou Zhifen, secretary-general of the news volunteer charity promotion committee of the China Charity Federation, said the activity gave the children a chance to make friends, and that hopefully they will contribute to the development of the Belt and Road Initiative.
"Our goal is to play our part in the friendly exchanges between Chinese and Laotian people," Zhou added.
Keota, a Laotian student, was excited after taking a ride in a two-person gyroscope machine called a Space Ring, which evolved from a simulator used during pilot and astronaut training.
"It's scary but fun, and I am not afraid. I was told that Chinese astronauts' training is 10 times as intense as it is now. That's impressive. It proves that they are healthy and strong," she said.
"China and Laos cooperate in space programs. I hope one day I can become an astronaut and, on behalf of Laos, enter China's space station. It's very challenging and exciting. I hope I can make it," she added.
Lautdaphon and Souksombath, two other Laotian students, said they had only seen exhibitions on China's space technologies and achievements on television before and were happy to experience them in real life.
Sayakone, one of the leaders of the Laotian group, told China Daily that children are very interested in such aerospace technologies.
"I am quite interested in satellite technology, including satellite models and pictures of their development," he said. "I can clearly see the process from production to application. These technologies and materials are not available in Laos."
The students traveled to China via the China-Laos Railway, a flagship project under the BRI, from Vientiane, capital of Laos, to Yunnan province on May 23.
They have since visited Xishuangbanna Dai autonomous prefecture and Kunming in Yunnan, and then Beijing. Next, they will travel to Xi'an in Shaanxi province, Xiamen in Fujian province and Guangzhou in Guangdong province.
Organizers of the activity, which was initiated in 2018, originally invited students from nine BRI countries to China to make friends with Chinese students that year and in 2019. Over the next three years, they sent health packages to students from BRI nations to help them fight COVID-19.