Origami snail leaves record trail
Share - WeChat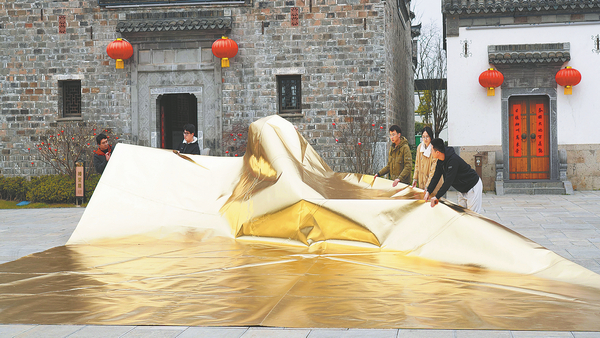 Pei adds that the stylistic challenge of this artwork lies in the need to fold the rotating and interlocking spiral shell layer by layer, following the pattern of the Fibonacci sequence.
The paper must achieve a self-locking state, meaning it should maintain structural stability and tightness without relying on external forces.
Faced with such challenges, Pei embarked on numerous calculations, analysis, experiments and adjustments. Only then did he successfully design a structurally sound and aesthetically stable artwork, ensuring that it maintained its enormous volume while possessing intricate details and exceptional precision.
Pei also invited an expert team to provide scientific analysis, surveying and calculations as professional guidance for his Guinness World Record push.
Russian origami engineer Andrey Ermakov, one of the experts on the team, says, "Creating a 3D origami piece with such a complex spiral structure demands an incredible level of creativity, precision and patience. It embodies the allure of folding and stands as a genuine masterpiece".
Earlier this month, this innovative artwork found a permanent home in China's Gaochun International Cittaslow in Nanjing.
Nanjing is also the origin of Chinese gold foil. In 2006, Nanjing's gold-foil forging technique was included in the government's first national intangible cultural heritage list.
The crafting process of the paper is a meticulous art, in which thousands upon thousands of gold-foil pieces are painstakingly applied by hand onto the surface of cowhide paper.
The paper's dual sides not only correspond well to the snail's shell and body, but also create a striking contrast between the rustic hues of handmade paper pulp and the resplendent, golden shimmer of the foil.
"In addition to being an intangible cultural heritage, gold-foil paper also symbolizes the preciousness and beauty deep within people's hearts.
"Therefore, I hope that everyone who sees this artwork can perceive the flickering light within their own hearts, pursue their most sincere and genuine passions, and cherish every precious moment in their lives," Pei says.
Contact the writer at liyingxue@chinadaily.com.cn
Most Popular