Xi greets Bangladeshi girl delivered by Chinese medics
Share - WeChat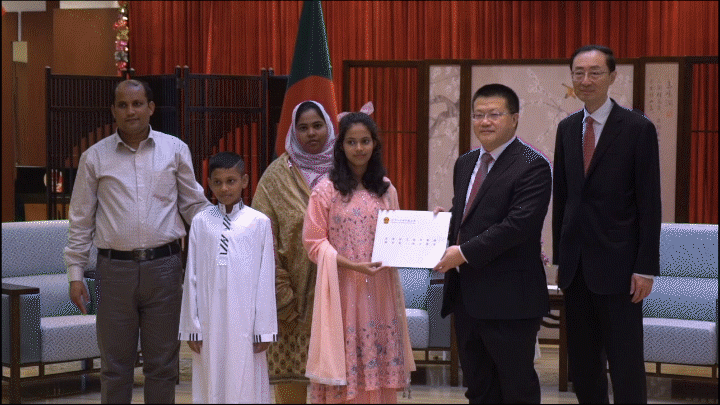 President Xi Jinping has encouraged a Bangladeshi girl, who was delivered with the help of doctors from a visiting Chinese Navy hospital ship in 2010, to study hard and help promote the traditional friendship between China and Bangladesh when she grows up.
In a reply letter to Alifa Chin, which was published on Wednesday, Xi noted that her story, shared by her in a letter, is a good example of that friendship and said that since ancient times, the Chinese and Bangladeshi peoples have been close neighbors and good friends, whose friendly exchanges date back over 1,000 years.
Xi said that more than 600 years ago, Chinese navigator Zheng He of the Ming Dynasty (1368-1644) sailed twice to Bangladesh, sowing the seeds of friendship between the two peoples.
Over 600 years on, the Chinese Navy and its Peace Ark hospital ship set off on a friendship and humanitarian voyage and wrote a touching chapter of China-Bangladesh friendship in the port city of Chittagong, he said.
In 2010, when the hospital ship was visiting Chittagong to provide free medical services to local people, Chin's mother, Jannatul Ferdous, who was pregnant and diagnosed with a serious heart problem, was in a critical condition.
After receiving a call for help from local doctors, military doctors from Peace Ark performed a caesarean delivery on Ferdous, who gave birth to Chin. Both the mother and daughter were safe.
In a show of gratitude, Ferdous' husband Anwar Hossain named the baby girl "Chin", which means "China" in Bengali.
Chin's bond with China continued when she and her parents reunited with the Chinese medical staff during the hospital ship's visits to Bangladesh in 2013 and 2017. She also traveled to China and was impressed by the nice Chinese people that she had met, according to media reports.
In her letter, Chin told Xi that she wants to study medicine in China in order to save others' lives just as her "Chinese mother", who helped with her mother's delivery, had done.
Xi said he was glad to know that Chin is determined to be an envoy of friendship between the two countries when she grows up.
Expressing his hope that Chin will make the best use of her youthful years and study hard to make her dream come true, Xi said that by then she will be able to give back to her family, contribute to society and serve her country.
As International Children's Day falls on Thursday, Xi also wished Chin good health, a happy family and every success at school.
Peace Ark is a purpose-built hospital ship equipped with cutting-edge medical technologies. With more than 100 medical staff on board, it has multiple operating rooms, nursing stations and more than 300 beds, equivalent to a 3A-grade hospital.
Since it entered into service in 2008, the ship has visited 43 countries across six continents during its nine overseas missions and provided medical services to more than 230,000 local residents.