Xi: Speed up modernization of education
Share - WeChat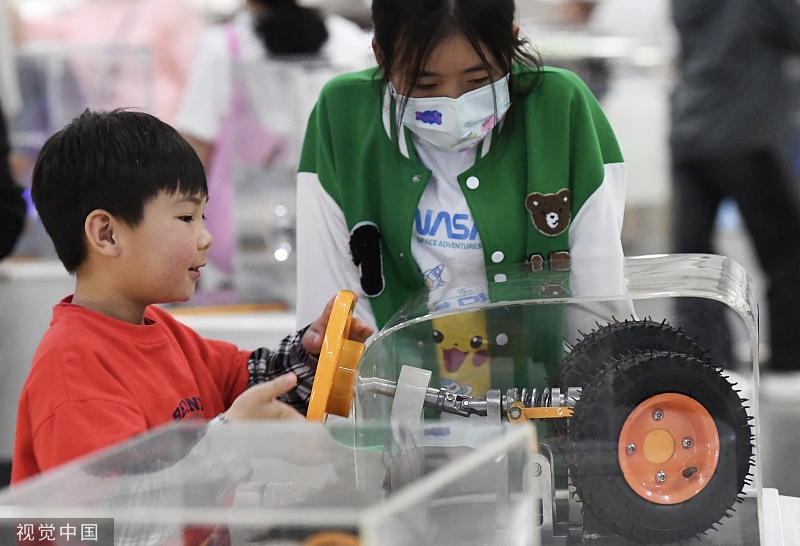 Xi Jinping, general secretary of the Communist Party of China Central Committee, has underlined the importance of building a strong educational system to serve the country's efforts in achieving scientific and technological strength and self-reliance, promoting common prosperity and realizing national rejuvenation.
He made the remarks on Monday when presiding over a group study session of the Political Bureau of the CPC Central Committee, the Party's central decision-making body.
Addressing the session, Xi said a thriving educational system makes a country prosper and called for efforts to fully implement the Party's guiding principles on education, develop education with a people-centered philosophy and accelerate the modernization of education.
Xi said the purpose of building a strong educational system is to ensure that there are qualified successors to carry forward the Party's cause and build China into a modern socialist country in all respects. In order to achieve this, efforts must be made to nurture generations of capable young people with a sound moral grounding, intellectual ability, physical vigor, aesthetic sensibilities and work skills, he said.
Noting that the cornerstone of building a strong educational system lies in basic education, Xi stressed the need to promote the high-quality development of universal preschool education that benefits the public, while accelerating high-quality and balanced development and urban-rural integration in compulsory education.
Xi said that basic education should not only help students build a solid foundation of knowledge but also stimulate their interest in pursuing science and exploring the unknown. It is important to view talent and education in a science-based manner and reverse the trend toward utilitarianism in education, he said.
A strong educational system is led by higher education, and the top priority is to speed up the development of world-class universities and strong disciplines with Chinese characteristics, Xi added.
He called for greater efforts to develop basic disciplines, emerging disciplines and interdisciplinary subjects with sights on the global frontiers of science and technology and the major needs of the country.
The transformation from a large-scale educational system to a strong one is a systematic leap that must be driven by reform and innovation, Xi said, and he stressed the need to resolutely break all ideological constraints and overcome institutional obstacles hindering the high-quality development of education.
Educational equity should be promoted in all aspects of reform in the education field, and the gap between urban and rural education should be narrowed in order to ensure that every child has access to fair and quality education, he said.
Xi also said that strategies regarding educational opening-up should be refined and world-class education resources should be better leveraged, thus building China into an important education center with strong influence globally.
He emphasized cultivating a team of teachers with professional integrity and abilities, fostering public respect for educators and encouraging public support for education.