Outdoor economy thrives as more people step out
Share - WeChat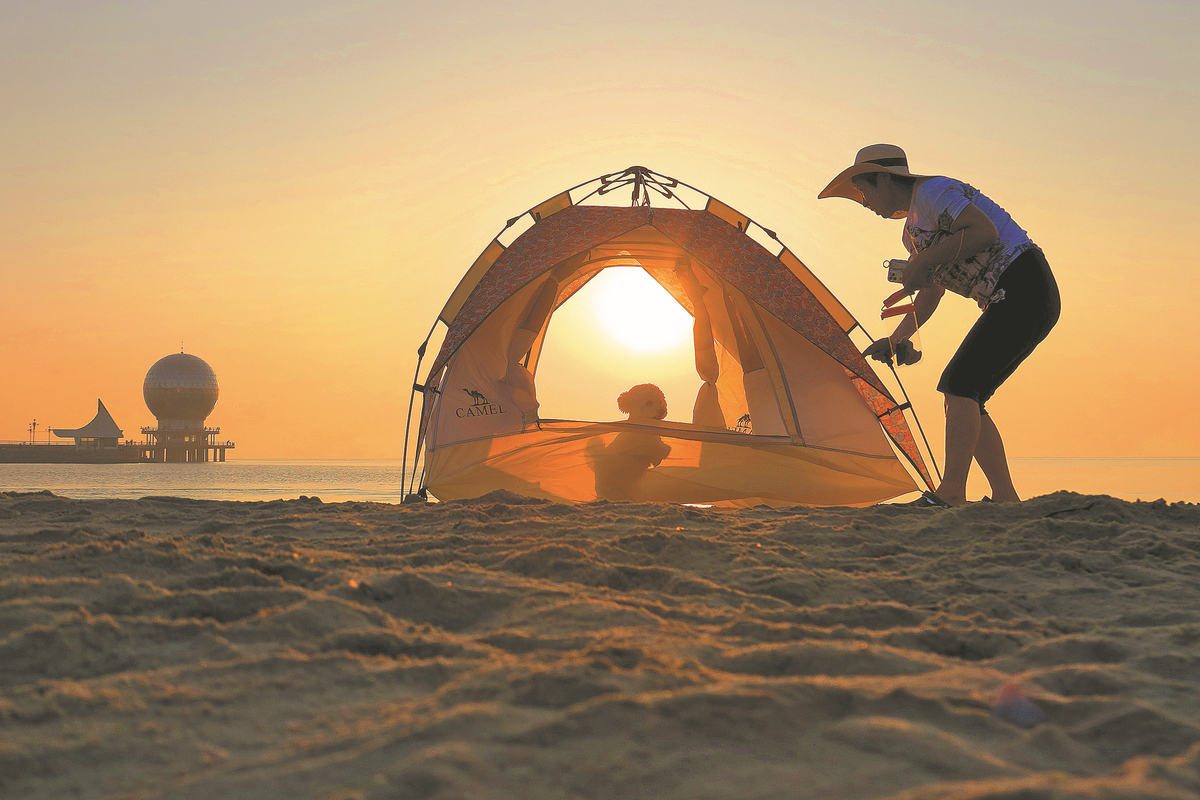 Camping sites, sports take center stage in tourism revival
More people are taking to hiking in the mountains or setting up campsites this summer, as they seek to stay healthy, beat everyday stress and foster ecological awareness.
This is creating more opportunities for the outdoor economy, including recreational tourism and outdoor sports.
Zhang Xingyu, 36, who grew up near the mountains of his hometown in Zunyi, Guizhou province, came to Shanghai in 2006 to study at the Shanghai Jiaotong University and has worked in the automobile industry there ever since.
Last year, memories of outdoor activities — catching fish and shrimp at a stream after school hours — came flooding back when Zhang, now the father of a four-year-old boy, went camping.
"Suddenly, I remembered what it was like to be a part of nature, in the fresh air and open spaces," Zhang said. "Camping has enriched our family life and brought us closer as father and son."
"To make fire with wooden sticks that I myself had sharpened was a real joy," he says. "People become more agile outdoors."
Since then, Zhang's family and friends have gathered almost every weekend to camp near the mountains or climb them. An outdoor gadgets collector, Zhang has spent almost 100,000 yuan ($14,159) on camping equipment, and a similar amount on clothing and shoes. "Every trip is a chance to discover something new to make our trip better," he says.
Many outdoor tracking routes and tourism destinations saw explosive growth of visitors during the May Day holiday, said Yu Ge, founder of Oasis Outdoor, an outdoor tourism company in Beijing.
"If in the past three years, camping was about parks and suburbs, in the first five months of this year, it is about setting up tents and traveling to farther destinations and tourism sites, such as Xinjiang Uygur autonomous region and Yunnan province," he said.
According to data from Ctrip, China's leading online tourism agency, reservations for camping tourism products climbed more than 100 percent in March compared to the prior month.
The popularity of camping and outdoor sports tourism has been most visible in big cities and hot tourist spots such as Shanghai, Sanya of Hainan province, and Guangzhou and Shenzhen in Guangdong province.
Qian Teng, 37, a former executive at an international hospitality chain who now owns a homestay in Miyun district of Beijing, said his business has been booming over the past three years as Beijing residents would stay there and go on fishing, hiking and mountain climbing expeditions.
Qian goes hiking with his daughter Qian Yuehan, 7, to the Great Wall and nearby mountains in Beijing during weekends. Four tents, including MSR, Hilleberg and The Free Spirits, two cookers, several alpenstocks and sleeping bags that he uses on various trips, are his favorite outdoor equipment.
"Outdoor tourism in China is still in its infancy, yet it has great potential," Qian says. "The younger generation, who face a lot of pressure from work and life, will find outdoor adventure a relaxation."