Tibet's cultural tourism receives help from upgraded facilities
Share - WeChat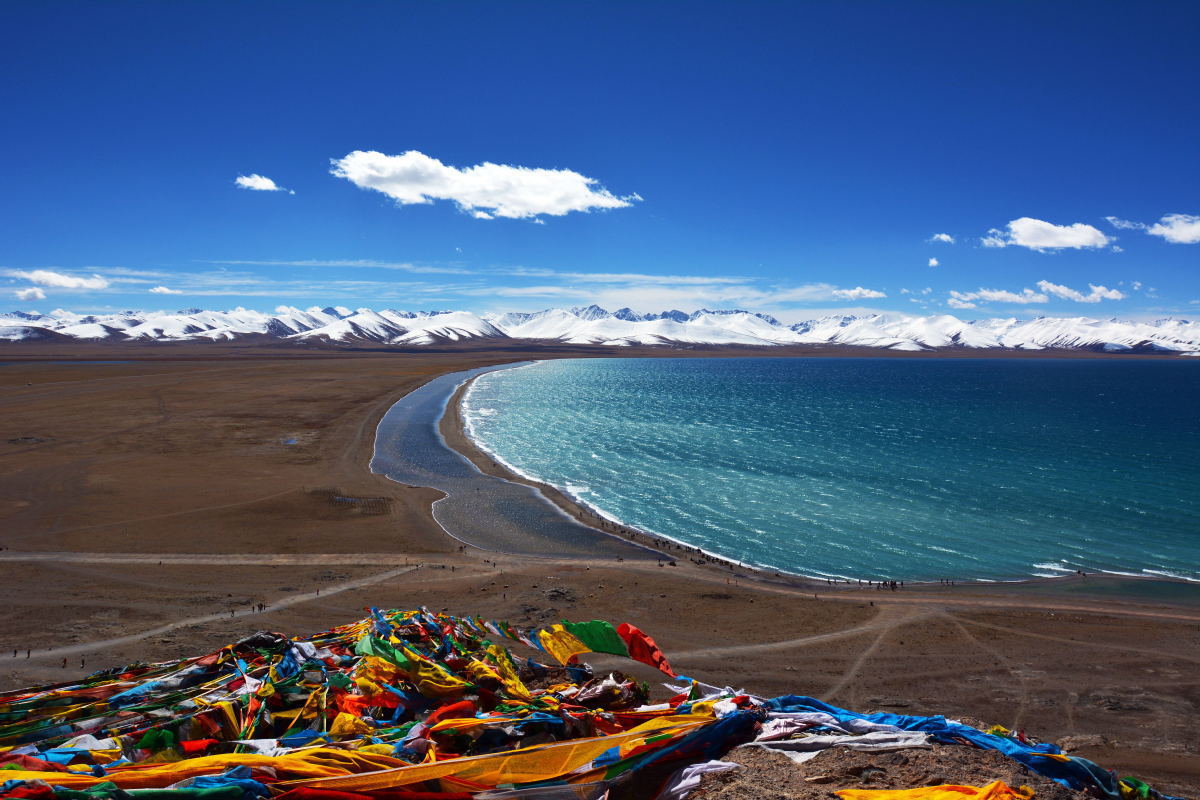 Tourism services have been largely upgraded and more rural villagers are engaging in cultural tourism activities to keep their culture alive while benefiting financially in the Tibet autonomous region, overseas guests found.
Enriched with beautiful landscapes and traditional culture, Nyingchi city of the region is a well-known destination for tourists from around the world.
As part of the 2023 Forum on the Development of Tibet, several overseas guests and domestic experts were invited to tour the region last week, taking an opportunity to learn about the overall development of the region.
Fiji's Ambassador to China Manasa R. Tagicakibau, one of the overseas guests, said tourism and culture are two sectors that usually go together. When tourists visit a certain area, they are not only eager to see the landscape but also the traditions, culture, history and people.
"They would like to see something different from where they come from, and the Tibetan culture is not the same as Fiji culture. They keep the culture alive by showcasing their traditions to the tourists," said Tagicakibau.
"Showcasing it to tourists is a way of maintaining it and they earn some money from doing it," he said.
Frank Sieren, a German author, said he was very impressed by the pure nature in Nyingchi city and found it more impressive than the Alps.
"I was also quite impressed by the modernity. I was here about 20 years ago and it's much more modern now. There are new highways, impressive schools, the university... that's a lot of changes," Sieren said.
Sieren said he was not aware of the train between Lhasa and Nyingchi, but he knew the train from Chengdu to Lhasa was going to be built.
"There was not as much tourism 20 years ago. It was very basic, but it's more convenient now," he said, adding that tourism services are much better now and the tourism industry's infrastructure is much more developed.
Sieren said 20 years back, it was difficult to get a modern hotel in Tibet but now that's easy to do.
According to the tourism development bureau of Nyingchi city, the city has received nearly 3.38 million tourist visits between January and April, a rise of 89.4 percent year-on-year. During the same period, tourism revenue exceeded 2.81 billion yuan ($398 million), a year-on-year increase of 94.7 percent.
"As of now, the city has 686 various hotels, including 25 star-rated hotels, with a reception capacity of 14.9 million visitors," said Zhao Fangfang, director of the bureau.
The city has 648 hostels and inns operated by rural residents, with the annual reception capacity hitting 4.3 million visits, said Zhao said.
Zhao also said the city has nine air routes linked with the cities of Xi'an, Shaanxi province, Wuhan; Hubei province; Beijing; Chengdu and Xichang, Sichuan province; Chongqing municipality, Shenzhen, Zhuhai and Guangzhou, Guangdong province; and Lanzhou, Gansu province.
Zomkyi, a government official of the Tashigang village in Nyingchi, said all of its 67 households engage in different tourism businesses, including 52 households running family guesthouses and tourism activities such as horse-riding, archery and selling local specialties.
"Tourism accounts for nearly half of their annual income," said Zomkyi. "The government has also been supporting tourism in the village by facilitating new roads, public toilets and providing training for residents," he added.