Engaging with continent of the future
Share - WeChat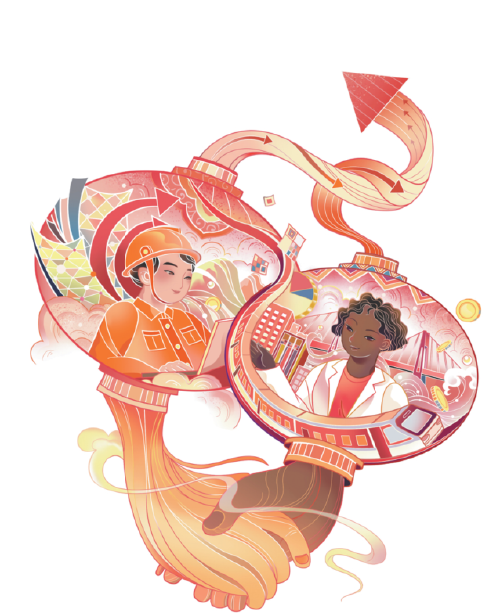 The Belt and Road Initiative is playing a positive role in fast-tracking Africa's development and lending support to sustainable development on the continent
Since it was launched in 2013, the Belt and Road Initiative — with the support and participation of 150 countries (more than 40 from Africa) and 32 international organizations — has grown into a multifaceted global initiative and is increasingly recognized as a historic development initiative on a scale never attempted by any other world power.
On Feb 18, President Xi Jinping sent a message to the 36th African Union Summit, expressing his readiness to work with leaders of African countries to further strengthen friendly cooperation between China and Africa, enhance coordination and collaboration on international and regional affairs, and work for the building of a high-level China-Africa community with a shared future.
Africa is indeed a continent of the future. To realize its potential, Africa needs to reduce its massive infrastructure deficit to both achieve structural transformation and market integration. Annually, there is a funding shortfall of up to $100 billion for infrastructural development, which is a key driver for progress across the African continent and a critical enabler for productivity and sustainable economic growth. Infrastructure development contributes significantly to human development and poverty reduction, as well as the realization of the AU's Agenda 2063 and the 2030 United Nations' Sustainable Development Goals.
The African Continental Free Trade Area created by the AU among 54 of its 55 member states must be seen as a pillar of the broader development integration agenda on the continent. It will bring the African continent a step closer to realizing the historic vision of an integrated market and creating a basis for increasing intra-African trade. According to a recent study by the International Monetary Fund, Africa's continent-wide free-trade area, if successfully implemented, could significantly boost economic growth and improve living standards at a time of rising geopolitical tensions and climate change. The involvement of China, Africa's largest trading partner for 14 consecutive years by the end of 2022, in cooperating with Africa under the framework of the Belt and Road Initiative is therefore of vital importance in speeding up development of the AfCFTA.
The COVID-19 pandemic, the Ukraine conflict and climate change have all hampered Africa's efforts to achieve the United Nations' SDGs, which if achieved, have the potential to open $12 trillion in market opportunities and create millions of jobs by 2030.Halfway toward 2030, most African countries are, however, struggling to meet most of the SDG targets.
On top of the impressive achievements made through its cooperation in the past decades, China is continuing to play a positive role in fast-tracking Africa's development and lending support to sustainable development on the continent. The Belt and Road Initiative has generated numerous funding opportunities in key priority development areas of infrastructure development, industrialization, energy, housing and intra-African trade, which are all reflected in the AU's Agenda 2063, as well as in regional and national development strategies.
In African countries such as Ethiopia, Kenya, Uganda and Nigeria, the Belt and Road projects have resulted in marked improvements to sectors such as transportation and energy with the initiative offering significant opportunities for African countries to address their substantial infrastructure deficits and other development challenges.
Increased Belt and Road Initiative-related investment and upgraded infrastructure continue to drive the growth of various economic sectors.
The Addis Ababa-Djibouti Railway is a new standard gauge international railway that serves as the backbone of the new Ethiopian National Railway Network. It provides landlocked Ethiopia with access to the sea. More than 95 percent of Ethiopia's trade passes through Djibouti.
In Kenya, for instance, the 480-kilometer-long Mombasa-Nairobi Standard Gauge Railway, one of the flagship Belt and Road projects financed and built by China, has greatly facilitated the movement of goods and passengers.
The 56.5-kilometer asphalt road recently completed by the Chinese enterprises in Ethiopia's Oromia region, will not only facilitate the transportation of agricultural products, but more importantly, unleash the potential of tourism, a catalyst for job growth and economic prosperity.
Also the 1,344-km Benguela Railway constructed by Chinese companies in Angola has delivered many win-win outcomes. Chinese enterprises have provided technology, experience and standards to the country while local employees have acquired jobs, skills training and higher incomes.
The Maputo-Katembe Bridge, a Chinese-built suspension bridge across Maputo Bay in southern Mozambique, was officially opened in 2018. It is the longest suspension bridge in Africa and will bring huge economic benefits to the country's community services, fishing and tourism sectors.
In the energy sector alone, China has funded more than 36 projects, mainly hydroelectric and solar power plants, in at least 19 African countries.
The $568-million Chinese-built Isimba Hydropower Dam in Uganda's east is expected to improve access to power in Uganda. In addition to the Isimba Dam, China is financing the 600-megawatt Karuma Hydropower Dam in northern Uganda. Once fully active, the two hydropower dams will nearly double Uganda's power supply.
In the housing sector, the vast Kilamba Kiaxi Social Housing Project, built by a Chinese company in Angola, consists of thousands of housing units in 20 plots in 14 provinces and cities across the country.
These projects are just a handful of some of the many infrastructure development projects that have been realized throughout Africa. It reflects tangible evidence that in Africa, under the framework of the Belt and Road Initiative, the physical connectivity of infrastructure has made solid progress, the institutional connectivity of rules and standards has yielded fruitful results and the people-to-people connectivity featuring mutual help and assistance has continued to deepen.
It is also against this backdrop that Africa continues to value the Belt and Road Initiative's consistent adherence to the principle of extensive consultation, joint contribution and shared benefits, ongoing commitment to the vision of transparent, green and clean cooperation, and the pursuance of the goal of high-standard, people-centered and sustainable development.
The author is a senior research fellow at the Institute of African Studies at Zhejiang Normal University and a former senior diplomat in the South African Department of International Relations and Cooperation. The author contributed this article to China Watch, a think tank powered by China Daily. The views do not necessarily reflect those of China Daily.
Contact the editor at editor@chinawatch.cn
Most Viewed in 24 Hours
China Views