Guiding principles
Share - WeChat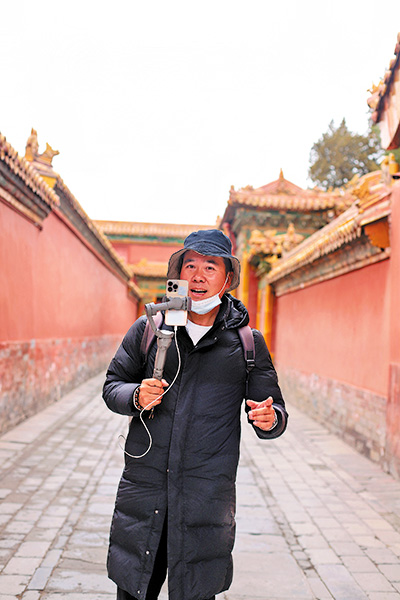 Cao Zhen didn't take a break after the hectic May Day holiday.
The Beijing-based tour guide was up in the wee hours the following day and heading for the Palace Museum to prepare for his usual livestream broadcast from the tourist hot spot.
"My home is a bit far away from the museum, so I have to start out at 4 o'clock in the morning," says the 38-year-old.
From the origin of the Jinshui River's name and its functions, to the landscape of the Palace Museum, China's former imperial palace, also known as the Forbidden City, and details of its every gate, Cao paints a vivid picture telling the stories behind them.
"I can reach a wider audience this way, compared with in-person tours," says Cao, who has been a guide for about 15 years and received the National May 1 Labor Medal for his work in 2021.
"The livestream tours can also be more comprehensive and detailed, and the process of doing them is very beneficial for me to improve and enhance my own knowledge," Cao says.
"During the livestream, I will advertise my in-person tours and welcome people to come to the Forbidden City and experience this ancient and profound culture for themselves," he says.
Most days, Cao conducts a four-hour livestream tour in the morning, before spending the entire afternoon entertaining clients at the Palace Museum in person.
He offers tourists of different age groups different explanations.
"For middle-aged tourists, I place a focus on the weight of history; for primary school students, I add some interesting historical stories," Cao explains.
For example, when it comes to explaining the Zhengda Guangming ("fairness and enlightenment") plaque in Qianqing Gong (Hall of Heavenly Purity), he will not stop at just explaining its function as a place where a sitting emperor would hide the name of his successor.
"The obvious reason was to avoid brothers fighting and killing each other for the throne," Cao says. He will then go into the details of how Zhu Zhanji of the Ming Dynasty (1368-1644) and Qianlong of the Qing Dynasty (1644-1911) ascended to the throne.
Most Popular