UNGA president expresses grave concerns over escalating impact of disasters, urges collective action
Share - WeChat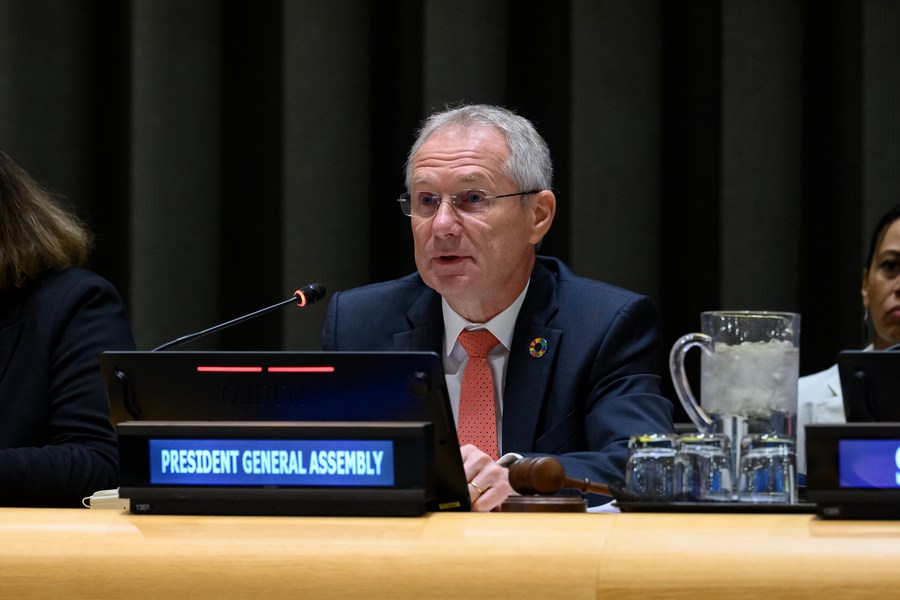 UNITED NATIONS, May 18 (Xinhua) -- President of the 77th session of the UN General Assembly (UNGA), Csaba Korosi, on Thursday expressed grave concerns over the escalating impact of disasters worldwide, revealing that the known number of people affected by disasters has surged by 80-fold since 2015.
At the opening segment of a high-level meeting on the Midterm Review of the Sendai Framework for Disaster Risk Reduction 2015-2030, Korosi emphasized the interconnectedness of disasters and "the urgent need for collective action."
Korosi noted that recent events, such as the earthquakes in Türkiye and Syria, as well as the devastating Cyclone Mocha in Myanmar and Bangladesh, have demonstrated that "disasters know no borders."
Addressing disaster risks and bolstering resilience has become "a priority for all countries," irrespective of their geographic location, he added.
Reflecting on the progress made since the adoption of the Sendai Framework in 2015, Korosi acknowledged that the international community's efforts have not kept pace with the urgency of the current situation. The shocks triggered by unattended risk, further exacerbated by the COVID-19 pandemic, conflicts, and climate change, have wreaked havoc worldwide. Millions of people have been displaced, supply chains disrupted, and profound inequalities exposed within the global financial system.
To reverse this trajectory, Korosi called for "a fundamental reevaluation" of the decision-making processes and systems. He emphasized the need to align global actions with the finite nature of natural resources and to account for the true costs of the choices of countries.
Korosi also stressed the importance of shifting away from profit-driven approaches and towards "inclusive and sustainable development."
The midterm review of the Sendai Framework presents a crucial opportunity for collective action. Korosi urged participants to adopt "planet-smart and people-centered" strategies, emphasizing the measurement of prosperity beyond traditional GDP metrics.
Furthermore, Korosi challenged decision-makers to integrate risk assessment into all aspects of governance and investment. "Long-term perspectives" should be prioritized over short-term decision-making, and the global financial system should value resilience and address disaster risk more effectively.
Korosi concluded by calling for the engagement of those most affected by disasters, highlighting the importance of reversing inequality and vulnerability trends.
He emphasized that anticipating risks, preparing, preventing, and responding rapidly are vital steps towards building "a resilient future."