Visiting leaders get grand welcome
Share - WeChat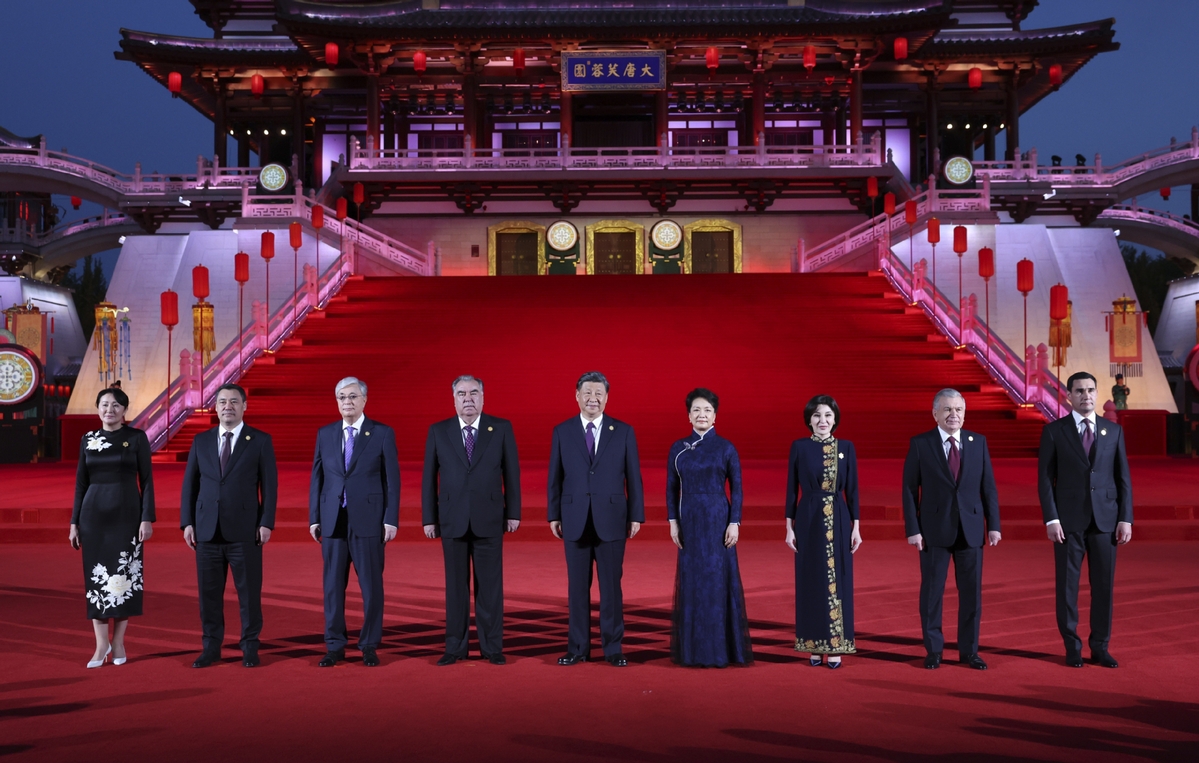 President Xi Jinping and his wife, Peng Liyuan, offered the heads of state from the five Central Asian countries a grand welcoming ceremony teeming with cultural elements of the Tang Dynasty (618-907) in Xi'an, Shaanxi province, on Thursday evening.
A performance featuring the splendor of the Tang culture was displayed as Xi and Peng welcomed the five presidents and the first ladies of Kyrgyzstan and Uzbekistan in Xi'an, which was China's capital during the Tang Dynasty, for the China-Central Asia Summit.
In front of the Ziyun Pavilion in Tang Paradise, a theme park with the architectural style of a Tang royal garden, dancers wearing Tang costumes offered the leaders a feast for the eyes and the ears, with a splendid performance that featured radiant lights, drumbeats and the reading of poems.
When addressing a welcoming banquet for the heads of state after the ceremony, Xi noted that Shaanxi, which was the starting point of the ancient Silk Road, witnessed the profound friendship between China and Central Asian countries over the past 2,000-plus years.
Since the establishment of diplomatic ties between the two sides, China and Central Asian countries have gone through an extraordinary journey and secured achievements that attracted worldwide attention, he said.
The two sides have always respected each other, upheld good neighborliness, stood in solidarity and sought win-win outcomes despite all the changes in the international landscape, Xi said. State-to-state relations have made a historic leap from good neighborliness to strategic partnership and to a community with a shared future, he added.
He underscored that the deepening of ties between China and Central Asia is a strategic choice made by the leaders while eyeing the future, which is also in keeping with major trends of the world and the aspirations of the people.
Xi expressed his belief that the summit on Friday will be a success and usher in a new era for China-Central Asia relations.
Xi concluded by saying that China sincerely welcomes Central Asian countries in exploring opportunities from China's development and jointly working toward a brighter future for bilateral cooperation.
After the banquet, the leaders watched a performance by dancers and singers that also marked the launching ceremony of the Year of Culture and Art of the Peoples of China and Central Asia and the China-Central Asia Youth Arts Festival.