Qinqiang draws tourists to Xi'an
Share - WeChat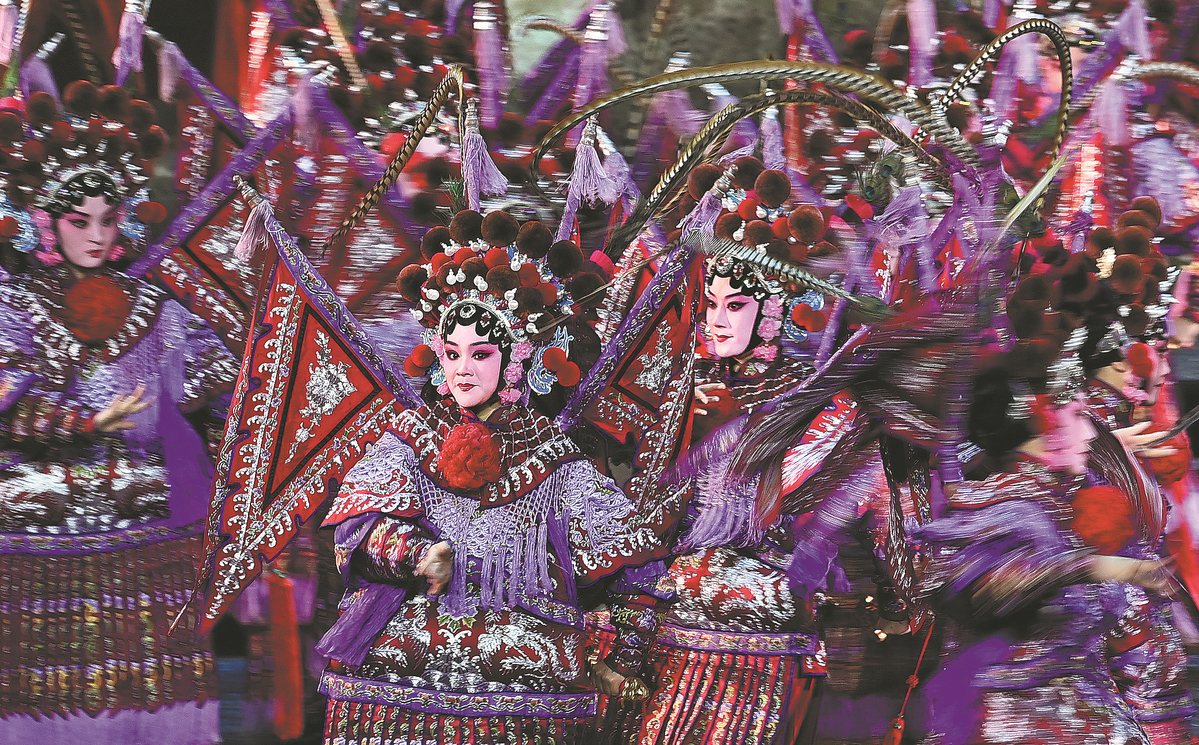 Qinqiang Opera, often referred to as China's "ancient rock music", is known for its dynamic rhythms and high-pitched singing style. As the most popular form of traditional opera in northwestern China, particularly in Shaanxi province, Qinqiang has its roots in the Qin Dynasty (221-206 BC) and was officially recognized as a form of national intangible cultural heritage in 2006.
Like many forms of traditional Chinese opera, Qinqiang incorporates singing, dancing, martial arts and acrobatics. Performed in the Shaanxi dialect, its repertoire primarily consists of old stories and folk tales.
In 1912, two scriptwriters from Shaanxi, Li Tongxuan (1860-1932) and Sun Renyu (1872-1934) created Yisushe, a troupe dedicated to the promotion and performance of the art.
They were inspired by the 1911 Xinhai Revolution, led by Sun Yatsen, which sought to overthrow the Qing Dynasty (1644-1911).
Unlike other troupes, most of which were founded by folk artists to entertain people and make a living, Yisushe was founded with the hope of making a difference during the war by educating those too poor to afford to go to school. The troupe also ran a school to train young performers of Qinqiang.
Today, Yisushe is one of the oldest art troupes in the country. It is based in Xi'an, the capital of Shaanxi, and is still performing and exploring new ways of rejuvenating the traditional art form.
Originality and literary value are important facets of the troupe's productions. It preserves 880 original scripts in 1,000 volumes, which address social issues and embody values like honesty, bravery, loyalty and justice, according to Hui Minli, its president.
For example, one of the troupe's first productions was Three Drops of Blood, which premiered in 1919 and tells the story of a wrongful conviction. The original manuscript has been preserved and is now on display at the Museum of Yisushe in Xi'an.
In 2019, the troupe worked with the Shanghai Film Group to bring Three Drops of Blood to the silver screen by making the first 3D Qinqiang Opera movie, giving more people the opportunity to enjoy the ancient art form.
In 2016, it staged a contemporary production, titled Yisushe, to tell its history based on historic events. It was performed during the 11th China Art Festival, one of the country's largest national arts events.
Every year, Yisushe presents around 150 shows in cities and rural areas around northwestern China. About half the performances are held at universities and high schools to appeal to a younger audience.
In 2021, a street in the Gulou area of downtown Xi'an was turned into a cultural hub for Yisushe as a celebration of Qinqiang Opera, and was renamed the Yisu Theater Cultural District. Its theaters, restaurants and museums — among them, The Museum of Yisushe — are popular with both local people and tourists.
Visitors to Xi'an in search of Qinqiang Opera and other Shaanxi art forms also visit Tang Paradise, a popular theme park designed to resemble a royal garden from the Tang Dynasty (618-907) where regular shows are staged every day. They take place outdoors, providing visitors with an immersive experience.
In addition to Qinqiang Opera, shadow plays, another intangible cultural art form from Shaanxi, are also performed.
Combining leatherwork, shadow puppet performances and Qinqiang Opera songs, the art form originated during the Han Dynasty (206 BC-AD 220). Huaxian county, in the northwest of the province, is particularly known for both performing and preserving the ancient art.