Global event launched in Beijing to promote Chinese tea culture
Share - WeChat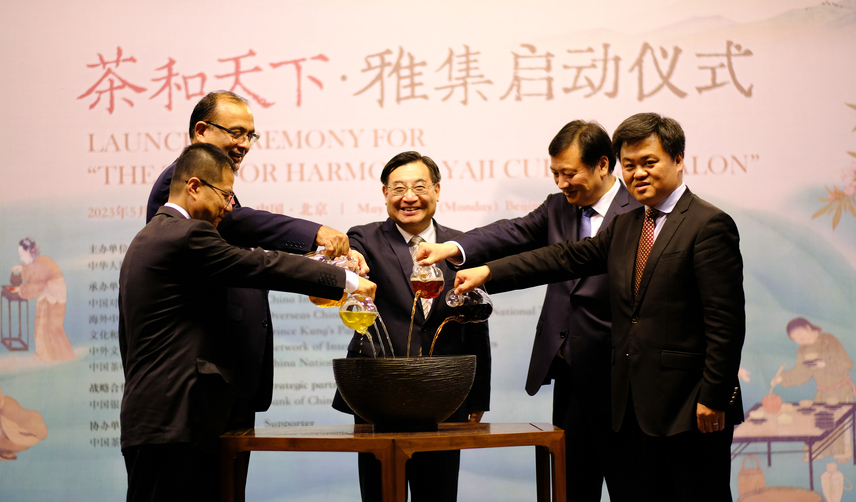 "Tea for Harmony: Yaji Cultural Salon", a global event to promote China's tea culture hosted by the Ministry of Culture and Tourism, was launched on Monday at the Prince Kung's Palace Museum in Beijing.
Hu Heping, minister of culture and tourism; Shahbaz Khan, UNESCO's representative to China; and Hu Wei, deputy governor of Zhejiang province attended the event along with about 200 guests, including more than 70 diplomats from some 40 countries and regions.
The event intends to "give tea a greater role in enhancing friendly dialogue and mutual learning between civilizations" and raise awareness of Chinese tea culture around the world, following the inscription of traditional tea processing techniques and their associated social practices in China on UNESCO's Representative List of Intangible Cultural Heritage of Humanity in 2022.
Also part of the International Tea Day celebrations, which falls on May 21, the yaji cultural salons themed on Tea for Harmony, will be held in 41 countries around the world by international organizations, Chinese embassies and consulates, China cultural centers, and tourism offices, according to the event host.
At the Yaji cultural salon, participants will be given an immersive opportunity to learn about Chinese tea culture through pictures, videos, intangible cultural heritage showcases and folk art performances.
Yaji, literally "gathering of elegance", was a common way for ancient Chinese literati to enjoy a collective cultural life. During the meeting, participants would recite poetry and appreciate tea, paintings, flowers, incense and guqin (traditional Chinese zither) music in pursuit of elegance, artistic sensibility and moral nobility.
A yaji was featured at the launch ceremony, where guests sampled various types of tea from different regions of China, Sri Lanka, Turkey and Zimbabwe, watched the performance of intangible cultural heritage chabaixi(painting on the ground tea leaves with plain water), and enjoyed the smell of incense and the music of guqin and the bamboo flute xiao.