Residents flourishing away from floods
Share - WeChat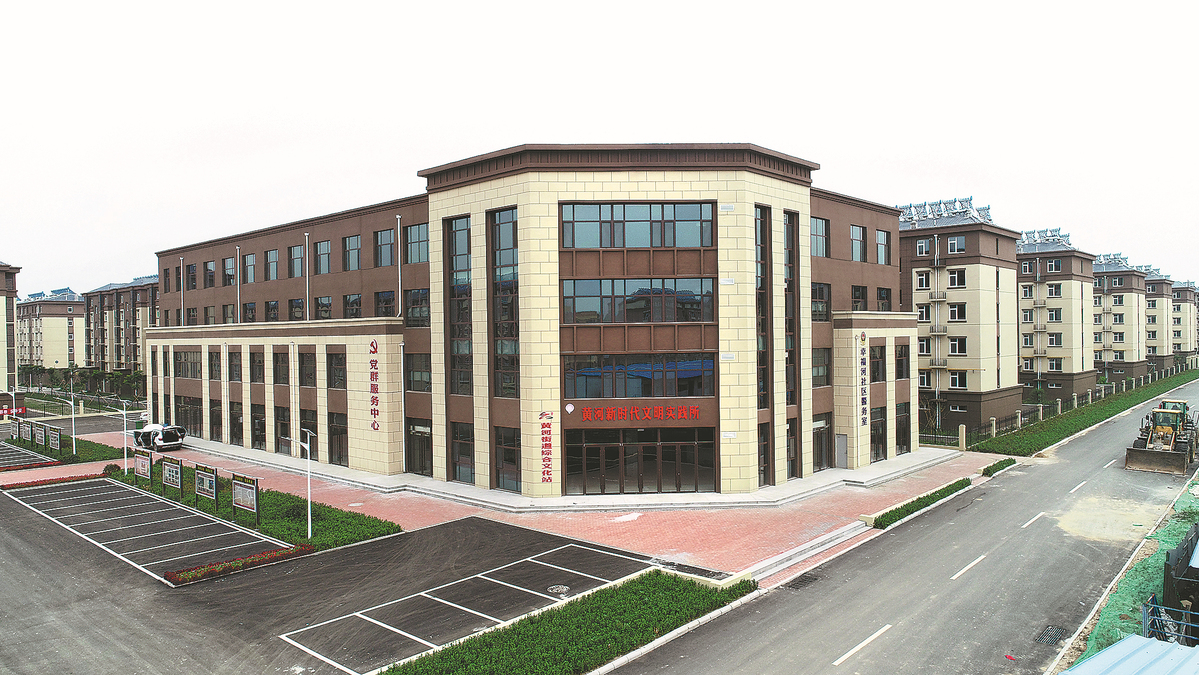 Former villagers enjoying life in Jinan
With rows of new residential buildings, a cultural square, a shopping complex, an elderly care service center, a kindergarten and clean, tidy roads, the Xingfuhe community in Jinan, Shandong province, is providing former villagers a life that they couldn't have imagined before moving there, according to Liu Guangsheng and his fellow residents.
"Since I moved here three years ago, life has been getting better and better, with new facilities and projects being introduced that are making our lives easier and more convenient," Liu, 48, said.
Before moving to the community, he lived in Qujia village, which is located about 2 kilometers from the Yellow River bank. The village is part of Huanghe town in Jinan's Zhangqiu district.
Huanghe is the Chinese word for the Yellow River, and the town is named for its proximity to the waterway.
For farmers like Liu, the river nourished their farmland, but also brought floods that destroyed their properties. "We had to spend a lot of money to rebuild our houses. What was worse was that as soon as our debts were cleared, the river flooded again, and the roads in our village were muddy," Liu said.
In Shandong, where the Yellow River flows into the sea, more than 600,000 people once lived in the river's flood plain. To help residents escape both the floods and poverty, the province launched a relocation project in 2017.
The project in Zhangqiu was completed in three years, enabling 12,068 farmers from 21 villages in the flood plain to move to the new Xingfuhe community 8 km away. "Our goal is to help the villagers enjoy their new lives downtown," said Liu Wanyin, secretary of the Communist Party of China's working committee in Huanghe.
In Xingfuhe, which means "happy river", a public square provides a place for the residents to gather and participate in recreational activities. The square is themed on the Yellow River, with markings on the ground depicting the former villagers' hometowns and pictures in the corridors telling the river's stories.
Next to the square, a shopping complex where people can buy their daily needs opened in November, providing jobs for more than 300 residents, according to Liu Wanyin.
"In addition to the well-appointed residential area, we have developed a commercial area and an agricultural area to provide jobs for villagers," he added.
The town's agricultural area sits near a large expanse of wheat fields. Facilities featuring advanced technologies were built in the area by the Lugong Fengnong Agricultural Service to dry and store grains.
The town has signed a contract with the company to manage the farmland using state-of-the-art machinery and crop-growing techniques.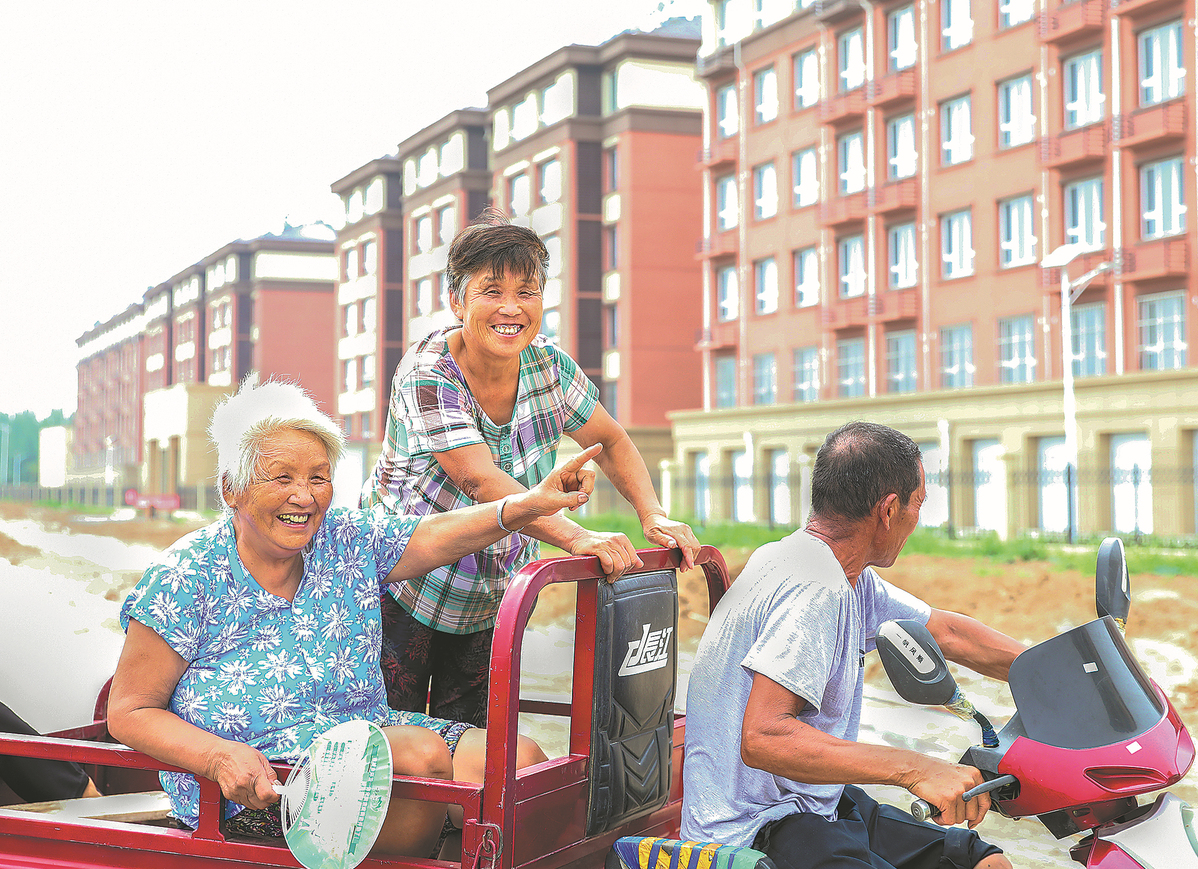 Under the cooperation model, farmers can earn a minimum income of 12,000 yuan ($1,723) per hectare every year. In addition, the town shares 60 percent of the profits earned from their farmland, Liu Wanyin said, adding that some farmers can choose to work for Lugong Fengnong to earn extra money.
Liu Guangsheng manages 20 hectares of farmland for the company, which has provided him with drones that help him better irrigate and fertilize the land, as well as maintain pest control.
"I don't need to carry a sprayer on my back to spray pesticides on the wheat anymore," he said. "Farmwork is much easier and more efficient than before."
His wife runs a barbecue restaurant in their community. The couple have two children. "We cherish our current life. As long as we work hard, we can live well," he said.
About a five-minute drive from Lugong Fengnong is a watermelon growing base.
In a greenhouse, watermelons hang on vines. Three farmers collect the fruit to sell at markets.
"Instead of growing watermelons directly on the ground, this new growing technique can save land and increase yields," said Qian Bin, general manager of the Jinan Xinzheng Ecological Agriculture Cooperative.
Having grown up around the Yellow River, Qian knows the land well.
"The soil here contains a lot of sand, which is suitable for planting selenium-enriched watermelons," he said, adding the cooperative's fruit has earned a reputation at the markets.
"Many farmers have joined our cooperative to grow watermelons."
Liu Wanyin said the town is developing more agricultural projects to boost its collective economy and create a better living environment for villagers. "In Xingfuhe, we hope that our happy days will be longer than the Yellow River," he said.