Return of cultural relics a global trend
Share - WeChat Many lost artworks repatriated, a move backed by intl collaboration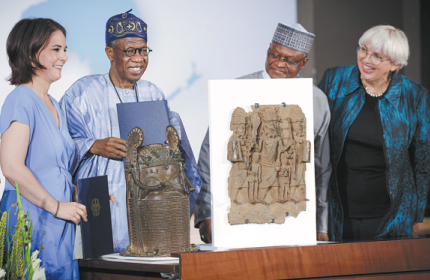 The recent trend of repatriating artifacts was welcomed worldwide because the treasures can provide people with valuable insights into their country's history and help preserve a country's heritage, experts said.
On Friday, India announced it was set to embark on a major diplomatic campaign to retrieve thousands of artifacts, including one of the largest cut diamonds in the world, which had been removed from the country by Britain during the colonial period, The Telegraph reported.
The push to reclaim the treasures lost back in the days of the British Empire is said to "come from the top" echelons of Indian officials. The campaign is also reportedly on Prime Minister Narendra Modi's priority list, with one Telegraph source describing the initiative as "reckoning with the past".
"Artifacts are best displayed and valued in the nation or culture that created it, where they can fully present their historical and cultural significance and promote equal communication and mutual prosperity," said Zhang Zikang, director of the Central Academy of Fine Arts Museum in Beijing.
In December, when 22 Benin Bronzes looted more than a century ago were handed back to Nigeria in a ceremony in the capital Abuja, the event drew worldwide attention.
The Benin Bronzes are sculptures and plaques looted from the ancient Kingdom of Benin — now southern Nigeria, not the modern nation of Benin — by British soldiers in 1897. After being shipped to the United Kingdom in the late 19th century, many were auctioned off in London and some were bought by German collectors.
The handover was part of a pioneering model for large-scale restitution in Western countries in recent years.
Last year Germany gave back hundreds of objects to Nigeria, France handed 26 artifacts back to Benin, and the Metropolitan Museum of Art in New York cut a deal to transfer ownership of dozens of sculptures to Greece.
The spark was struck in France. In November 2017 France's President Emmanuel Macron made a speech before an audience of students and faculty at the University of Ouagadougou in Burkina Faso.
Claiming to speak in the name of youth, he said: "I cannot accept that a large share of several African countries' cultural heritage be kept in France.... Within five years I want the conditions to exist for temporary or permanent returns of African heritage of Africa."
Huo Zhengxin, a professor in the School of International Law at China University of Political Science and Law in Beijing, said Macron's statement had triggered a trend in Europe and the US of returning cultural artifacts.
For Duncan Dornan, head of Glasgow Life Museums and Collections in Scotland, the restitution trend represents a change of social and cultural ideas across Europe.
In April last year Glasgow announced it would return 17 Benin Bronze artifacts from the city's museum collections to Nigeria.
"There had been repatriation proposals by curators over the past decades, but they received little support," Dornan told China Newsweek. "In the past two years public opinion has shifted toward a sense of post-colonial guilt."
Dornan highlighted the support of society in restitution, citing the example of Glasgow's move, which must gain the approval of its people and is subject to a parliamentary vote because "the collections belong to the people of Glasgow".
Echoing Dornan's views, Zhang said many factors are behind the trend, including joint international efforts.
The return of artifacts demonstrates the continuing evolution of world civilization and is of great significance for promoting friendly exchanges between different countries and cultures, Zhang said.
It is very important that different civilizations tolerate, coexist and learn from each other in today's world, which promotes the preservation and evolvement of human civilization, Zhang said, stressing that this coincides with the Global Civilization Initiative put forward by Chinese President Xi Jinping in March.
Irreplaceable role
Tolerance, coexistence, exchanges and mutual learning among different civilizations play an irreplaceable role in advancing humanity's modernization and helping world civilization flourish because the future of all countries is closely connected nowadays, Xi said in a speech at the CPC in Dialogue with World Political Parties High-Level Meeting on March 15.
The repatriation trend in recent years has also led to some Chinese artifacts that were looted overseas being repatriated.
On March 23, 2019, witnessed by Xi and Italy's then-prime minister, Giuseppe Conte, representatives of the two countries exchanged certificates on the return of 796 lost Chinese artifacts in Rome. About two weeks later, returned artworks, dating back to the Neolithic Age and as recently as the Ming and Qing dynasties, arrived in Beijing.
It was the largest return of lost Chinese artifacts in nearly 20 years, followed by the repatriation of 68 artworks from the UK in October 2020 and the restitution of the head of a Buddha statue in the Tianlong Mountain grottoes in Shanxi province from Japan at the end of 2020.
The repatriation of artifacts has accelerated in recent years with efforts from all parties. This not only conforms to the spirit of United Nations conventions but is also a great contribution to human civilization, Zhang said.
"Artifacts carry the genes and bloodline of a nation. They are irreplaceable and excellent resources of civilization for a country. Only by returning those precious works can they be better integrated into research and preservation of local culture."
zhaoruinan@chinadaily.com.cn