Why 'de-risking' from China poses high risks for European economies
Share - WeChat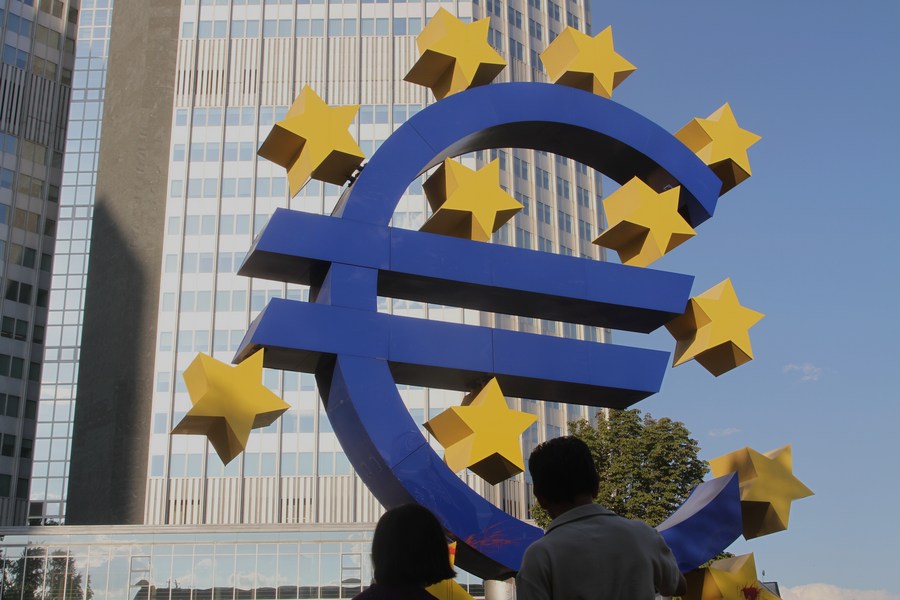 FRANKFURT -- Walking a fine line between preserving its interests and reducing exposures to the so-called "risks," the EU has been touting a "de-risking from China strategy," which is likely to incur high risks and take a toll on its economic growth.
If certain countries or parties pursue de-sinicization in the name of de-risking, they would actually be breaking away from opportunities, cooperation, stability and development, China's State Councilor and Foreign Minister Qin Gang said during a press conference with his German counterpart after their talks in Berlin on Tuesday.
Globalization in peril
As an outward-oriented economy, the EU has benefited greatly from globalization over the past few decades.
Even after a setback in recent years, foreign trade makes up around 20 percent of the EU's GDP.
Globalization also contributes to employment in the EU. A report released by the bloc in 2021 revealed that exports supported 38 million jobs in the EU and that one in five jobs depended on exports, illustrating the strong relationship between trade and employment.
A report published in 2022 by the European Center for International Political Economy think tank noted that there were signs the EU had become more integrated into the global economy in recent years.
The number of importing firms in the EU grew steadily and reached a new record of over 1.2 million in 2020, said the report.
The economies of the EU and China have become deeply and increasingly intertwined. Two-way trade between the two sides has been steadily growing despite the challenges posed by the COVID-19 pandemic.
In a recent statement, Josep Borrell, EU high representative for foreign affairs and security policy, highlighted the substantial economic ties between the EU and China.
China accounts for 20 percent of the EU's imports and receives 9 percent of the EU's exports. The volume of bilateral trade exceeds 2.3 billion euros ($2.5 billion) per day, he said.
Europe cannot ignore China's role as a key trading partner and "we cannot just turn our back on China and try to ignore it," Reuters quoted Spain's Economy Minister Nadia Calvino as saying.
Bucking the trend
By "de-risking," the EU is mulling over a mechanism of more screening, trade instruments and new defensive tools, which may lead to interference with the market mechanism or even a deviation from market economy rules. It gives rise to concerns that globalization and the market economy could be further undermined.
While some policymakers in the EU peddle risks from China, European companies and investors are seeing the country in a different light. Bilateral trade has been growing vigorously. For some EU members like Germany and France, economic ties with China are simply too tight to cut.
In 2022, the volume of trade between Germany and China rose to a record high of 298.6 billion euros ($326.6 billion), up by more than 20 percent year-on-year, making China the most important trading partner of Germany for seven consecutive years, according to the German statistics authority.
Martin Brudermueller, chief executive officer of the German chemical giant BASF, said it is advantageous to expand involvement in China.
Speaking of BASF's decision to invest around 10 billion euros ($10.9 billion) in China, Brudermueller said that China is the biggest chemical market and a fast-growing one, and his company sees potential for good profitability there.
Defying the uproar in political circles, Chinese greenfield investment in Europe has been booming. It increased by 53 percent in 2022, according to a report released by the Rhodium Group and the Mercator Institute for China Studies.
The increase in greenfield investment was driven mainly by a few large-scale projects, almost exclusively concentrated in the automotive sector as Chinese battery giants, including CATL, Envision AESC and SVOLT, invested in the construction of battery plants in Germany, Hungary, Britain and France.
At a time when the EU is trying to steer its economy away from fossil fuels to green energy, the expertise of Chinese companies comes in handy.
Volker Treier, head of foreign trade at the Association of German Chambers of Industry and Commerce, sees no real alternative to China. Neither the planned transition to renewable energies nor the transition away from combustion engines would progress if there was a de-coupling from China, he said.
Collaboration with China extends beyond the green transition and encompasses the realm of digital transformation, another key element in the EU's recovery plan.
Chinese enterprises are making notable contributions to Europe by bringing innovation, scalability and advanced technology, providing more opportunities for mutually beneficial cooperation.
In digital technological development and innovation, it is important for China and the EU to remain engaged and maintain long-term cooperation, said Lin Goethals, director at the European Institute for Asian Studies.
The detriment will not be limited to the economic circle. "Scientific decoupling of China will come at a cost," said Ingrid d'Hooghe, coordinator at the Clingendael China Center, a think-tank based in the Netherlands.
China is a scientific powerhouse and a leading player in many fields, such as biotechnology, 5G and 6G, nanomaterials and electric batteries. According to the Australian Strategic Policy Institute, China is a leader in 37 out of 44 key technologies.
Real risks
When talking about "de-risking," people need to identify them and figure out where they come from, Qin said when asked about the EU's "de-risking" strategy.
Qin's opinion was echoed by Croatian political analyst Mirko Mavric, who told Xinhua that "the risk for Europe is to become an extended arm of the U.S. interests." This has always been fatal for Europe, as the Americans think first of all about themselves and their interests, he added.
"Through the European Union, Europe needs to rethink its own policy, political and economic, regardless of the American interests," Mavric said.
As the EU ratchets up the "de-risking" issue, its economy is faltering with a weak and fragile recovery, while the European Central Bank has been hiking interest rates in tandem with its US counterpart.
When the US Silicon Valley Bank collapsed in March because it failed to hedge its interest rate risks, what seemed like an individual case quickly evolved into a crisis for other US banks, especially regional ones.
As banks in the United States were scrambling to stay aloof, banks across the Atlantic felt the heat with Swiss lender Credit Suisse being taken over by UBS on March 19, a sign that the crisis in the United States was spilling over to the EU.
Some countries have been exporting their own inflation and financial crisis, and creating severe spillover effects. "These are real risks that should be paid attention to," noted Qin.
A recent prime example is the US Inflation Reduction Act that "erodes the multilateral system of cooperation by violating international trade rules," the Brussels-based economic think tank Bruegel wrote in a commentary.
Shozo Maeda, secretary general of the Japan Business Council in Europe, said that EU-China relations are of great importance, not only for both regions and countries but also for the global economy, including for Japan.
Mavric pointed out that China is a reliable partner for Europe and "it should remain so, because it is primarily in the interest of Europe itself."