A series of key works
Share - WeChat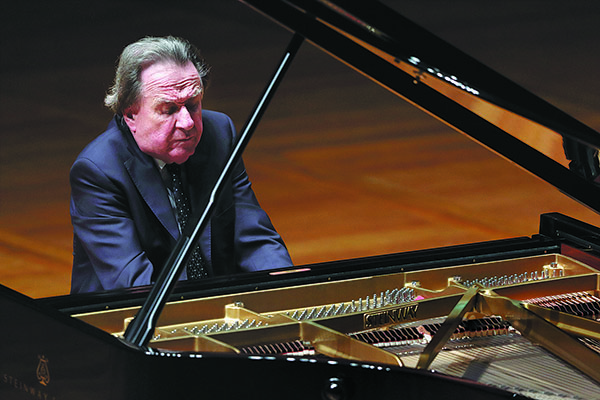 Legendary pianist Rudolf Buchbinder embarks on a run of concerts, during which he will perform all 32 of Beethoven's piano sonatas, Chen Nan reports.
Few musicians have engaged with Ludwig van Beethoven's music as intensively, and over such a long period, as legendary pianist Rudolf Buchbinder.
With three recordings of the German composer's 32 piano sonatas and performing all 32, in cycles, all over the world more than 60 times, from May 9-17, Buchbinder is presenting Beethoven's complete piano sonatas at the National Centre for the Performing Arts in Beijing.
"In every sonata, Beethoven expressed his emotions, like anger and joy. I am never finished with this music. I learn something new every time I play the sonatas and it is a challenge every time," says the pianist.
"For a very long time, I have been performing Beethoven's music, which has been a personal journey for me. Like my wife, these works have accompanied me for years," adds Buchbinder.
Between 1783 and 1823, Beethoven wrote the piano sonatas, which were dramatic in character and demanding of technique.
It is not the first time that Buchbinder plays the complete collection of Beethoven's piano sonatas in China. In 2021, he played them all during the 15th Beijing Music Festival. Welcomed like an old friend by Chinese audiences, he has performed Beethoven's piano concertos, Nos 1, 2 and 5 with the Vienna Philharmonic at the NCPA and, from 2016-19, he played in China for four consecutive years, including a concert with German orchestra the Staatskapelle Dresden at the NCPA in 2016. In 2019, again with the Staatskapelle Dresden, he played Beethoven's five piano concertos in two concerts, of which he was also the conductor.
"My first recital in Beijing was in 1981. I flew from Vienna to London and from London to Beijing. However, my suitcase stayed in London, so I had to buy lots of things after arriving in Beijing," recalls the pianist. "I can still remember that I bought pajamas and some clothes for the concert."
Born in 1946 in Leitmeritz, a market town in what was then Czechoslovakia, and later moving to Vienna, the pianist listened to Beethoven as a child, "who seemed to be there all the time", he says.
"There was a radio sitting on top of the piano in my family home. A photo of Beethoven was hanging on the wall. When I was a little child, about 2 or 3 years old, I saw that photo and listened to the composer's music played on the radio. He (Beethoven) watched me all the time," recalls Buchbinder.
None of his family members had anything to do with music. It was his uncle who saw a piano student recruitment announcement in the newspaper and encouraged Buchbinder to participate in the audition. At the age of 5, Buchbinder became the youngest student ever to be enrolled at the Vienna Academy of Music and, five years later, he made his stage debut. The interpretations of his classical and romantic repertoire rest on technical foundations established during his studies with Bruno Seidlhofer in Vienna.
Most Popular