15 years on, Wenchuan survivors helping others in need
Share - WeChat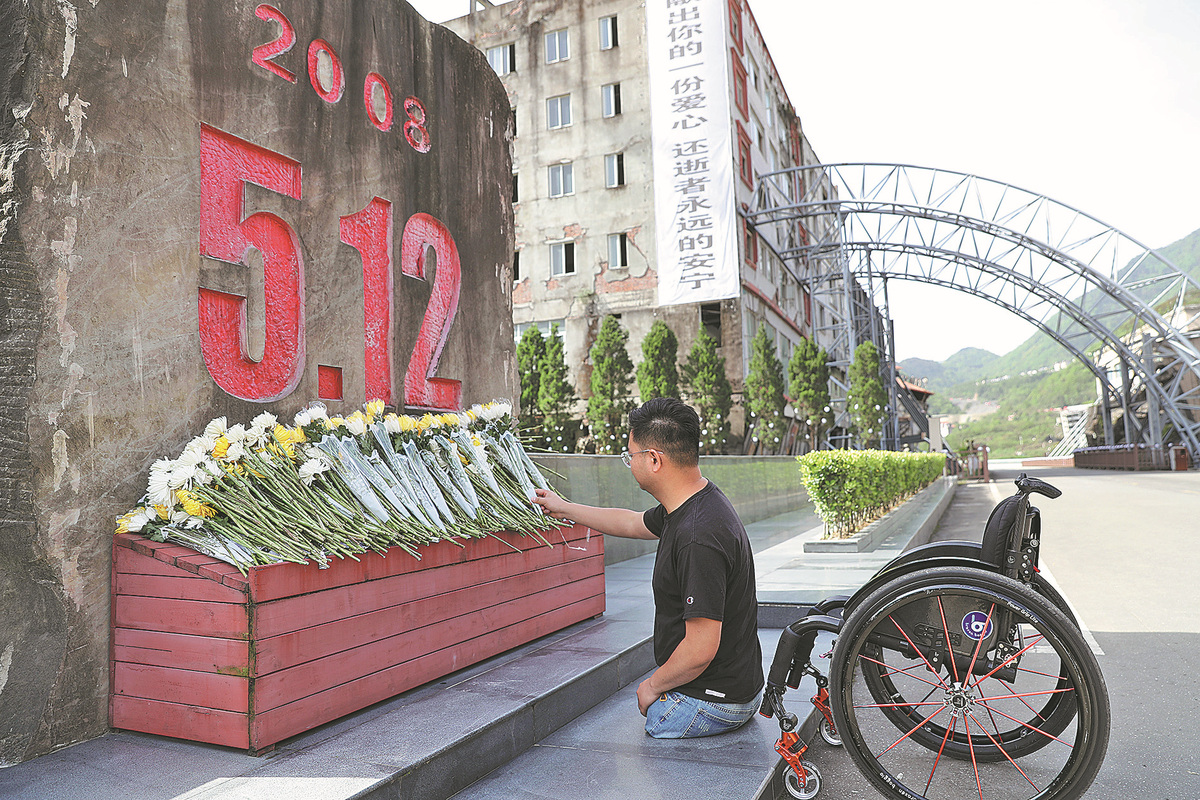 Traumatic earthquake spurred many to volunteer or become soldiers and firefighters themselves
Earlier this year, Zheng Haiyang returned to Beichuan Qiang autonomous county in Sichuan province, one of the areas worst hit during the Wenchuan earthquake 15 years ago, which claimed the lives of 69,227 people.
In addition to running an orchard, the 31-year-old, who lost both legs during the earthquake, has also planted a tree in the ruins of the county seat. "For me, it's a demonstration of the power of life and it helps me focus on the future, not past," he said.
When the magnitude-8 earthquake struck at 2:28 pm on May 12, 2008, Zheng, then a senior high school student at Beichuan Middle School, was in class. The school buildings quickly collapsed, and he was trapped between broken floor slabs as he tried to escape.
After nearly 22 hours under the rubble, Zheng was rescued but had to have both legs amputated. "Many of my classmates didn't make it, so I am the lucky one," he said. The earthquake killed 15,645 and left 4,311 missing in Beichuan alone.
Zheng said that he has been through a lot during the past 15 years. "I have been looked down upon, discriminated against and even deceived, but those things are all trivial because I've already experienced the darkest hours of my life."
As more than 93 percent of the buildings in the former Beichuan county seat, which is nestled in a mountain valley, collapsed or were damaged, the central government decided to start from scratch in a new location. Construction of the new town of Beichuan began in June 2009 about 23 kilometers from its original location, and was completed three years later. The ruins of old Beichuan have since been preserved as a memorial to the earthquake.
The new county seat is modern and apartment and commercial buildings are being built as it continues to develop and expand. Visitors may only realize the town was completely rebuilt when they see Rebirth Square, which has a monument with the same name in its center to commemorate the efforts the entire country poured into search and rescue missions.
"As time goes by, I think that most Beichuan residents have stepped out of the shadow of the earthquake, and begun to focus on the future ahead. But many people still don't want to talk about it. For me, it's impossible to forget the earthquake because it has changed my life forever," Zheng said.