Artist celebrates Belt and Road, one brick at a time
Share - WeChat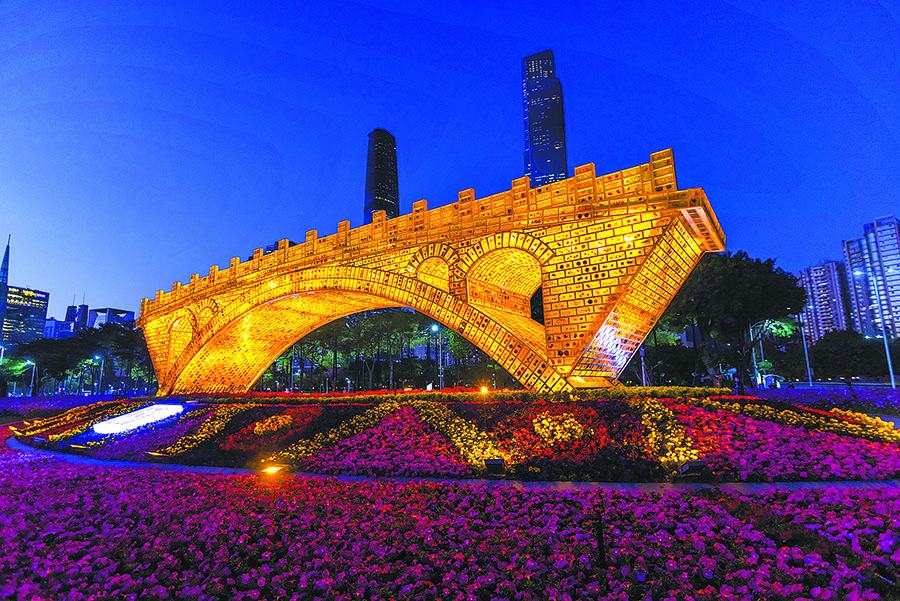 Installation serves as bridge spanning various cultures, symbolizing cooperation, Deng Zhangyu reports.
In 2013, artist Shu Yong produced for the China Pavilion of the Venice Biennale a "great wall" of translucent bricks on which more than 1,500 popular Chinese phrases translated by Google were written. The installation, titled Guge Bricks, was created to show cultural bias and misunderstandings caused by translation.
Later the same year, Shu made a gigantic golden bridge comprised of about 20,000 amber bricks to represent his desire to bridge the differences between the East and the West.
The sculpture, Golden Bridge on Silk Road, weighing more than 100 metric tons, has been exhibited in many cities both at home and abroad in the past decade, including Milan in Italy and Astana in Kazakhstan.
"It's a bridge to express the Chinese desire to build a community with a shared future for mankind. It mixes together cultures from different countries and regions involved in the Belt and Road Initiative," says Shu.
Inside the amber bricks are floral emblems from various locations participating in the initiative. The materials used for the bridge were collected from across the world.
The sculpture was inspired by the BRI, China's flagship global development project. As its 10th anniversary approaches, Shu is preparing to place the amber bridge in Beijing, which he says will be a major undertaking.
When it was exhibited two years ago in Guangzhou, South China's Guangdong province, it took about 500 workers a whole year to produce the large-scale sculpture. To set it up took about 20 days.
"It's much more than a bridge. I hope in the future it can be seen as a cultural symbol of China in the new era," says the 49-year-old artist, who is also a member of the National Committee of the Chinese People's Political Consultative Conference.