Aim for 'marathon economy' in long run
Share - WeChat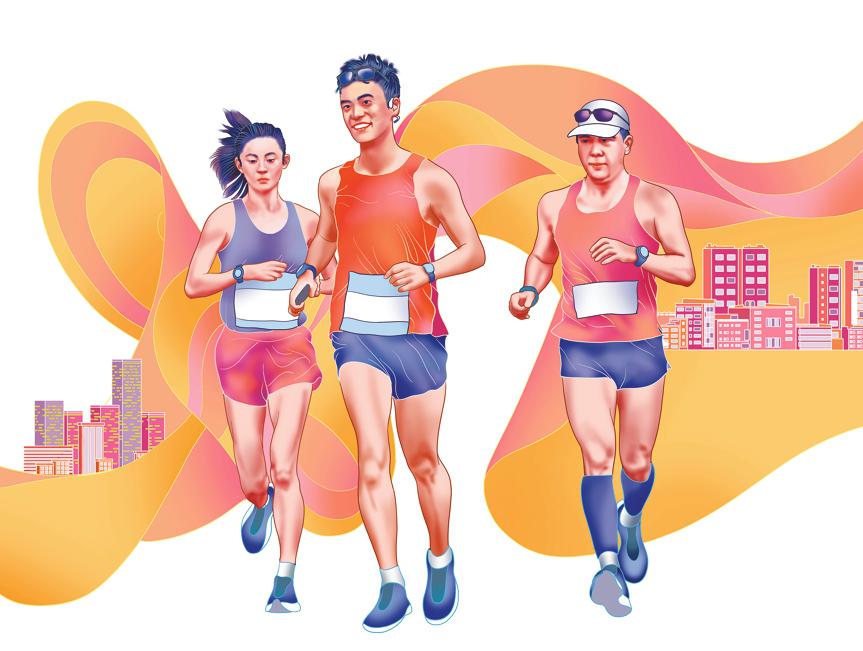 The marathon industry in China has been one of the hardest hit by the COVID-19 pandemic. But with the country emerging from the pandemic, the revival of marathons seems to be gathering momentum, too. The past month has witnessed a significant surge in organizing marathons across the country.
Marathon running started gaining popularity in China only in recent years, but it has turned from a niche sport into one of the favorite pastimes in China within a relatively short period of time. The number of marathons hit an all-time high of 1,828 before the pandemic in 2019, a more than 30-fold increase from 51 in 2014.
What's behind this marathon boom? What are the costs and benefits of hosting a marathon? And where does the money to host a marathon come from?
You could be forgiven for thinking that hosting marathons is a profitable business because of the sheer number of marathons held across the country. But, as a matter of fact, apart from a few premium events such as the Beijing Marathon and the Shanghai Marathon, loss-making is the rule rather than the exception when it comes to organizing marathons in China.
Unlike in developed countries, where major marathons could receive significant amount of money from broadcasting rights, even the most premium ones cannot generate profit from broadcasting rights in China. Quite the opposite, they have to pay to get aired on national TV channels. As a result, entry participation fee and sponsorship are often the major sources of revenue for marathon organizers in China.
But since the participation fee for marathons in China is very minimal, and sponsorship income covers only 50-60 percent of the total cost, most of the events have to rely on public money to break even. A Chinese Athletics Association report says on average the operational cost of an A1-class full marathon is close to 12 million yuan ($1.73 million) with a shortfall of some 5 million yuan to be covered by government funding.
In short, marathon hosting is largely a money-losing business. Then why do so many cities still rush to host marathons? Is it worth it?
First, the economic impact is commonly claimed to be the most compelling rationale for hosting a marathon. Marathons are typical sports tourism events as they often attract participants and spectators from outside the host region, too.
Spending by these tourists on accommodation, transportation, food and beverage, sports equipment, event merchandising and entertainment, as well as general shopping represent new money injected into the host community, which likely stimulates the local economy, creating new jobs and incomes and increasing the tax revenue.
For instance, an economic impact study showed that the 2019 Xiamen Marathon, with more than 80 percent of the 35,000 runners coming from outside the host city, directly contributed more than 171 million yuan to the local economy. But as the size and influence of marathons could vary drastically, the economic impact of a marathon depends on the number of visitors it attracts.
Second, marathons also have the potential to produce long-term effects in terms of, for example, visibility and image impact on the host community. A marathon often features some of the best routes and iconic landmarks of a city, and could generate significant publicity about the host city.
This image impact could be further expanded through media exposure, both traditional media and now increasingly social media. An annual premium sports event could become a strong brand in itself and enhance the host city's image by serving as a symbol of strength and vitality.
Destination image is essential for a city's competitiveness and long-term success because it is a key factor influencing the choice of important stakeholders of a place, including inward investors, multinational companies, as well as tourists, both actual and potential. That's why many believe that image impact may in the long run be greater than the immediate economic impact generated by the spending by visitors attracted to a place because of the event.
And third, marathons have non-market values for the host community. The marathon boom in China is first and foremost driven and sustained by a growing social demand for quality leisure products. International experience shows there is a strong link between sports consumption (including consumption of sports gear) and economic development.
The growing popularity of marathons mirrors the rise of living standards and consumption upgrading in China. While running may be a low-bar sport, the annual expenditure of an average marathon runner could easily exceed $1,000 with expenses on running gear, training, and for traveling to events.
The burgeoning number of marathons not only satisfies the needs and wants of a growing middle-income group with rising disposable income, but also helps to promote a healthy lifestyle and attract more people to take part in sports, leading to reduction in medical costs and improvement in life quality. Other potential non-market values of a marathon include psychological satisfaction such as the feel-good effect and promotion of volunteerism and social cohesion in the host community.
Calculating the economic importance of a marathon is not a straightforward job. While public money has to be used to fund marathons in most cases, the potential economic and social benefits could be very wide-ranging.
With the marathon boom expected to continue and competition intensify, quality and branding remain the key to success for marathon hosting. But effective operation and active leveraging are essential to maximize the potential benefits and justify the use of public money.
The author is a professor at the Shanghai University of Sport and vice-president of the International Association of Sports Economists.
The views don't necessarily reflect those of China Daily.
Most Viewed in 24 Hours
China Views