China's modernization wows intl students
Share - WeChat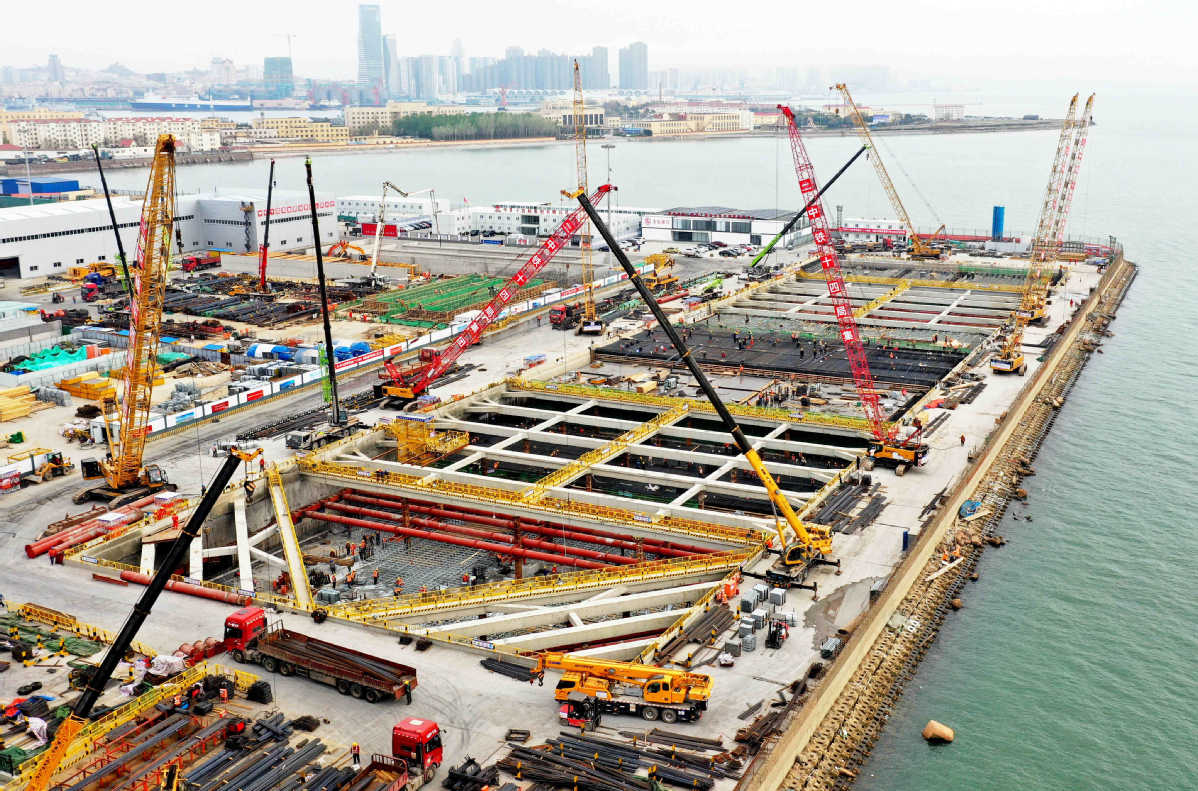 Xi's vision to build a community with a shared future leads to impressive growth, they say
International students in China said they are impressed by the country's rapid development and the Chinese path to modernization, which is based on common prosperity for all, cultural advancement, harmony between people and nature, and peaceful development.
What makes the Chinese path to modernization different from Western modernization is that China is trying to uplift its entire population while Western countries only focus on certain groups or individuals, they said.
At the 20th National Congress of the Communist Party of China, Xi Jinping, general secretary of the CPC Central Committee, presented a road map for modernization. He summarized five major features of the Chinese path to modernization: a huge population, common prosperity for all, coordination of material and cultural-ethical advancement, harmony between humanity and nature, and peaceful development.
Led by the CPC, China can pool strength from all sectors to achieve great things, which is at the core of the success of the Chinese path to modernization, said Filip Filipovic, 25, from Serbia, who is pursuing his postgraduate studies in international politics at Fudan University in Shanghai.
While serious corruption plagues control of capital in Western countries, in China, capital is channelled toward sectors that need it the most, said Filipovic, who has lived in Shanghai for 17 years.
"What amazes me the most is the speed of development in China, especially infrastructure expansion," the student said, citing the example of Wujiaochang, a business hub in Shanghai. "The transformation of Wujiaochang is an example of the rapid development in many Chinese cities in recent years."
This year marks the 10th anniversary of President Xi's proposal to build a community with a shared future for mankind. In March 2013, while expounding on China's views on international affairs at the Moscow State Institute of International Relations, Xi had mooted the proposal.
His vision has been included in the CPC Constitution, the Constitution of the country and documents of multilateral mechanisms, such as the United Nations and the Shanghai Cooperation Organization. It has increasingly become an international consensus.
Building a community with a shared future for mankind demonstrates China's political wisdom in enhancing international relations that feature mutual cooperation, fair competition and peaceful development, said Nik Gu, 22, a Russian student at Tsinghua University in Beijing.
Gu said he moved to China with his family in 2005 and has had a pleasant experience living and studying in the country for the past 18 years.
A frequent domestic traveler, the student said he was particularly impressed with the transformation of Datong, a coal mining hub in Shanxi province, which was once listed among China's most polluted cities.
Datong has transformed from a polluted industrial hub to an ideal place to live or visit, he said, recounting his trip to the city in 2021. "The air was clean and the weather pleasant.... It showed the Chinese government is paying attention toward climate change, and is willing to do everything it can to resolve environmental issues."
Habumuremyi Providence, from Rwanda, is pursuing his PhD in civil engineering at Beijing Jiaotong University. The 35-year-old, who has lived in China for more than six years, said he is most impressed by the infrastructure development in Beijing, including the city's subway system, and the network of roads and highways.
"The focus of my research is underground infrastructure, and I can positively say that China is among countries with the most developed subway systems," he said.
In 2015, Providence visited Qingdao, Shandong province, and for the first time saw an undersea tunnel. "I had seen such tunnels in movies, but it was always my dream to see one in person. My trip to Qingdao helped me realize that dream."
Socialism with Chinese characteristics is truly a model for peace and prosperity in the world, said Christian Wagner, 27, from Germany, a postgraduate student in law at Renmin University of China. "While some countries are plagued by unrest, people in China live in unity and harmony."
According to Wagner, China's development is undoubtedly unique. In recent years, absolute poverty has been eliminated in China, anti-corruption drives have been carried out and the rule of law successfully implemented, he said.
In Western countries, progress is undermined solely to maximize profits, but modernization in China ensures prosperity for all, along with steady economic recovery, he added.
Mustafa Umut Ozbek, from Turkiye, a postgraduate student in nuclear engineering and management at Tsinghua University, said he has seen some of the most advanced and safest technologies in nuclear energy development at the university's Institute of Nuclear and New Energy Technology.
China is making concerted efforts to reduce carbon emissions and prevent climate change, which is why it is investing more in nuclear energy and developing the most advanced reactors in the world, he said.