Chinese version of Hamlet to hit stage
Share - WeChat The Chinese version of the most celebrated Shakespearean tragedy Hamlet will premiere on Thursday at the Shanghai Culture Square.
Directed by Xu Jun, the musical will go on a six-month tour across the country after the first round of 10 performances in Shanghai that will run until May 21.
In 2021, Xu had adapted The Orphan of Zhao, a play about sacrifice and revenge written by Ji Junxiang in the 13th century into a musical.
The production, which was accompanied by music by Peter Kam Pui-Tat from Hong Kong and lyrics by Liang Mang, earned critical acclaim and went on tour to dozens of cities in China.
Xu and the same creative team later decided to make an original Chinese musical production of Hamlet.
Xu says this modern version of Hamlet will feature symphonic music and a touch of rock 'n' roll. The modern feel of the production is also reflected in the outfits and stage settings, which he describes as "an abstract style that reminds people of the grand xieyi style of classic Chinese ink painting". Xieyi means to convey an idea in a free form.
Renowned movie costume designer William Chang Suk-Ping, who also worked on The Orphan of Zhao, is the man behind the sartorial creations.
The Chinese lyrics are based on the translation of the play by Liang Shiqiu (1903-87), who was the first person to translate Shakespeare's complete works into Chinese.
In writing the most important number, To be or not to be, Liang Mang says he had to read through as many different Chinese translations as he could find to best determine how each word is placed alongside the music.
Luo Huaizhen, a veteran playwright, says that The Orphan of Zhao is a shining example of how Chinese artists today are capable of creating musicals with international standards while also showcasing Chinese aesthetics and storytelling techniques.
"I believe the upcoming Chinese version of Hamlet will also have a unique Chinese interpretation that retains the essence of the literary classic," says Luo.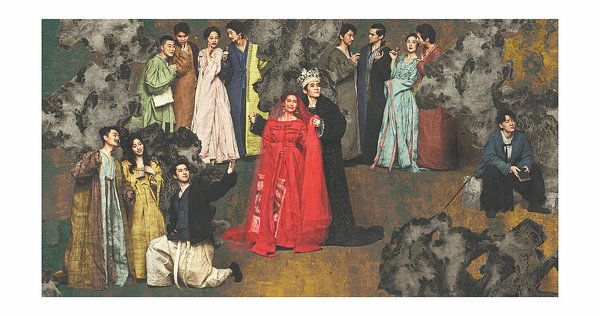 Actor Zheng Qiyuan, who was nominated for a Shanghai Magnolia Stage Performance Award for his role in The Orphan of Zhao, will take on the role of Claudius, while Jin Shengquan will play Hamlet.
"I was invited to have dinner with Xu a few months ago — it was my first meeting with him," said Jin, 29, at the news conference in late April.
"I was surprised when he handed me the script and offered me the role of Hamlet. I feel very lucky and humbled to be able to play a role coveted by all male actors in the world. It is a big production with complicated characters. You have to constantly adjust your voice and use different singing techniques to portray the multiple facets of Hamlet."
Xu says that even though there are already many adaptations of Hamlet for theater, movie and ballet, there is still much potential for musical expression to be explored.
"I want to highlight the dramatic conflict between Hamlet and Claudius. I believe Claudius is a character with hidden depth that needs to be explored. He is a schemer and acts irrationally. When Hamlet pretends to be mad, his pretense convinces everybody but Claudius. There are lots of dramatic tensions between the two," he says.
To Xu, Hamlet is a noble and learned man instead of a flawed persona who is unable to make up his mind.
"He is like a philosopher pondering issues of significance to all human beings. I hope his way of thinking will still resonate with today's young audiences. My version of Hamlet is a person who is proactive and ready to take the initiative."
If you go
Hamlet
7:30 pm, May 11-21.
Shanghai Culture Square, 597 Fuxing Road Middle, Huangpu district, Shanghai.
021-5461-9961.
Most Popular