Beijing's role as peacemaker gains stature
Share - WeChat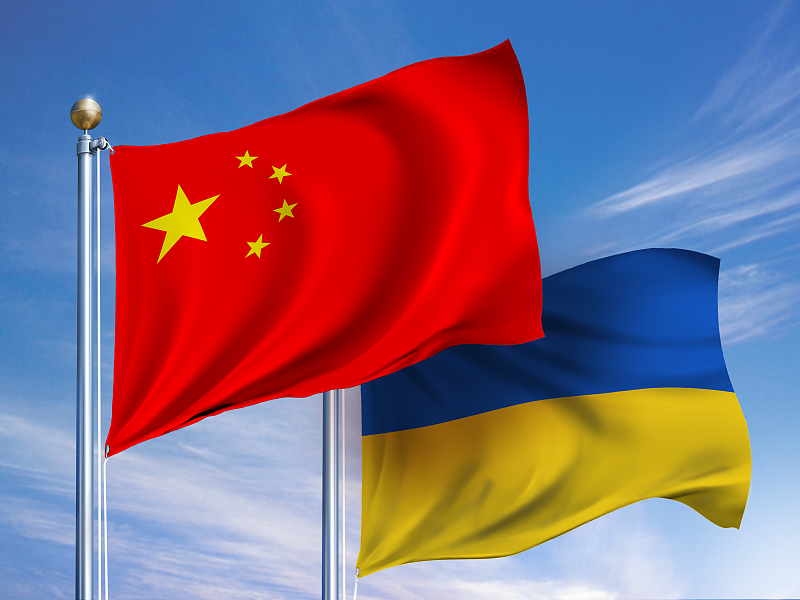 As parties including Kyiv, Moscow, Washington and Brussels responded positively to the China-Ukraine presidents' phone talk held on Wednesday, observers said it is time for all stakeholders in the Ukraine crisis to work toward peace in the spirit of having no time to lose.
Beijing's latest proposal for mediating the conflict in a push for political settlement deserves more coordination from the rest of the international community, not further attempts to escalate tension or to smear or exaggerate China's peacemaker role, they said.
On Wednesday afternoon, President Xi Jinping underlined China's consistent commitment and fresh plans for facilitating peace talks during a phone conversation with Ukrainian President Volodymyr Zelensky.
Beijing confirmed that Li Hui, the Chinese government's special representative on Eurasian affairs, will head to countries including Ukraine for mediation in the near future.
In a tweet and a statement on Wednesday, Zelensky said he had "a long and meaningful phone call" with Xi, and "particular attention was paid to the ways of possible cooperation to establish a just and sustainable peace for Ukraine".
After the phone talk, Russian Foreign Ministry spokeswoman Maria Zakharova said on Wednesday that Moscow has taken notice of "the readiness of the Chinese side to make efforts to establish the negotiation process".
On Thursday, the visiting foreign ministers of the five Central Asian countries spoke highly of the constructive talk, calling it helpful for an early cease-fire and resumption of peace talks.
"All the parties support China's initiative for promoting peace and talks, and they believe that the spirit of international law should be followed and conflicts should be resolved through diplomatic means," said a Foreign Ministry statement about the fourth China-Central Asia Foreign Ministers' Meeting in Xi'an, Shaanxi province.
State Councilor and Foreign Minister Qin Gang said at the event that Beijing is willing to work with various parties, including Central Asian countries, to push the global community to do its utmost to achieve broad consensus in settling the Ukraine crisis.
The two presidents' phone talk is "an important step taken by China with an eye to advancing political settlement of the Ukraine crisis", he said.
"No matter how complex it is, any crisis should eventually be resolved through negotiation, and any conflict should be settled politically," he added.
Sun Zhuangzhi, director of the Institute of Russian, Eastern European and Central Asian Studies at the Chinese Academy of Social Sciences, warned of the danger arising from the fact that over a year has passed since the major escalation of the Ukraine crisis.
"There is imminent danger and risks of the crisis becoming a perpetual and long-term issue, and its spillover effects are accumulating and aggravating," Sun said.
Josep Borrell, the European Union's high representative for foreign affairs and security policy, told journalists on Wednesday in Bogota, Colombia, where he was working to strengthen EU relations with Latin America and the Caribbean, that "it is very important that China talks with Ukraine. I want to remind you that we all want peace".
Su Xiaohui, an associate research fellow at the China Institute of International Studies, said that President Xi's phone talk on Wednesday will help more countries, especially European nations, better understand Beijing's intentions and what kind of role China has played.
"Since the outbreak of the crisis, Washington has been attempting to alienate China and European countries by hyping the possibility of China providing arms to Russia and by depicting China as standing by Russia over the matter," she said.
Through this phone talk, the world will see more clearly who is the real champion and contributor to global peace as well as who is meddling in the situation, she added.
Regarding the phone talk, White House national security spokesman John Kirby told reporters, "We think that's a good thing," adding that peace is "not going to be sustainable or credible unless the Ukrainians and President Zelensky personally (are) invested in it and supportive of it".
Da Wei, a professor and director of the Center for International Security and Strategy at Tsinghua University, said that "the United States and some Western countries have believed that it is unlikely to see a political settlement of the crisis unless one side scores a landslide victory and the other side is totally defeated".
"Yet we believe that this idea is unrealistic, and the process (to make this scenario happen) will also be very cruel," he said.