Shanghai upgrades investment, engineering projects with partners in Singapore, Indonesia
By TOH EE MING in Singapore and LEONARDUS JEGHO in Jakarta | chinadaily.com.cn | Updated: 2023-04-27 18:18




Share - WeChat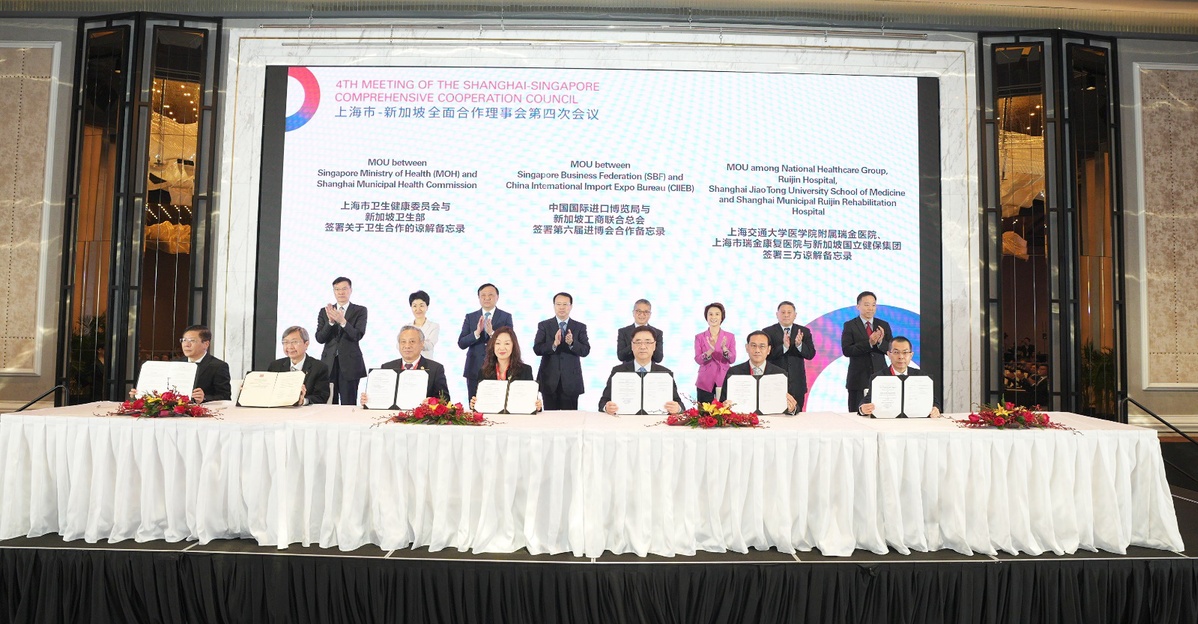 Shanghai and business partners in Singapore and Indonesia have broadened their cooperation and entered into deals for new areas of investment and engineering projects during the visits of Shanghai Mayor Gong Zheng from April 23-25.
In Singapore, Gong, also deputy Party chief of China's largest metropolis, co-chaired the 4th Singapore-Shanghai Comprehensive Cooperation Council (SSCCC) meeting on April 24 with Singapore's Minister for Culture, Community and Youth Edwin Tong. Tong, who is also the second minister for law, was introduced as the new Singapore SSCCC co-chairman.
Singapore's Deputy Prime Minister Lawrence Wong Shyun Tsai and Chinese Ambassador Sun Haiyan were among the participants.
The meeting saw a record 15 agreements signed between Singapore and Shanghai, covering areas such as people-to-people exchanges, financial services, technology and innovation, as well as emerging areas such as the digital economy.
This marked the first physical Provincial Business Council meeting between Singapore and China since the COVID-19 pandemic and the first SSCCC meeting hosted in Singapore.
"Singapore and Shanghai share resilient and progressive ties, underpinned by strong partnerships in financial services, technology and innovation, and expanded collaborations in emerging areas of digital and green economies," said Tong.
"The SSCCC serves as an important catalyst and enabler as we continue to pursue 'high-quality' and 'future-oriented' partnerships between Singapore and Shanghai, following the recent upgrading of Singapore-China relations," he added.
The meeting also noted good progress across six workgroups under the SSCCC over the past year.
Under the workgroup on the Belt and Road Initiative, Enterprise Singapore together with the Singapore Chinese Chamber of Commerce and Industry's Singapore Enterprise Centre (Shanghai) held a month-long Singapore Showcase. They exhibited 38 lifestyle and retail brands at Hongqiao Pinhui in Shanghai to increase awareness and visibility of Singaporean brands.
The Singapore Business Federation also led 50 Singapore companies to exhibit at the 5th China International Import Expo (CIIE) held in Shanghai in November 2022. The CIIE saw 21 agreements signed between Singapore and Chinese companies covering areas such as digitalization, renewable energy and retail.
Under the technology and innovation workgroup, the inaugural Singapore-China YRD Joint Innovation Call program successfully concluded with more than 50 project applications received in areas including digital and green economies, healthcare and urban solutions.
In financial services, Singapore and Shanghai saw strong exchanges. The United Overseas Bank became the first foreign bank to establish a Free Trade Zone sub-branch in Shanghai's Lin-gang Special Area, while Green Link Digital Bank and Bank of China Asset Management officially began operations in Singapore in June and December 2022, respectively. Among others, Guotai Junan Futures launched its Singapore unit this year.
The signed agreements included a memorandum of understanding between Singapore's Infocomm Media Development Authority and the Shanghai Municipal Commission of Economy and Informatization to strengthen cooperation in areas such as digital connectivity, digital utilities, and innovation. Among other deals, Singapore's CrimsonLogic partnered with the Shanghai Data Group to enhance cross-border flow of goods through digitalization.
Singapore Green Construction Development Alliance and Fengxian Development Group signed a deal that will facilitate project collaboration in Shanghai's Fengxian New City.
David Yee, chairman of the Singapore Green Construction Development Alliance, said he was excited about the possibilities.
"China is the world's biggest construction player and we can learn from them in a lot of ways, be it in infrastructure development, technical know-how or going green, such as renewable energy generation. There are a lot of opportunities," he said.
In Jakarta, a project signing ceremony was held at the Shanghai-Jakarta Overseas Investment Symposium on April 26. The projects will lend a big boost to the Belt and Road Initiative cooperation and promote high-quality development, Gong said at the ceremony.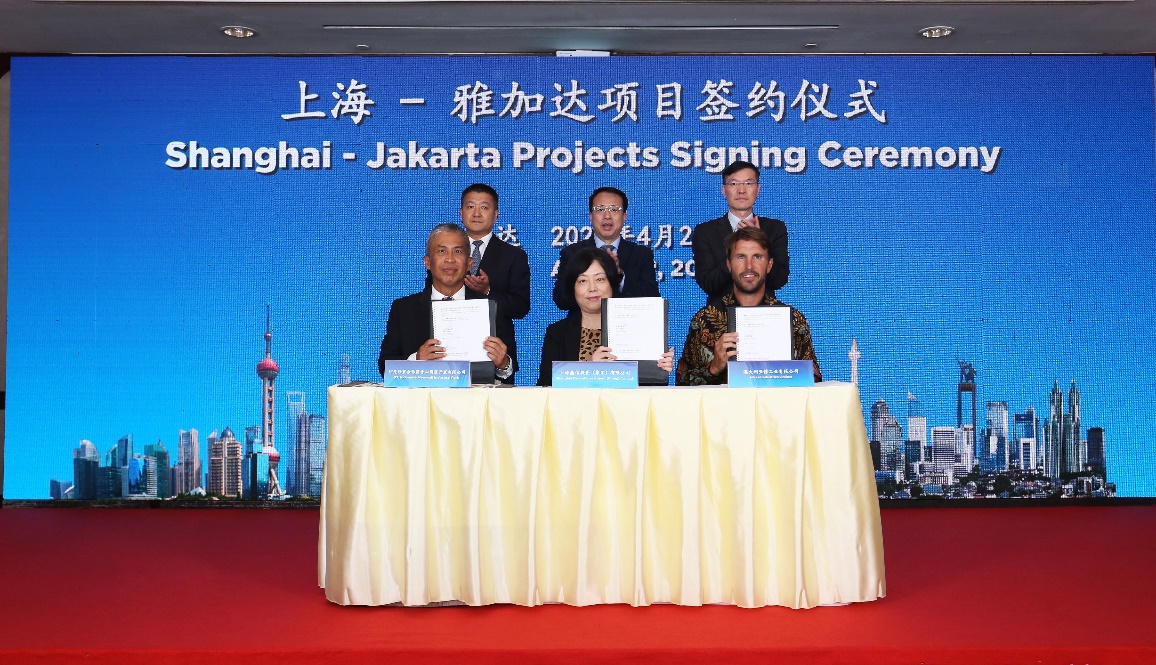 The moves also represent an important step for Shanghai to implement national strategies and participate in international business, said Gong. Chinese Ambassador to Indonesia Lu Kang attended the ceremony.
Six enterprises — Shanghai Decent Investment (Group) Co Ltd, China Triumph International Engineering Co Ltd, Shanghai Electric, Shanghai Electric Power Construction Co Ltd, Shanghai Geoharbour Construction (Group) Co Ltd, and Shanghai Jiale Co Ltd — introduced their investment and engineering projects in Indonesia at the event.
Gong said the companies should bear in mind that high-quality development is the top priority, and they should tap into resources in both the domestic and international markets.
The mayor encouraged all firms to serve the national strategy, promote bilateral cooperation while seeking their own growth, and nurture benchmark projects that can boost the Belt and Road Initiative from their bases in Indonesia.
Taking a project-oriented approach, many companies from Shanghai are actively expanding their presence around the world and seeking win-win cooperation.
Xu Shilong, chairman of Shanghai Geoharbour Group, said he believes his company's technology can help Indonesia's infrastructure development. The group has already completed more than 70 projects in Indonesia since arriving in the country in 2008.
Liu Yu, director of Shanghai Geoharbour Group's Indonesian branch, said soil improvement using vacuum preloading at Kalibaru Port Terminal Phase 1B, which was among those introduced at the ceremony, is among 13 ongoing projects carried out by his company. He said the project is "challenging" because of the soil condition in Kalibaru, North Jakarta.
"We try to provide the best service for Indonesia's infrastructure. We are glad to see that," Liu said.
Other projects signed at the ceremony included a framework agreement between Shanghai Decent Investment (Group) Co Ltd and Nickel Industries Limited on Project Excelsior in PT Indonesia Morowali Industrial park; and an architectural glass project between China Triumph International Engineering Co Ltd and PT KCC Glass Indonesia.
The writers are freelance journalists for China Daily.