Report shows Gen Z major readers of digital books
Share - WeChat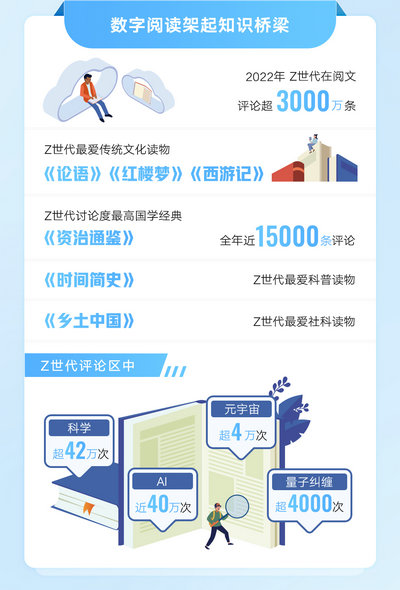 Generation Z, or Gen Z - those born between 1995 and 2000, have become a major reader base for digital books, according to a report recently co-released by Shanghai Library, China Press Publication Radio Film and Television Journal and China Literature Group, one of the leading online literature platforms.
On the platforms of China Literature alone, Gen Z accounted for 66 percent of all new registered readers in 2022, who read 2 billion hours in total and wrote more than 30 million comments.
According to the report, youth literature, literature, psychology, traditional culture and sci-fi are the five categories that Gen Z interact with the most, and the most popular books for each category are Longwang (The Dragon King: Restarting of the World), The Complete Collection of Lu Xun, the Chinese translation of What Life Could Mean to You, The Analects of Confucius and The Three-Body Problem, respectively.
As an age group who pays more attention to self-growth and psychological health, Gen Z readers accounted for 58 percent of the new users reading psychological books on China Literature platforms in 2022.
Digital reading not only satisfies Gen Z with information and knowledge, but also offers space for them to learn from, interact with and communicate with each other, forming important bridges for young people to connect with traditional culture, science and creativity.
In 2022, The Analects of Confucius, Dream of the Red Chamber and Journey to the West were young people's favorite books on traditional culture, and the most discussed book was History as a Mirror with 15,000 comments created by Gen Z readers.
Among the over 30 million comments written by Gen Z on China Literature platforms, a lot of "hot ones" were devoted to science popularization books, with the word "science" appearing over 420,000 times and "AI" nearly 400,000 times.
A Brief History of Time by Stephen Hawking and Peasant Life in China by Fei Hsiao-t'ung have become favorite books of science popularization and social sciences.
Among all the online literature themes, sci-fi has become Gen Z's favorite one. China Literature's statistics found that nearly 70 percent of sci-fi readers are younger than 30 years old.
The favorite time for Gen Z to read is noon and 10pm. Geographically, Guangdong, Jiangsu, Henan, Shandong and Zhejiang are the top 5 provinces where Gen Z reads the most.
Chinese online literature has reached more than 200 countries and regions around the world, and 75.3 percent of the users are Gen Z.
Most Popular