Influencers pool efforts to tell good China story
Share - WeChat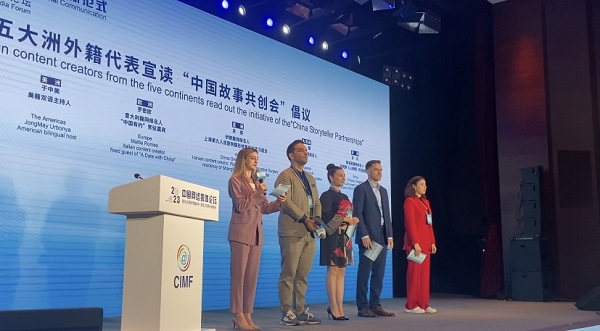 The China Storyteller Partnerships, which will give full play to the role of international influencers, was launched in Nanjing, capital of East China's Jiangsu province, on Friday.
Initiated by the China Daily website, it aims to present a true, multi-dimensional and panoramic view of China by better telling the story of the country.
Seven foreign content creators — also known as influencers — from Asia, Africa, the Americas, Europe and Oceania, joined the launching ceremony.
"We have seen more and more foreign creators use their unique perspectives and creative works to vividly tell what they saw, heard and felt in China on the internet," said Han Lei, the website's editor-in-chief, at the launching ceremony.
"Their short videos, vlogs and livestreaming sessions have become very popular around the world, serving as a window for the world to understand China in the new era, and adding new colors to the telling of Chinese stories."
Joseph Olivier Mendo'o from Cameroon, a PhD candidate in international relations at Peking University, was one of the speakers at the event. As head of the African Youth Delegation in China, Mendo'o has visited 35 villages in various Chinese provinces to participate in field trips and volunteer activities.
"After every village visit, I would share my experiences and lessons learned from Chinese communities with other African youth in China and back home, as well as African media outlets and think tanks, to facilitate their understanding of China," said Mendo'o.
In 2019, Mendo'o co-founded the China Africa Youth Federation to strengthen exchanges between Chinese and African young people.
Dorsa Gholamali Sinaki from Iran, is a medical intern at Shanghai Ninth People's Hospital. She shared that in 2020, when the world was challenged by the COVID-19 pandemic, she joined a China-Iran pandemic prevention mutual aid group.
She led the medical data team to promptly translate China's anti-contagion experiences, diagnoses and treatment plans into Farsi to share with Iranians.
"We want to build the partnerships into a vibrant foreign content creator hub by tapping into the professional advantages of news websites and internet platforms, supporting foreign content creators in creation and distribution, and helping them build personal brands," said Han.
Partners are encouraged to create products using various formats to tell good stories that can resonate with a global audience to promote Chinese-style modernization and exchanges and mutual learning among civilizations, Han added.
The partnerships have experts and influencers from dozens of countries such as the United States, the United Kingdom, Germany, Italy, New Zealand, Russia, Iran, Morocco and Cameroon, on board.