First criticized, green toilet now flush with fans
Share - WeChat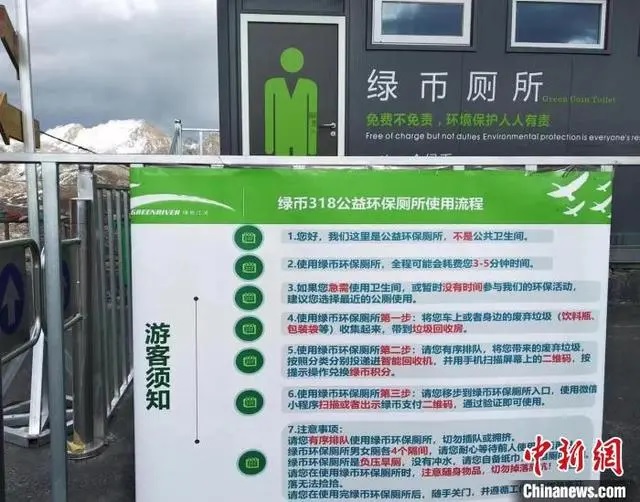 A toilet in Sichuan province has recently gone viral on the Chinese internet.
It began with an online video saying that an empty plastic bottle was needed to use the facility, which made it the target of criticism. Soon, however, a twist emerged and the toilet received a flood of likes for its innovative way of curbing pollution.
"Not everyone on a tour will be carrying a bottle with them," a netizen said in a video uploaded online on April 9. "That's not very people-friendly."
The video turned the toilet, which is located in the Zheduo Mountain in Sichuan's Garze Tibetan autonomous prefecture, into a trending topic on Sina Weibo, a Chinese Twitter-like platform, with some netizens blasting the inconvenience.
In a post made in response to the controversy on Monday, the toilet's operator, Green River, a Sichuan-based NGO, stressed that rather than being a free public facility, the toilet is designed with environmental protection in mind.
Dubbed the Green Coin Toilet, it requires people to deposit an empty bottle or other waste in intelligent vending machine-like boxes to earn a "green coin" that will grant them free access to the facility.
The NGO noted that securing a "green coin" is not mandatory and that if there are too many tourists coming to use the facility, for instance, they can enter without having to exchange waste for a coin.
The toilet is located at one of two green courier stations the NGO launched in cooperation with the local government in November along the Sichuan-Tibet Highway. Aside from using their coins to access the toilets, tourists can also use them to park their vehicles.
The NGO said the two green courier stations were based on experience it had gained from running similar stations along the Qinghai-Tibet Highway over the past 10 years.
According to another post from the NGO on April 3, a survey it carried out in 2002 found that on average, there was a piece of waste every 10 meters along the almost 1,940-kilometer highway that connects Xining, capital of Qinghai, and Lhasa, capital of the Tibet autonomous region. A second survey conducted in 2012 found that there was an average of one piece of waste every meter along the highway.
Hoping to address the waste problem, Green River set up an environmental protection station in Qinghai beside the Tuotuo, the source of the Yangtze River, in 2011. People can exchange waste for daily necessities at the station and all the waste collected is sent to Golmud in Qinghai for disposal on empty trucks on their way back after delivering goods.
In 2017, six green courier stations were set up along the Qinghai-Tibet Highway. Tourists are able to use the toilet and parking lot for free and get hot water in exchange for depositing their waste at a station, or for helping to remove a bag of garbage for disposal, it said. The system has led to 100,000 pieces of waste being disposed of every year.
Yang Xin, head of Green River, said that what makes the two green courier stations along the Sichuan-Tibet Highway different are the intelligent vending machine-like boxes. Tourists have to sort their waste before depositing it, if not, it is not accepted.
Yang stressed that the two new stations follow a "free of charge, but not free of duty" principle and added that everyone has a duty to protect the environment.
Currently, there are volunteers working outside the toilet, but turnstiles will soon be installed, making unmanned operation possible. Tourists will pass through the turnstiles with codes they are given after making a deposit in the intelligent boxes.
The NGO said that based on the experience it gains from the two new stations, it will build more, and train more local residents to manage them.
In addition to addressing the factors hindering garbage collection and recycling, the NGO also said that it hopes to attract tourists with facilities that help promote rural vitalization.
Many netizens have lauded the Green Coin Toilet concept on Sina Weibo since learning how it works.
"The Green Coin Toilet follows a good concept, it's a very forward-thinking idea," one commenter wrote.
"I really feel that it's a good idea. We should strengthen awareness of environmental protection. Tourists probably have bottled water in their cars," another netizen wrote.
"This not only addresses people's difficulties in finding a toilet, but also pollution caused by the litter tourists drop. We should support it," yet another commenter wrote.