New horizon for art
Share - WeChat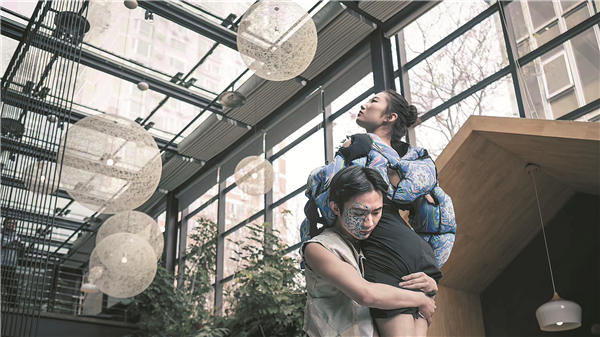 Beijing video festival focuses on emerging directions for creative performers to express themselves in era of increased possibilities, Li Yingxue reports.
Eight dancers delivered an enthralling show that involved the audience, while a camera tracked their moves and displayed real-time footage on a screen. The dancers' interaction with the camera created two distinct viewing experiences for the audience: witnessing the live performance and observing the visuals onscreen.
The recent show introduced the second edition of the Beijing International Dance Video Festival, from April 28 to May 3, and is set to feature seven sections, including offline screenings, workshops and forums.
Under this year's theme, Integrating, the festival will aim to bring together the energy of international art and various industries, and convey the culture of harmony through dance and images.
The festival seeks to find new directions for China's art and performance industries through dance and video. It aims to be a platform for artists, performers and enthusiasts to come together, exchange ideas and push the boundaries of creativity.
Liu Dan, deputy secretary-general of the China Association of Performing Arts, says the performing arts market in the country is experiencing a new phase of development, presenting many possibilities for the future.
"As practitioners in the performing arts industry, we look forward to seeing more rich and diverse works at this year's Beijing International Dance Video Festival," she says.
"Additionally, we hope that through this festival, we can attract more industry insiders and outsiders to participate in and pay attention to the exploration of this new form of art, thus propelling the performing arts industry in China toward a path of high-quality development," Liu says.
The "dance video" segment of the industry started to develop more with the help of new media during the COVID-19 pandemic when many dancers could not perform live.
"The festival will become a platform for young performers to explore more possibilities," Zhang Ligang, vice-president of the organizing committee of the festival, says.
Liu Chun, associate researcher at the dance research institute of the Chinese National Academy of Arts, says dance videos in China have a history of over 20 years.
"It's a young art form, which has been exploring its own path," he says. "The birth of a platform like the Beijing International Dance Video Festival is an excellent opportunity for young creators to present themselves in the still-niche field."
Actress Sarna, from the Inner Mongolia autonomous region, vice-president of the organizing committee, says the festival is like "a pair of hands and eyes to explore the field".
"We are looking for good works around the world — they may be masterpieces, pioneering works by young dancers or interdisciplinary works," she says.
Most Popular