Lula's visit promotes strategic cooperation
Share - WeChat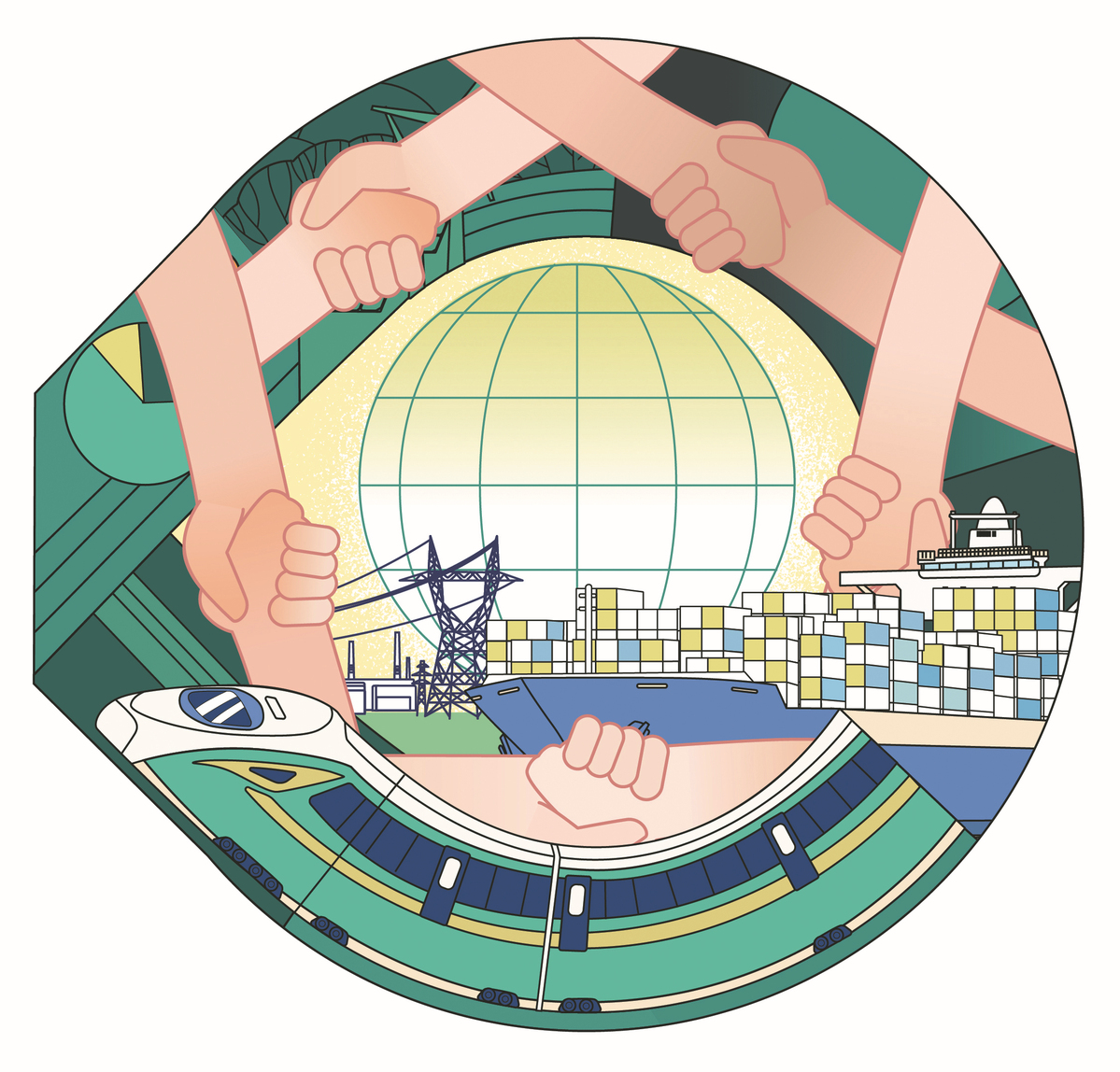 The fact that Brazilian President Luiz Inacio Lula da Silva was accompanied by a very large delegation comprising 39 National Congress members including the foreign minister, finance minister, Federal Senate president, some state governors, dozens of federal — and local-level officials and hundreds of entrepreneurs shows the high value Brazil attaches to its relations with China and the high expectations Lula has from China-Brazil relations.
Lula has come to power at a time when Brazil is in a critical stage of development. Lula's government has to perform the difficult task of accelerating Brazil's economic recovery by, among other things, clearing the growth bottlenecks. Just before his visit to China, Lula announced the new government's development plan, which includes improving transportation infrastructure, urban facilities, and water treatment and supply, promoting the digital economy, strengthening the social service system, transforming the energy structure, and ensuring energy security. To achieve these ambitious goals, Brazil needs strong partners.
The Lula government also needs to actively participate in the reform of the global governance system including the International Monetary Fund and the World Trade Organization, and combat global climate change.
Besides, Brazil sees mediating peace between Russia and Ukraine to resolve the Ukraine crisis as an opportunity to show its peace-oriented diplomacy and diplomatic influence.
China and Brazil are both emerging market economies. Their stances are similar on global issues, and they have reached a consensus on promoting global peace and development. In terms of their common goal of modernization, the two sides have similar development demands. Brazil is the first country in Latin America to establish a strategic partnership and upgrade it to a comprehensive strategic partnership with China, and China has been Brazil's largest trading partner for the past 14 consecutive years.
The huge economic complementarity, development potential, and the strong desire for cooperation between the two sides have laid a solid foundation for China-Brazil cooperation which, in fact, helped make Lula's visit highly fruitful.
First, China and Brazil have restored strategic cooperation and deepened political mutual trust. Over the past few years, due to the provocation of the United States, the influence of extreme right-wing forces in Brazil, and the impacts of the COVID-19 pandemic, the two sides lacked enthusiasm for political interaction and strategic cooperation. But by visiting China, Lula has showed that Brazil intends to restore all-round and high-level strategic cooperation with China.
Second, the two sides have resolved to upgrade Sino-Brazilian cooperation. Over the past few years, despite their lack of enthusiasm for political interaction and the impacts of the pandemic, China-Brazil trade has grown, exceeding $100 billion for five consecutive years. Last year, it was estimated to have reached a record high of $171.4 billion, highlighting the strong resilience and huge potential of China-Brazil economic and trade cooperation.
During Lula's visit, the two sides agreed to promote practical cooperation under the Belt and Road Initiative framework, which will give new impetus to China-Brazil ties.
Third, China-Brazil cooperation in high-tech is eyeing new breakthroughs. Since jointly launching the first Earth Resources Satellite in the 1980s, China and Brazil have become a "model of South-South scientific and technological cooperation". And during Lula's visit, the two sides agreed to launch the sixth Earth Resources Satellite, and reached an agreement on chips, new energy and digital economy. They already have close cooperation in biofuel and agricultural technology sectors, as well as climate action and vaccines, and hope to promote scientific and technological cooperation among developing countries.
Fourth, China-Brazil financial cooperation has entered a new era, as the two sides reached a consensus at the end of March to settle bilateral trade in either the Chinese renminbi or the Brazilian real. Prior to this, China had established a renminbi clearing bank in Brazil. This additional trade settlement option will further reduce transaction costs for Chinese and Brazilian companies, make settlement easier and more efficient, and prevent risks caused by the wild fluctuations of the US dollar. This can also serve as an example for developing countries to get rid of their dependence on the US dollar.
Moreover, China has become an important source of investment for Brazil and other Latin American countries. As a matter of fact, Brazil is China's largest investment destination in Latin America and the fourth-largest worldwide. Hence the use of the renminbi in bilateral trade will greatly help Brazil obtain more development financing.
Fifth, the two sides have agreed to help maintain global peace and build a fairer and just global governance system. Also, both governments uphold multilateralism, and have close coordination and cooperation in the United Nations, BRICS, the G20, the China-Community of Latin American and Caribbean States Forum, and other regional and international organizations.
Amid the intensification of the Russia-Ukraine conflict and the US' dirty role in not only keeping the conflict alive but also escalating it, Brazil proposed forming a "peace club" comprising China, India, Indonesia and other big developing countries to, for example, broker a cease-fire between Moscow and Kyiv, oppose unilateral sanctions, champion the UN Charter and ensure that the global supply chains are not disrupted by the conflict. That Brazil's proposition is very close to China's position highlights the high degree of unity between the two countries in terms of maintaining global peace and development.
In short, Lula's visit to China will strengthen bilateral relations, which in turn will deepen political trust, expand economic and trade cooperation, boost cultural exchanges between the two countries, and influence global development.
The author is deputy director of, and a research professor at, the Institute of Latin American Studies, China Institutes of Contemporary International Relations. The views don't necessary reflect those of China Daily.
If you have a specific expertise, or would like to share your thought about our stories, then send us your writings at opinion@chinadaily.com.cn, and comment@chinadaily.com.cn.
Most Viewed in 24 Hours
China Views