Sandstorm blows through northern China
Share - WeChat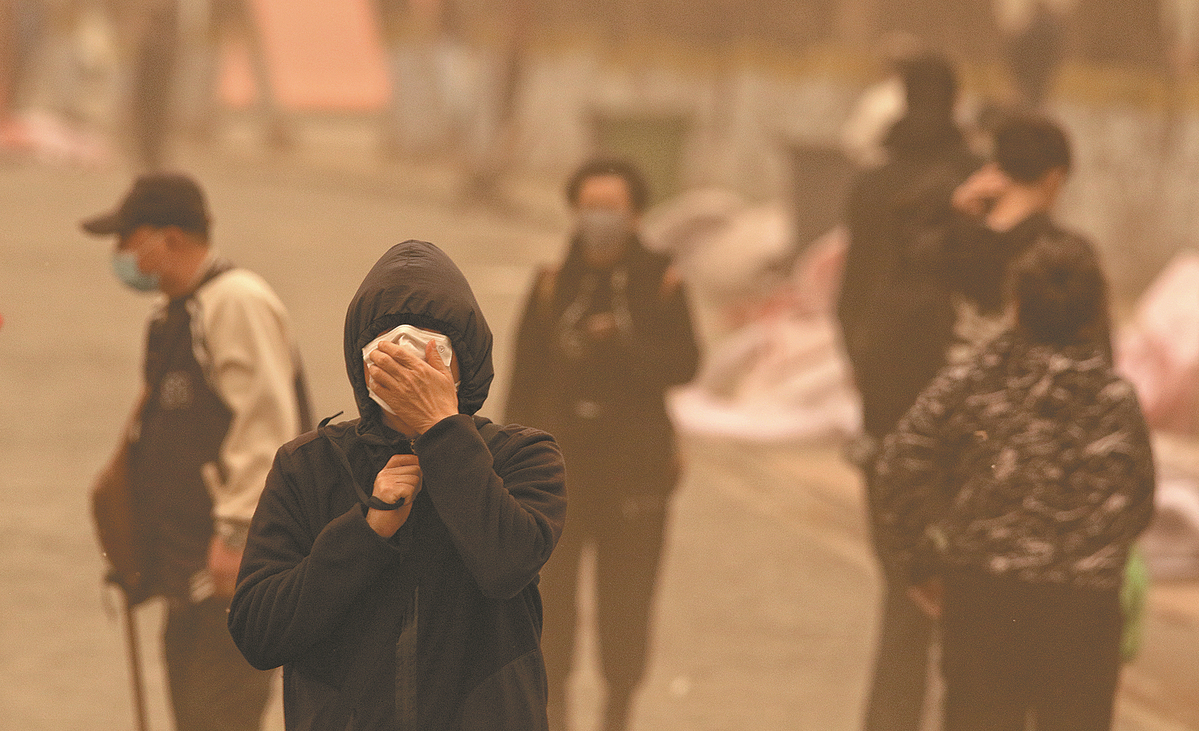 A sandstorm from Mongolia swept through parts of China on Monday, spreading from far north Heilongjiang province to as far south as Shanghai.
Despite blowing through a wide area, the storm was weaker in terms of range and intensity than the last sandstorm in late March — the strongest so far this year — according to the National Meteorological Center.
The bout of dusty weather that affected about a dozen provincial-level regions is forecast to last until Tuesday.
The Inner Mongolia autonomous region bore the brunt of the weather. Other areas affected included the Xinjiang Uygur autonomous region and some northern and western provinces.
The NMC renewed a blue alert for sandstorms nationwide, the lowest in the four-tier weather warning system, on Monday. The alert began on Saturday.
On Monday in Beijing, the minimum visibility was between 1 and 4 kilometers, according to the capital's meteorological service.
The level of PM10 — inhalable particles with diameters of 10 micrometers or less — reached a concentration of more than 200 micrograms per cubic meter on Monday afternoon, according to the Beijing Ecological and Environmental Monitoring Center.
On days when air quality is good, the PM10 level usually remains below 150 micrograms per cubic meter.
The sandstorm will weaken starting from Tuesday, according to the NMC.
Zhang Linna, chief forecaster at Beijing Meteorological Service, told China Youth Daily that strong winds blowing over sand and soil particles in deserts create the conditions for sand and dust storms.
Strong wind transports the sand and dust, so as the wind dwindles the dusty weather will weaken, she was quoted as saying.
Winds blowing over deserts carry the particles up and then transport them east and south, she said.
"The main causes of sandy and dusty weather are the combination of little precipitation, high temperature and windy weather in spring," Zhang said.
It is more likely for dusty weather to occur if vegetation has not yet turned green, which leads to the soil surface being exposed to wind, she added.
Since the beginning of March, China has experienced five rounds of "dusty weather", which is more than in normal years, according to the NMC.
Last spring, northern China had eight rounds of dusty weather. From 2000 to 2021, there were 10.7 rounds of dusty weather annually on average, according to the 2022 China Climate Bulletin.
lihongyang@chinadaily.com.cn