Cultural tourism effort in Dongtou bears fruit
Share - WeChat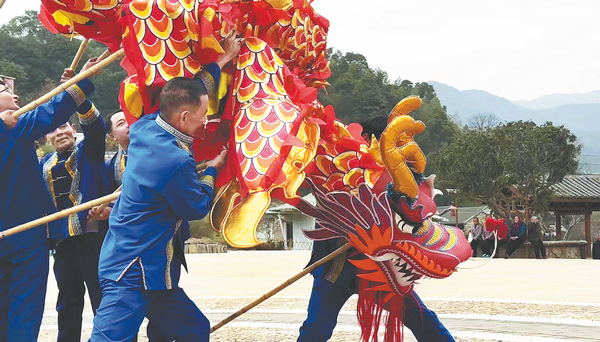 On a recent spring day, villagers dressed in traditional attire of the She ethnic group, danced briskly in a square surrounded by sprawling fields of blooming rapeseed flowers in Dongtou township of Huichang county in Ganzhou city, Jiangxi province.
Two performers created rhythmic patterns by tapping bamboo poles on the ground, as others tried to jump, hop or step between the poles, attempting to avoid stepping on them, while leaping and bouncing in time with the music.
This created a joyous atmosphere, drawing tourists who couldn't resist joining in on the fun and participating in the dance.
Apart from the bamboo dancing, local villagers also showcased the traditional She ethnic group folk art of baizilong (arranging dragons into word patterns), which involves a group of performers who manipulate a long dragon puppet to form various Chinese characters that represent good luck and fortune.
Those activities were part of the sixth folk culture and tourism festival of Huichang county, an event aimed at promoting traditional cultures and local tourism.
During the four-day event, performances of folk arts, a wide array of local delicacies, and exhibitions showcasing traditional handicrafts like bamboo weaving, paper-cutting, and rattan weaving were presented at various scenic spots throughout the county, providing tourists with an enjoyable experience exploring the area's unique heritage.
One of these scenic spots was Dongtou township, inhabited by members of the She ethnic group and situated around 48 kilometers from the downtown area of Huichang.
The township has been leveraging the vibrant She culture as an attraction in recent years.
Yuan Ling was among the tourists who joined the bamboo dancing. In 2003, she volunteered as an English teacher at a school in Dongtou for over a year. She was attracted to come back upon hearing about the program of festive celebrations recently held in the township. "The place used to be remote, backward and dilapidated, but now, it has been transformed," she says.
In addition to the township's natural beauty, including the jaggedly beautiful mountains, towering cliffs, waterfalls, bamboo groves and terraced fields, the neatly paved roads, wooden boardwalks, vintage water wheels, and uniquely designed bridges, as well as the uniformly arranged food stalls, demonstrate the town's remarkable progress in developing its tourism infrastructure.