Ancient festival back in bloom after centuries in the shadows
Share - WeChat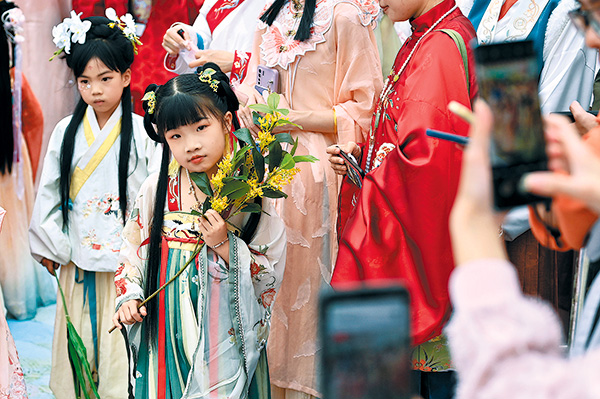 A traditional festival closely related to spring, which had remained silent for centuries, is being resurrected, thanks to growing enthusiasm for traditional Chinese culture and a rising demand for seasonal sightseeing tours.
Huazhao Festival is said to be celebrated as the birthday of the flower goddess in the second month on the Chinese lunar calendar.
Its origin can be traced to the period before the Qin Dynasty (221-206 BC) and was officially set as a festival during the Sui (581-618) and Tang (618-907) dynasties, China Tourism News reported.
During the Tang Dynasty, the festival fell on the 15th day of the second lunar month. It was one of the three nationwide celebrations back then. The other two were Lantern Festival on the 15th day of the first lunar month and Mid-Autumn Festival on the 15th day of eighth lunar month, according to the Beijing-based newspaper.
However, the timing of the festival varies between regions, because of the difference in when flowering begins.
As a result, many parts of the country took turns to launch their celebrations as if presenting a feast for the eyes in relay.
Despite various highlights, the festive celebrations across different regions spontaneously shared the features of hanfu — a traditional Chinese style of clothing — and flora appreciation.
On March 4, the festival was celebrated at the Wuhan Garden Expo Park in Central China's Hubei province, where more than 20,000 residents and tourists spent their springtime enjoying the charms of traditional Chinese culture.
Most Popular