Waste recycling gets another jump-start
Share - WeChat Hong Kong did not mandate or enforce the reduction of single-use plastics in food delivery. The COVID-19 lockdown accelerated e-commerce and takeaway food — adding volumes to throwaway plastic packs. Garbage collection, sorting, and recycling are unsatisfactory. Waste disposal charges are being resurrected in 2023. William Xu reports from Hong Kong.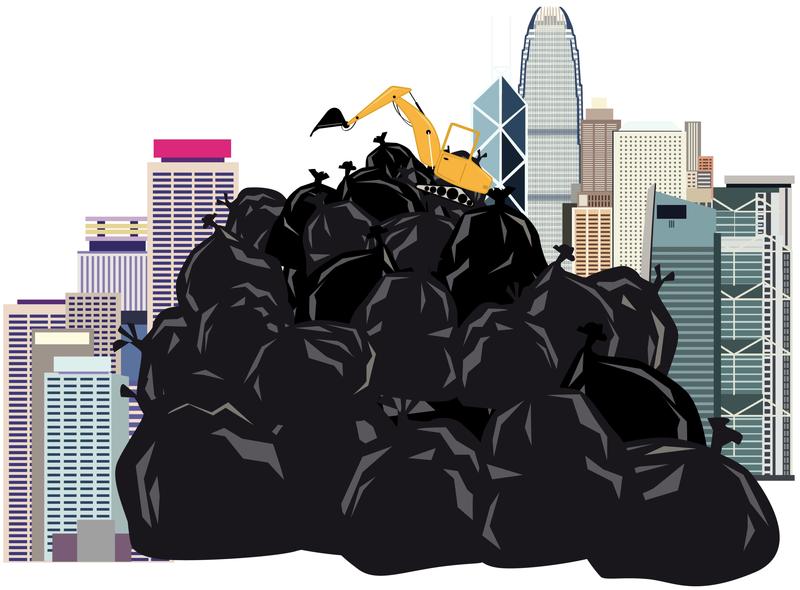 In 2018, the city's environment minister, Wong Kam-sing, lamented that "Asia's World City" was lagging 20 years behind Seoul and Taipei in integrated waste charging, disposal, and recycling. The city's dumping of solid waste in its three large landfills is at the saturation point. There is simply no more land in which to dump solid waste, nor is there any appetite to continue this practice.
Hong Kong failed to meet its goal of reducing municipal solid waste (MSW) in the past decade despite its ambitious 2013 projection of 10 years to cut average daily MSW per capita by 40 percent by the end of 2022, and boost the waste recycling rate to 55 percent over the same period.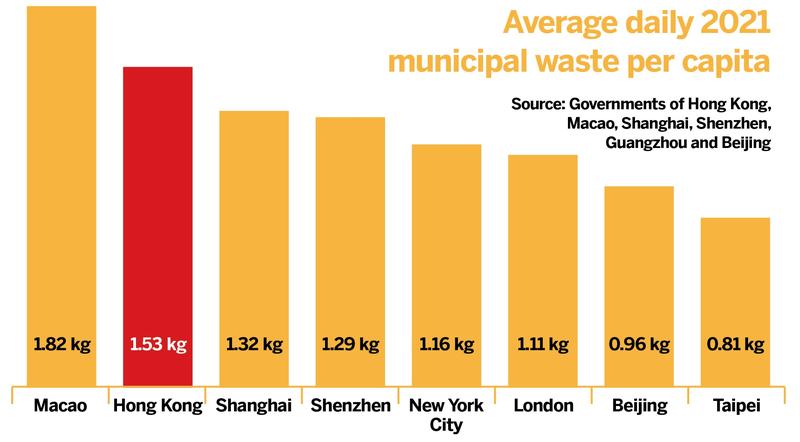 In 2021, the city produced 5.99 million metric tons of MSW, 7.7 percent more than in 2012. Per capita MSW went up to 1.53 kilograms, 17.7 percent higher than the level in 2012. The MSW recycling rate of Hong Kong dropped to 31 percent, falling behind Singapore (55 percent) and Taipei (65 percent).
From 2012 to 2021, disposed plastics and papers had increased by 27.7 percent and 17.3 percent respectively, and the recovered quantities slumped over 60 and 40 percent respectively.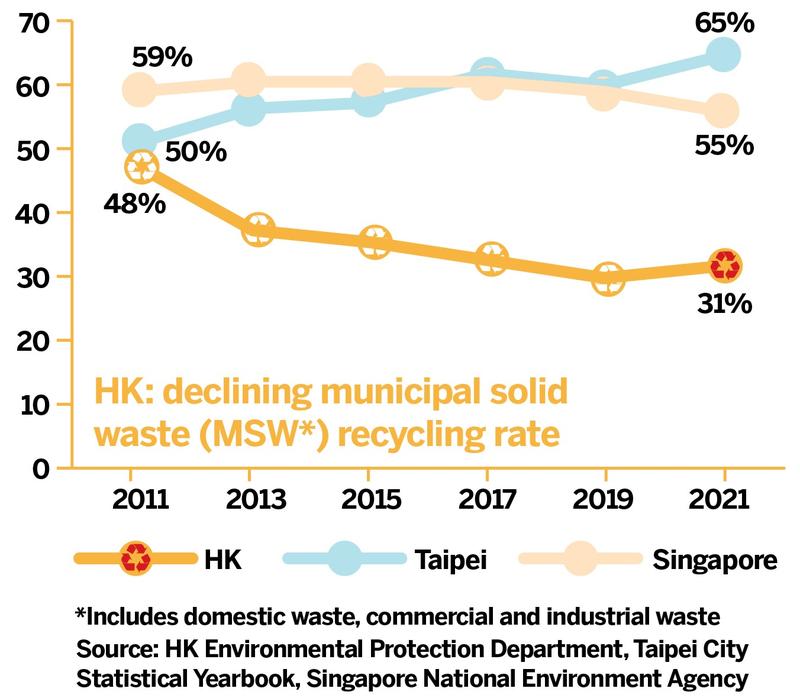 Plastic bag levy
The city implemented a levy of 50 Hong Kong cents (6.4 US cents) on plastic bags in 2009. About 80 percent of the public opted to bring reusable bags rather than pay the fee at retail, according to a government consultation document of 2011. In 2022 the levy was doubled to HK$1 to accelerate the reduction and recycling of municipal solid waste, rather than to increase government revenues. There is a case to consider low-income neighborhoods for free rubbish bags to ensure the larger strategic refuse collection and handling objectives are met.

The target was to dispose 80 percent of rubbish from residential buildings and commercial shops via designated bags of various sizes at about 11 Hong Kong cents per liter. The balance, 20 percent, was to be charged by weight, collected by dedicated trucks.
The logistics of ensuring compliance was difficult across 22,000 waste collection points and 45,000 buildings. The practical alternative was identification of waste "black spots" from public hotlines, smartphones, video surveillance and other reports of noncompliance. A fine of HK$1,500 prevails, to be enforced by officers of the Environmental Protection and the Food and Environmental Hygiene departments.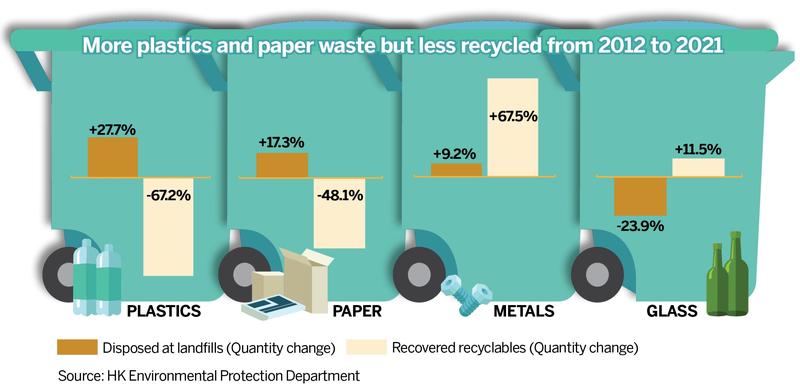 COVID-19 adds more
For decades, most of Hong Kong's waste recycling was exported to the mainland. That was abruptly curtailed when the State Council announced a ban on waste imports from 2017. Since then, the Hong Kong Special Administrative Region has been scrambling with piecemeal solutions and administrative patience.
The 2020 COVID-19 pandemic turned office-worker lifestyles into home lockdowns. Ordering food online, along with single-use plastic foam packaging, exploded in demand and use. The online retail habit and home delivery soared along with food-order convenience.
Local environmental group Green Sense in 2020 examined the packaging of more than 600 items bought from online platforms, finding that each item used an average of 2.18 pieces of packaging, with materials including cardboard boxes, plastic bags, bubble wrap, and tape. The survey also noted that over half the interviewees said their products were overpackaged.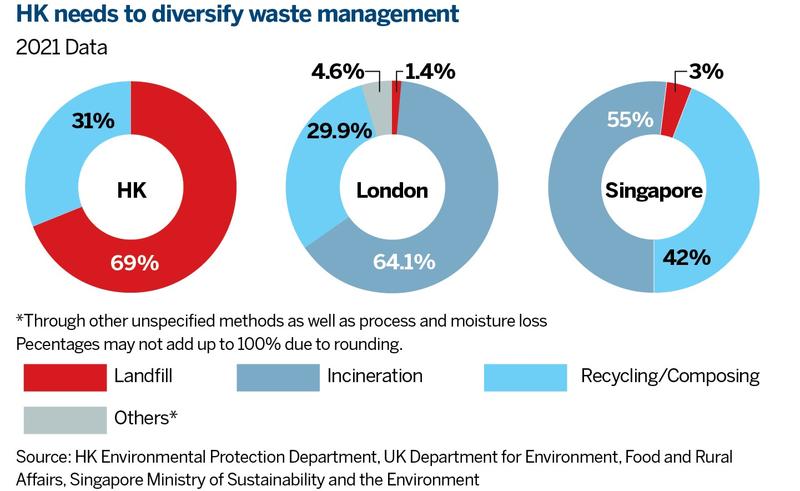 A Green Sense survey a year later found the online shopping items average packaging increased to 2.32 pieces (from 2.18). The group estimated that 780 million pieces of packaging waste related to e-commerce were generated in Hong Kong in 2021 — and that for each local online shopper, an average of 291 pieces are generated annually.
The city closed its last incineration facility in 1997. Jonathan Wong Woon-Chung, head and professor of the Department of Biology at Hong Kong Baptist University, said old-style incinerators produced large amounts of toxic gases like dioxins, and this is an unsustainable approach to handling waste. Hong Kong has to diversify its waste treatment strategy, he added.
New-technology incinerators will return as the Integrated Waste Management Facilities (IWMF), to turn urban waste into heat energy. The first and second phases of IWMF, equipped with pollutant reduction technologies, are expected in 2025 and in the early 2030s respectively, to turn over 7,000 tons of waste per day into electricity.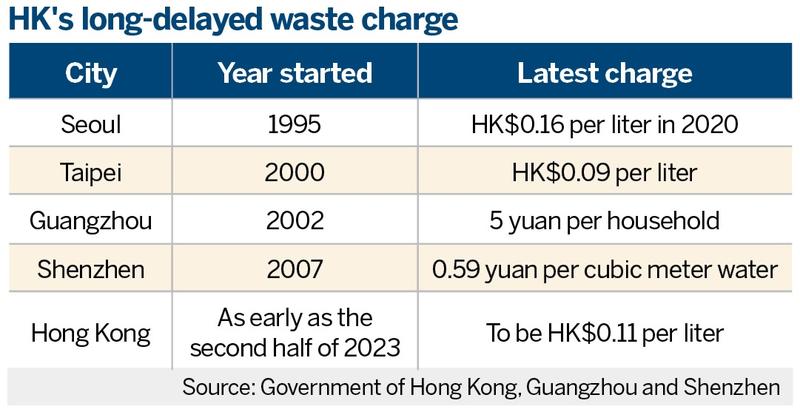 Drinks carton recycling
Mil Mill is a local factory that collects used beverage cartons and other kinds of paper for recycling. Founded in 2019, the factory can process up to 50 tons of paper cartons per day, said Nigel Lo Chi-chung, Mil Mill's co-founder and operation director.
Mil Mill sorts and converts paper waste into pulp for recycling into cartons, tissue and other byproducts. It also exports the pulp for recyclers abroad. But the recycling industry locally needs affordable industrial land, which is a struggle in Hong Kong.
Mil Mill's land lease expires in June, and the company is searching for alternate sites to continue. Meanwhile, the new large-scale pulping facility at EcoPark in Tuen Mun isn't expected to commence until 2025.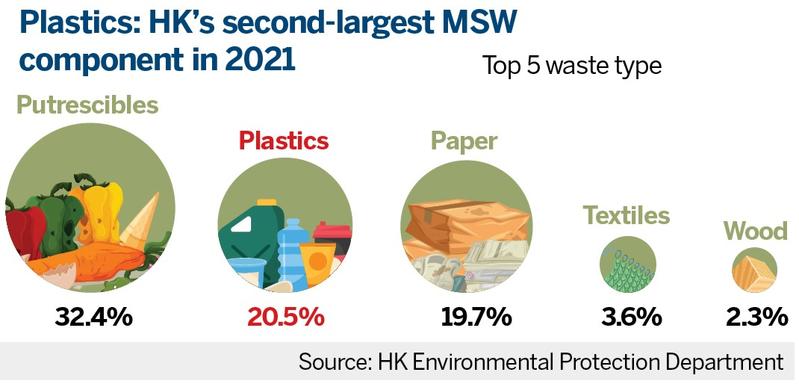 In February, the Environmental Protection Department (EPD) called open tenders for processing and recycling all the beverage cartons collected by the Green@Community operating-community recycling network from July. The tender seemed timed to bridge the gap from July 2023 to 2025. The EPD had announced in September that the EcoPark recycling facility would process all drinks cartons collected locally, estimated in 2022 at 67 tons of beverage cartons a day. The window seems unrealistic despite everyone's good intentions. Jonathan Wong expressed confidence that the new targets set in the Waste Blueprint for Hong Kong 2035 could be achieved. New Life Plastics focuses on plasti cs recycling, opening its first factory in Tuen Mun's EcoPark in December. The facility is a joint project of two local recyclers and Swire Coca-Cola — the franchised manufacturer in Hong Kong.
New Life Plastic's 6,500-square-meter recycling facility can process 400 tons of discarded beverage bottles per month now. Its long-term goal is to handle 900 tons of bottles monthly and turn them into raw materials to produce new beverage containers.
In 2017, companies from the catering, retail, and beverage industries, along with scholars and nongovernmental organizations, founded Drink Without Waste to cut the volume of single-use beverage packages.
In October 2022, the initiative launched a pilot recycling program in Tin Shui Wai to reward cleaners and residents 5 cents for each plastic bottle they turn in. So far, the program has successfully recovered over 646,000 plastic bottles.
In addition to providing recycling guidelines to educate consumers, Green Sense has been working with retailers to cut unnecessary packaging and adopt recycled cardboard boxes. They also want to place recycling bins at shops to collect discarded packages.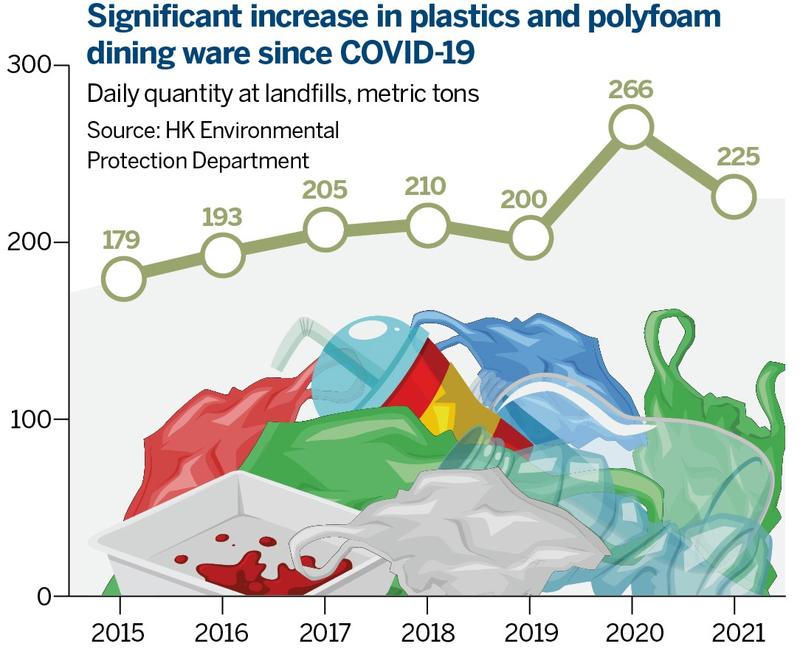 No will to enforce
Hong Kong proposed a waste charge plan in 2005 that was stillborn. Jonathan Wong said overdependence on waste exports and the lack of administrative will are the main reasons for lack of progress on waste charges in Hong Kong. In 2021, the Hong Kong SAR government declared a relaunch of waste charges for the second half of 2023.
Starting in 2015, the Environmental Protection Department has been working with nonprofit organizations to operate recycling facilities across the city. So far, the program has set up 11 recycling stations, which have collected over 13,500 tons of recyclables.
The government also built the first organic resources recovery center at Siu Ho Wan of Lantau Island, to convert food waste. The WEEE·Park, for processing electrical and electronic waste, and the T·Park, for converting sludge into energy, have been operating since 2017 and 2016. The government plans to ban all dining ware made from plastic foam in 2025, and progressively prohibit all plastic-made cutlery for dine-in and takeaway services.

Learn from others
Taipei's EPD started charging waste collection fees in 2000. Taipei mandated waste sorting and recycling in 2005. The city's proper garbage disposal rate reached 100 percent, while the unrecyclable waste incineration rate reached 99 percent. Its daily waste generation dropped 77 percent in two decades. In South Korea, Seoul quickly drove its recycling industry after implementing a garbage levy by weight in 1995. The capital's waste disposal industry grew from HK$1.7 billion in 2001 to HK$7 billion in 2009. More mainland cities are charging households monthly for waste disposal services.
WHAT'S NEXT
1. Decide policy for the greater good of society and implement.
2. Accelerate waste treatment facilities and incentivize nonprofit organizations.
3. Educate using public broadcasters and other underutilized public facilities.
4. Ban single-use foam and cutlery in-restaurant and for takeout orders.