'Junior Cultural Ambassador' event kicks off
Share - WeChat The China Soong Ching Ling Foundation launched its "Junior Cultural Ambassador" event on Tuesday in Beijing as part of its efforts to foster cultural exchanges between young people from China and other countries.
During the ceremony, Li Bin, president of the foundation, bestowed the "Junior Cultural Ambassador" title upon the winners and announced that the theme for the 2023 event would be "My Dream Cities in China".
Wang Xudong, director of the Palace Museum, said that the event has enabled young people from various nations to express their love for Chinese art and cultures through diverse means such as showcasing their Chinese artistic skills or sharing their stories related to Chinese arts.
The ceremony invited four winners from Hungary, Australia, Benin and Myanmar to share their personal stories on learning about Chinese culture and their experiences exploring China.
Since the event's inception in 2021, the event has been successfully held twice. Regarding last year's event, the China Soong Ching Ling Foundation received entry works from 457 young people from 41 countries, among which 154 were selected for online exhibition and voting. These works attracted over 56.38 million views from media platforms worldwide.
Winners of the "Junior Cultural Ambassador" title from the past two editions of the event have been offered the opportunity to attend cultural study tours in China this week.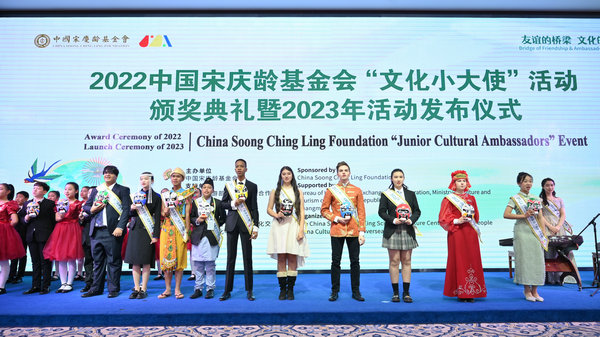 Most Popular