Asia-Pacific urged to safeguard region's security
Share - WeChat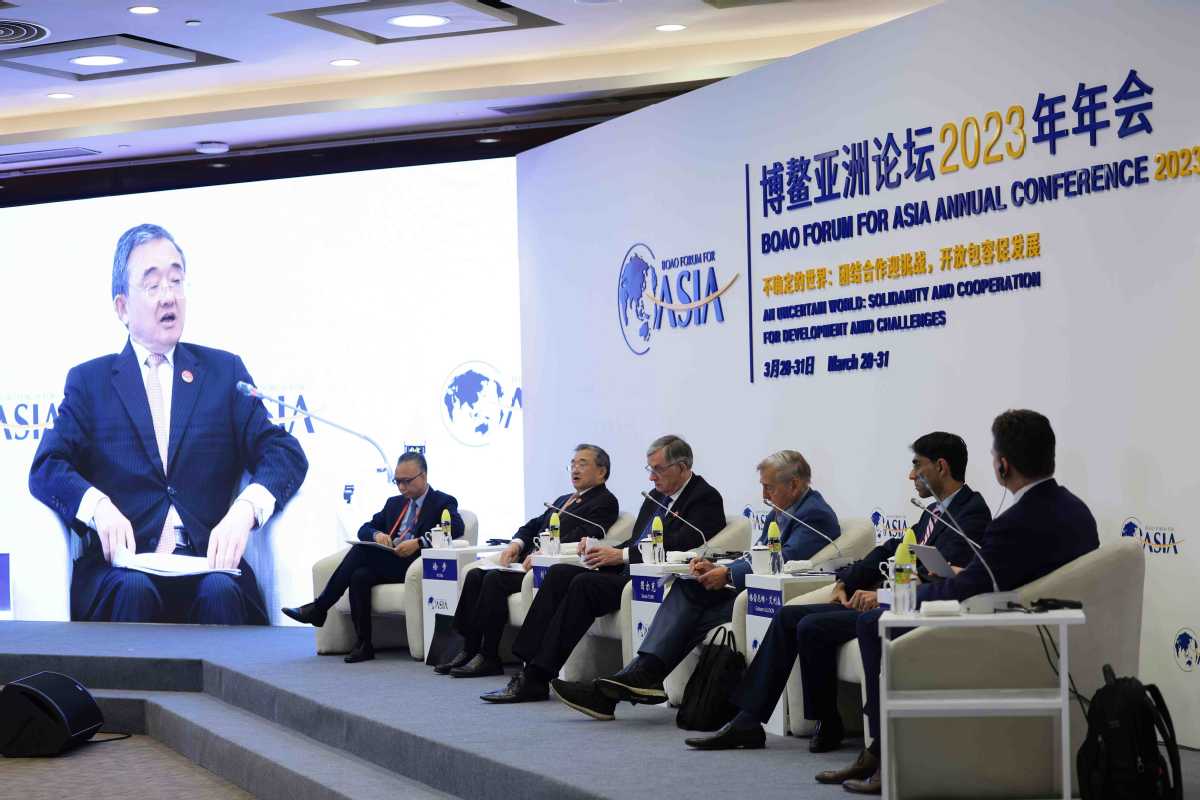 Assistant Foreign Minister Nong Rong has called on Asia-Pacific countries to uphold the China-proposed Global Security Initiative to jointly safeguard security, stability and sustained prosperity in the region.
Nong made the remarks when delivering a keynote speech on Wednesday during a panel discussion on the global geopolitical outlook on the sidelines of the ongoing Boao Forum for Asia Annual Conference 2023 in Boao, Hainan province.
Against the backdrop of a period of great turbulence and changes in the world, Nong said that peace and stability in the Asia-Pacific region face complex and grave challenges arising from geopolitical competition and nontraditional security threats.
The Global Security Initiative, proposed last April by President Xi Jinping at the Boao Forum for Asia annual conference, has made clear the direction and path for countries to work together to uphold regional security and stability and to realize sustained prosperity in the region, Nong said.
He called for building a partnership featuring mutual trust, inclusiveness and win-win cooperation to consolidate the political foundation of Asia-Pacific security and stability.
Any nation attempting to stoke bloc confrontation, build a NATO-like alliance or launch a Cold War in the Asia-Pacific region will stand on the opposite side of regional countries that stay committed to peace and development, he said.
Nong underlined the need to consolidate the foundation of regional stability through promoting common development, and advance the building of a balanced, effective and sustainable security architecture in the region.
Participants at the meeting hailed the significance of the Global Security Initiative amid mounting global geopolitical competition, particularly in the context of the Russia-Ukraine conflict, and commended China's position on the political settlement of the Ukraine crisis.
Liu Zhenmin, former under-secretary-general for economic and social affairs at the United Nations, said that the world is in an era of great division, and is facing the gravest risks since the end of World War II.
Speaking of the Ukraine crisis, which is among the gravest risks, Liu said it is time to consider how to resolve it at an early date. Efforts should be made to achieve a ceasefire first and then explore ways to end the crisis, he said.
The major lesson that should be learned from the crisis is that Europe's current security mechanism is problematic and imbalanced, Liu said. He also expressed his hope that European countries and the UN work jointly to build a new European security framework after the crisis is resolved.
Danilo Turk, Slovenia's former president, praised China's position on the Ukraine crisis, saying that the role and work of China are very important and should not be forgotten.
He said the 12-point proposal that China put forward in its position paper on a political settlement of the Ukraine crisis in February includes a very clear and strong call for respect for humanitarian laws, constituting a conceptual framework for further actions to resolve the crisis.