Annual campaign to dispose of expired medicine begins
Share - WeChat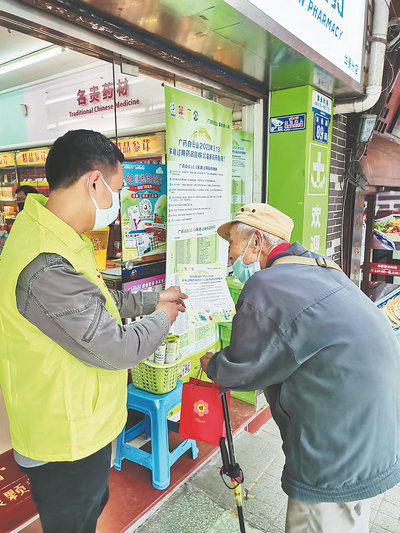 Pharmacist Li Xiaoyan is busy receiving an elderly couple who came specially to dispose of their expired medicines. She carefully registers the information of the drugs and gives the couple a small pack of common household medicines in return.
It's the sixth year since the pharmacy participated in the recycling of expired household medicines, a national public welfare activity started by Guangzhou Pharmaceutical Holdings Ltd in 2004.
From March to April, over 6,000 brick-and-mortar pharmacies in 200 cities across China embark on the annual campaign, recycling expired medicines. Customers can receive common household medicines or daily use items provided by the pharmaceutical company as a reward.
They can also deliver their expired drugs to the company's pharmacy on Alibaba's e-commerce platform Tmall, in exchange for online shopping coupons that can be used in the pharmacy.
For the past 20 years, the corporation has collected more than 1,600 metric tons of expired medicines, which have been properly disposed of. It has expanded to accept expired drugs produced by other pharmaceutical companies and calls on its counterparts to participate.
Through the activity, many customers have gradually realized that throwing expired drugs in the trash bin can not only pose a safety hazard, but also cause environmental pollution.
"Citizens in the neighborhood have raised their awareness. When their household pharmaceuticals are about to expire, they come and inquire as to when the next recycle activity will start," says Li, who's in charge of the pharmacy in Guangzhou, Guangdong province.
She says, often, the expired drugs that their customers deposit are those for treating chronic conditions and medication for common illnesses, such as colds, headaches and fever. When some patients with chronic illnesses change their prescriptions, they have to dispose of the old medicines.
This month, she says, between 50 and 70 people have visited the pharmacy every day, and sometimes had to stand in a line. Many are elderly people, and some are young people who purchase medicine for their parents.
Because of the COVID-19 pandemic, people in general have increased their household medicine reserves, as the demand for medication surged, making the recycling of expired medicines more essential.
The corporation's chairman Li Chuyuan, a deputy to the National People's Congress, wrote in his proposal submitted to this year's two sessions — China's annual top legislative and political advisory meetings — that the recycling of expired household medicines should be legislated and management of such medicines should be strengthened.
"It's important to reduce the amount of expired household medicines from the source and establish a scientific concept for purchasing and using medicines," Li Chuyuan says. He calls on consumers to reasonably prepare medicines, regularly check them, and properly dispose of them.
Huang Haiwen, deputy general manager of a pharmaceutical factory of the corporation, recalls that they initiated the program because many customers built up their medicine reserves during the SARS outbreak in 2003.
At that time, he and his colleagues had to persuade the elderly to believe that the medicine would be disposed of.
"It was part of our corporate social responsibility, and it was also good for our sales of medicines still within their validity period," he says.
According to Jiang Bin, deputy head of the Research Center of Public Policy, Peking University, in a survey done by her research group, 84 percent of the 6,278 subjects said they had a medicine reserve for their family. As for the disposal of expired medicine, only 17.6 percent chose to recycle them.
She suggests it's important to adopt a classification management approach to recycling pharmaceuticals, based on the varying environmental risks posed by different types of medicines.
Most Popular