Tibetans mark anniversary of emancipation of serfs
Share - WeChat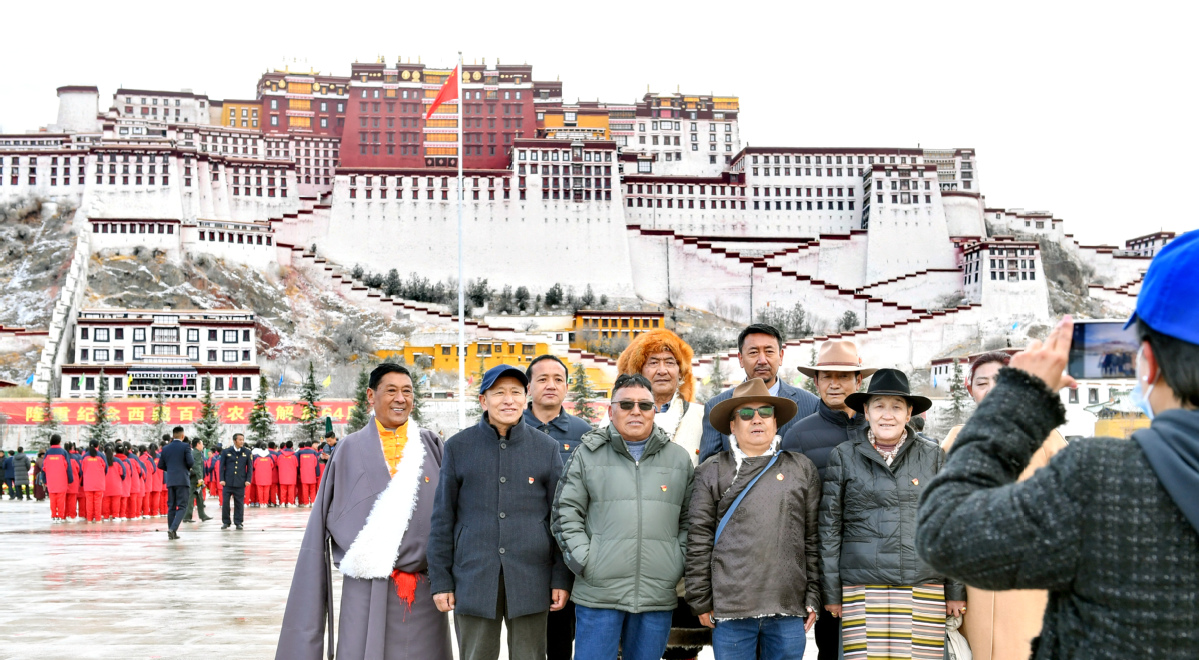 People from all walks of life across the Tibet autonomous region held activities on Tuesday to mark the 64th anniversary of the abolition of feudal serfdom and celebrate the liberation of a million serfs.
Since 2009, March 28 has been celebrated in the region as Serfs' Emancipation Day. The annual commemoration recalls the democratic reforms of 1959 in the Tibet autonomous region that ended feudal serfdom.
A flag-raising ceremony was held at Potala Palace Square and art and cultural performances were conducted in different parts of Lhasa on Tuesday morning to mark the event.
Since the democratic reform, the region has seen dramatic changes under the leadership of the Communist Party of China, with long-term support from other provinces and cities throughout the country.
"It is repeatedly emphasized by President Xi Jinping that history is the best textbook," Yan Jinhai, chairman of the regional government, said in a televised speech on Monday. "On the 15th commemoration day of the 64th anniversary of the liberation of Tibet's million serfs, we solemnly hold activities to remember the history of suffering, appreciate the great new era and draw strength to move forward."
Sixty-four years ago, under the leadership of the CPC, the ethnic people of the region crushed an armed rebellion, carried out democratic reforms and abolished Tibet's feudal theocratic serfdom imposed by a combination of political and religious powers, Yan said, adding people dwelling on the roof of the world but living at the bottom of the world, received a new lease on life, and the plateau ushered in an era of light.
Since the 18th National Congress of the CPC in 2012, President Xi has been directly guiding and planning the layout for Tibet work, hosted two central symposiums on Tibet work, placing stability, development, ecology, and border-area consolidation as priorities of the region's strategic tasks.
"Over the past decade, we have consistently promoted high-quality development, maintained rapid economic growth, and shifted urban and rural areas into a new outlook," said Yan.
"We have continuously increased investment in education, healthcare, culture, housing, employment and social security, eradicating absolute poverty in the region, and all ethnic people in the region are now part of an all-around well-off society," he said.
Trinley, a Tibetan resident and a participant in the flag-raising ceremony at Potala Palace Square, said March 28 is a special day for him and many in Tibet.
"Sixty-four years ago, serfs suffered from hunger, cold and no social rights," said the 82-year-old, adding that under the leadership of the CPC, the people of Tibet have been enjoying a better and happier life over the past decades.
"Villagers now have access to safe running drinking water, and villages are accessed by paved roads, students are exempted from schooling costs, and disabled people get proper help from the government," he added.