CHICCO MAO launches seasonal collection in Beijing
Share - WeChat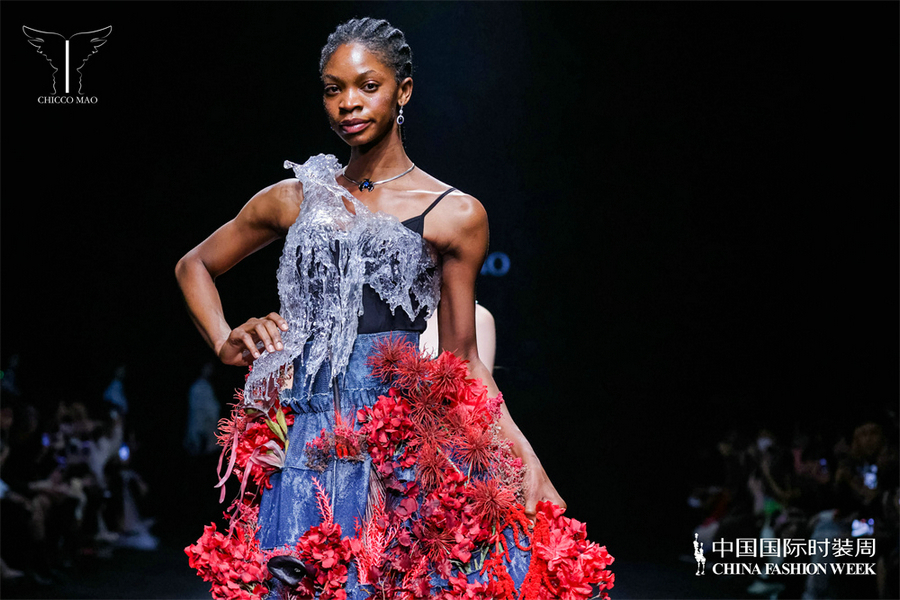 CHICCO MAO, a womenswear fashion brand by prominent millennial designer Mao Baobao, released its 2023 Autumn/Winter collection on Sunday at 751 D Park in Beijing.
Based on the character 淼 or "miao", meaning a wide expanse of water, the series draws inspiration from Shan Hai Jing, or The Classic of Mountains and Seas, a 2,000-year-old collection of mythic geography, animals and folklore. The designer attempts to simulate the mountains and rivers depicted in the ancient classic through use of materials and three-dimensional cutting.
By combining traditional Chinese embroidery, yarn-dyed jacquard and 3D-printing technology, the collection weaves together tradition and future and inspires discussion about the harmonious co-existence of man and nature.
Designer Mao Baobao graduated from Italian fashion academy Istituto Marangoni in 2013 and created CHICCO MAO the same year. He has dressed many A-list actresses such as Zhang Ziyi, Yang Ying, Yang Mi and Sun Li. In 2019, he was recognized as one of China's top 10 designers at China Fashion Week.