Coastal city moves to protect its mangroves
Share - WeChat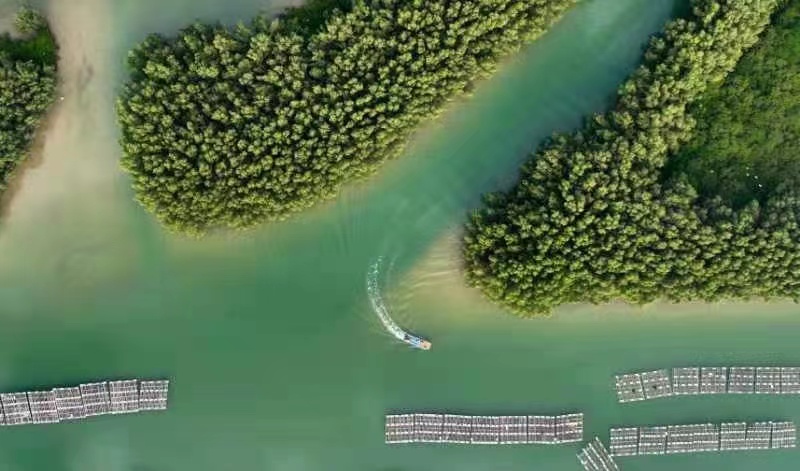 Zhanjiang, a coastal city in western Guangdong province, is moving to protect and develop its mangrove forests and build "a city of mangroves".
To achieve that, a public-interest program called "Carbon Path of Zhanjiang" was recently launched in the city to raise public awareness of the need to protect and expand the city's mangrove forest, which is expected play a bigger role in the city's green development.
Zheng Haoran, head of Zhanjiang's publicity department, said the program is unprecedented, meaningful and beneficial, and it's a practical exploration that enables high-quality development in Zhanjiang.
Meanwhile the city will explore zero-carbon emissions scientifically and comprehensively, with a great effort made to focus on building a world-class green industrial belt and turning Donghai island into an international, green, low-carbon, circular industry demonstration zone.
"Meanwhile Zhanjiang will further promote the green transformation of its key industries, including steel, petrochemicals and paper making," Zheng said.
"We hope, through this program, to sincerely invite forces from all walks of life to explore the path of zero carbon development to help construct a city of mangroves."
Zhanjiang, one of the major production bases in Guangdong, is home to three major industrial concerns — Baosteel Zhanjiang Iron and Steel, BASF Verbund and Zhongke (Guangdong) refinery.
During the launching ceremony, the Zhanjiang Mangrove Wetland Protection Foundation signed an agreement with major companies in Zhanjiang, including Baosteel, BASF, Zhongke and the Tencent Charity Foundation for joint force in the comprehensive protection, restoration, study and research of mangroves and related carbon sinks.
According to Zheng, Zhanjiang's strategy to balance ecology protection and economic development has led to a win-win outcome.
Authorities said that Zhanjiang was able to achieve a surplus of 1.58 million tons of carbon for its emissions quota in 2022, compared with a gap of 780,000 tons in 2021. The city was able to rake in 126 million yuan worth of economic value from carbon quota trading last year, compared with an expenditure of 27 million yuan for the quota in 2021.