Observation provides clues for habitat maintenance and renewal
Share - WeChat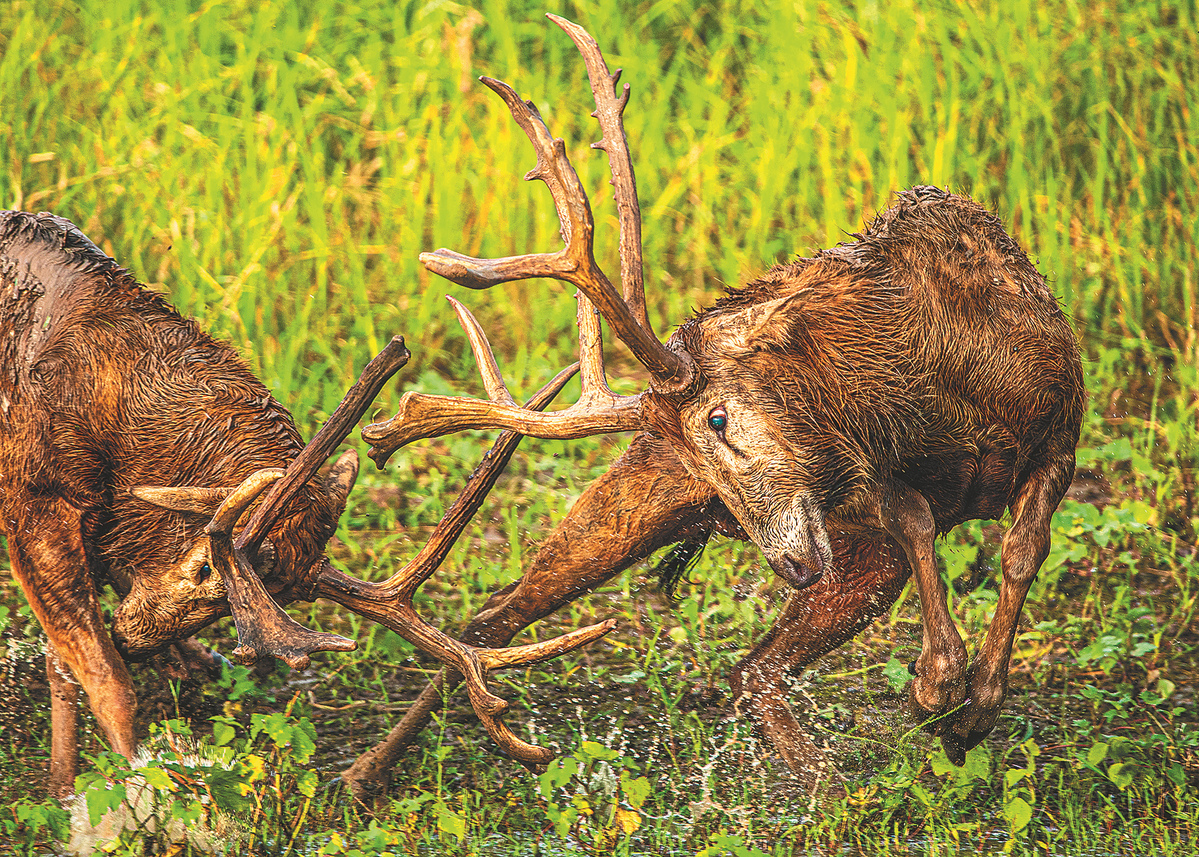 For Zhang Yuming, the most interesting thing about wild animals is that they are very curious about humans, but "most of time they are wary of further interaction, wondering if we are dangerous".
The 45-year-old engineer has been monitoring and caring for milu at the Shishou Milu National Nature Reserve in Hubei province for the past 12 years, and he has developed deep emotional bonds with the rare deer species.
"When a milu sees us, it will run away immediately. But if we don't chase it, it will come back to watch us," he said. However, there is one exception, he added: if a fawn is raised by humans, it will naturally become close to them.
"We raised a wild milu fawn in 2015. It had been born on farmland outside the reserve. Later, when its mother followed the herd to cross a deep, slippery ditch, the fawn could not climb up, so the mother abandoned it. We raised it until it was 5 and then released it to live with the milu herd in the reserve."
Zhang, who is studying for a postgraduate degree in zoology, observes the behavior of the milu across the whole year, noting events such as antler growth, molting and mating. He also studies the population dynamics at the beginning and end of each year.
February is the month during which male milu grow velvet antlers. The antlers fall out during winter, and new ones grow in spring that match the animal's age, he said.
He added that male milu eat for nutrition and also to gain the energy to promote the regrowth of their antlers to give them a better chance of success during the mating season.
Observation of the animal's living habits, activities, routines and environment provides a scientific basis for preserving, restoring and managing their habitats. The use of advanced technologies, such as drones and infrared cameras, has boosted effective and precise study.
"In the past, we recorded the numbers by eye through telescopes and it was hard to get the correct data. Now, using the drone, the aerial images are transferred back and pieced together, which is much more convenient," Zhang said.
The reserve has a video security and sensing system that collects data automatically, and also has a comprehensive supervision platform to provide automatic warnings, intelligent monitoring and analysis, according to the management. However, staff members are still essential in preservation work.
Wang Chuanjun patrols 3 to 5 kilometers of the reserve two or three times a day. In wet weather, the 53-year-old walks, but on sunny days he rides a motorbike. He checks to see if any milu are sick, if the barrier netting is damaged or if any person or domestic animal from outside has tried to enter the reserve.
"When the weather turns cold, the milu tend to rest in places that can provide shelter from the wind," Wang said. He added that the animals are fed with silage, cabbage and carrots in dry or cold years, such as last year, and they only approach the feeding spots when humans are absent.
Wang said it's a big problem if the milu run onto farmland where wheat is being cultivated as food for them but the plants are not mature enough to be eaten. "It's very difficult to drive them out. They run when you run, and stand when you stand, staring at you. Only after you leave will they slowly leave the area as well."
Wang is one of nine patrollers at the reserve. He used to work as a project engineer in Guangdong province, but he returned last year to take better care of his family.
He said that at one point he knew very little about the species, but after close encounters over the past year, he has developed deep feelings for the animals.
During a serious drought last year, Wang and his colleagues found a milu trapped in the mud.
"It kept blinking, as if asking for help," he said. "We tried many ways to rescue it, such as putting stones under its feet, but they all failed. Finally, we pulled it out with an excavator. It cooperated well, and stayed with us for a while after it was released from the mud. Before, we couldn't approach it. Now, it doesn't refuse our touch," Wang said, adding that similar episodes have happened many times.
Over the past 30 years, people living near the reserve have become accustomed to the milu, and as the animals rarely violate farmers' land, they live in harmony with each other, he said.
Zhang said the milu population is low compared with the dense human population, so experts are trying to work out how to alleviate the tension between milu habitats and human land resources.
"As a wildlife protector, I work so following generations will have a chance to see the milu with their own eyes, instead of only seeing them in photos or books," he said.