Finding ways to keep the water flowing
Share - WeChat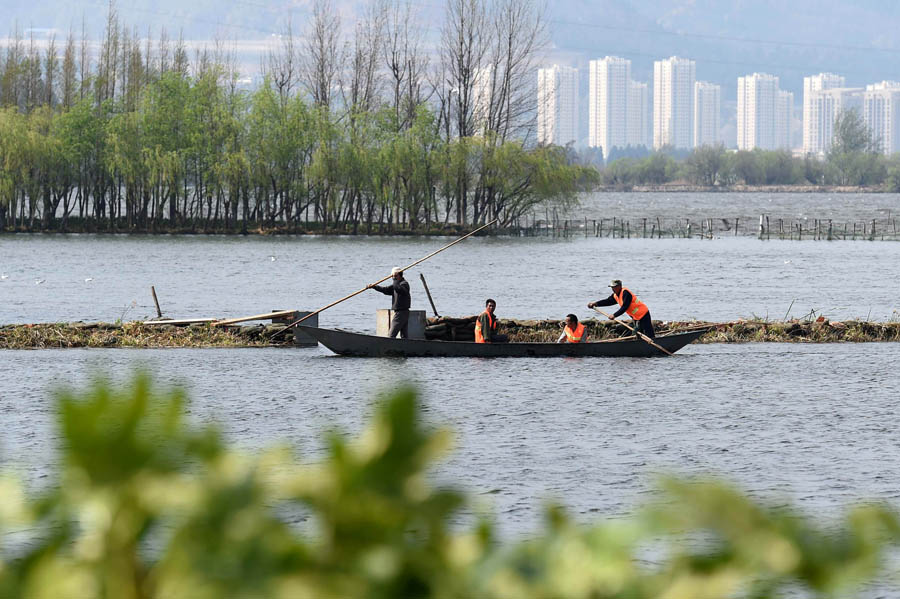 Ahead of World Water Day, minister outlines China's achievements and its plans for the future of water control
Editor's Note: Ahead of the UN 2023 Water Conference, a three-day gathering that will start on Wednesday, World Water Day, Li Guoying, minister of Water Resources, talks about China's endeavors to enhance water management and promote international cooperation in an exclusive interview with China Daily reporter Hou Liqiang. Here are the excerpts:
How would you comment on the achievements China has made in water resource management over the past 10 years?
China has made remarkable achievements in water resource management over the past 10 years.
First, the national capability to conserve water resources and use them efficiently has continued to improve. Despite an average annual economic growth rate of about 6 percent, China's annual water consumption has been maintained below 610 billion cubic meters.
Second, the allocation of water resources has continued to improve. The annual water supply capacity nationwide is in excess of 890 billion cubic meters.
Thirdly, the capacity for the environmental protection and governance of rivers and lakes has improved. We have implemented the River Chief System (a network of leading officials responsible for overseeing the conditions of specific bodies of water), launched the "Mother River" restoration program and controlled the excessive exploitation of groundwater. More and more water bodies and river basins have been rejuvenated. Many rivers that were previously dry for extended periods of time once again flow.
Fourthly, as China strives to provide household water security to rural areas, 87 percent of the rural population now has access to tap water, up 11 percentage points from 2015.
These accomplishments have happened because we pursue a people-centered development philosophy and always see public aspirations for a better life as our goal.
We also follow natural law, prioritize environmental protection and green development and implement new development concepts accurately and completely. We balance the relationship between development and protection, and endeavor to promote harmony between people and water resources.
We follow the rule of law in water governance and reform and innovation, and make a consistent effort to improve water-related laws and regulations, such as the Yangtze River Protection Law.