Author hopes to make his own story
Share - WeChat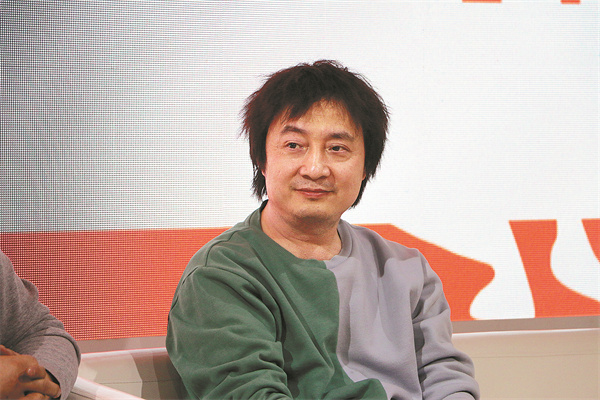 When I arrived at the bookstore where we agreed to meet, writer A Yi was snoozing in an armchair. I remember last time when we also met here, he told me his disease had damaged his lungs, so that walking fast while carrying several books would cause a shortage of breath.
That was nearly two years ago. We were here to talk about his book The Fraud Has Come to the South, a collection of hair-raising short stories published in April 2021, in which A Yi tried to set himself free as a writer, without limiting the length or topics of the stories. He also told me that he was working on his second novel, with much joy and freedom every day.
The novel is Weihunqi (Betrothed Wife), published by the People's Literature Publishing House in December.
As one of the best novelists in China, A Yi is famous for his unique writing style, accurate diction, and rich and often bizarre imagination. At public occasions, or while meeting with friends, he always appears warm, modest, candid and humorous. In contrast, his stories are often grim, full of greedy and ruthless characters, as well as uncontrollable fates. His novella, A Perfect Crime, has been translated into French, English and other languages.
However, after completing his first novel Wake Me Up at 9 AM (2018), he said his experience with the rural areas was exhausted, by which he meant that the countryside in his childhood memories had disappeared due to fast social changes, so that continuing to write about it in a realistic style seemed ridiculous. What is similarly embarrassing for him is that his experience of urban life is not rich enough for him to continue writing Balzacian stories that explore the ailments of society, he said.
For a while, A Yi was struggling about what to write next.
"I used to work in media, and for years wrote in a news style that demands the exclusion of a lot of things, especially personal opinions, in an effort to present the world as it is," the 47-year-old writer says.
"This style later became a frustrating fetter for me. I felt sad and I lost the desire to write," he says.
Subjects about which to write became another problem.
"If I write stories about grassroots people, about their difficult lives, one after another, it becomes impossible, because I can't really empathize with all of them. And I can't pretend that I do in my writing," he says.
Most Popular