Travel sector booming as people eager to enjoy spring
Share - WeChat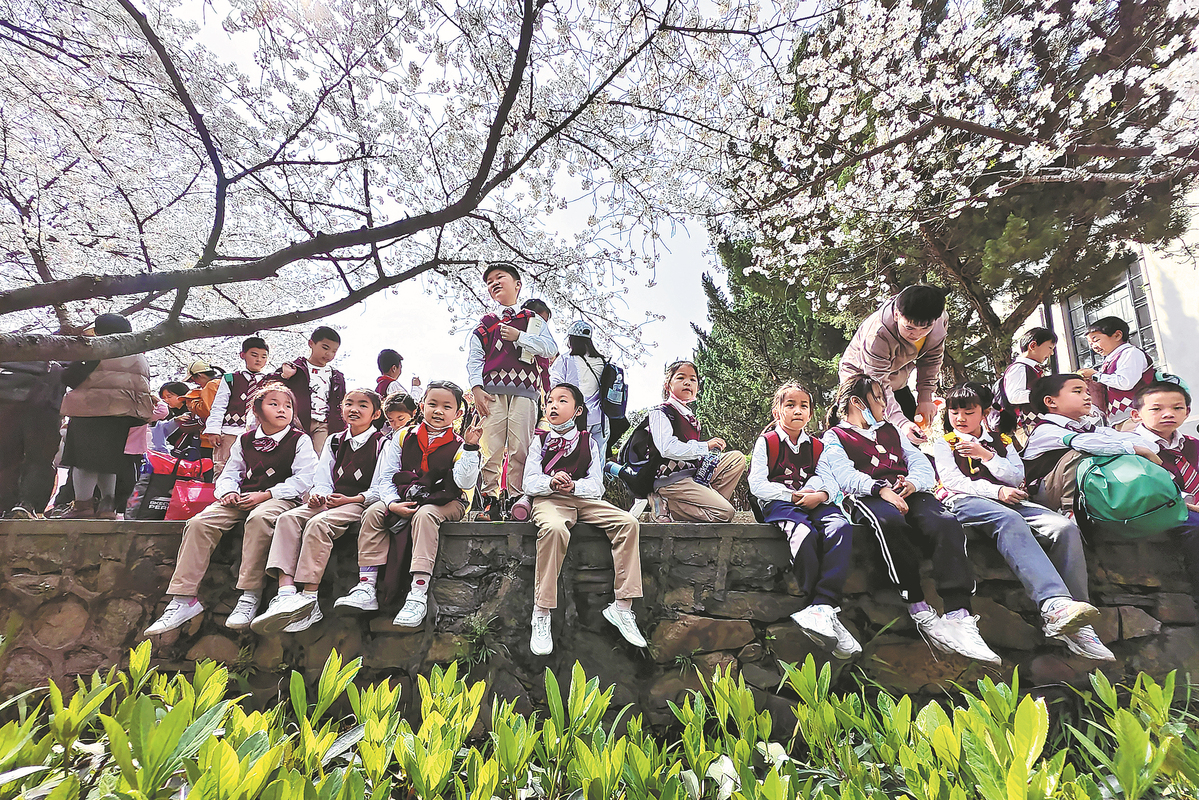 The rising temperatures have not only encouraged flowers to hasten their time to bloom in China, but have also increased people's desire to travel to appreciate the springtime, which has boosted the growth of sales of camping products and long-distance trips, said industry insiders.
For example, travel portal Qunar said that bookings for tour products focusing on flower appreciation in the week from March 6 to 12 rose three times compared with the same period last year.
The popularity of flower appreciation started to emerge last month, with searches related to such activities rising by 180 percent on the platform compared with January, according to Qunar.
Yang Guanghui, who is responsible for the platform's leisure products operation, said that Qunar customers have shown a preference for long-distance trips to appreciate flowers in the post-pandemic era.
She said that so far, the top sellers on Qunar are related trips to the Xinjiang Uygur autonomous region and the Tibet autonomous region, areas famous for their apricot flowers and peach blossoms.
Travel agency Trip.com Group recently released a list of 20 domestic attractions enjoying the highest popularity on the platform because of their breathtaking views, such as Anshun in Guizhou province and Wuyuan in Jiangxi province.
The group said that sales of tickets to those areas had so far registered a threefold increase on the platform this month, compared with the same period in February.
Thanks to the increasing popularity of flower viewing, long-distance cross-provincial tours and camping trips, in which travelers can get an immersive experience, have also witnessed a boom.
According to Trip.com, bookings for domestic camping tour products saw a month-on-month increase of 125 percent so far this year, which is double that of the same period last year.
The group said that camping trips to Guangzhou and Shenzhen, in Guangdong province, Shanghai, and Hangzhou in Zhejiang province are the most popular on its platform, as these areas have higher temperatures and an earlier flowering season.
Figures from services platform Meituan show that as of March, the platform saw the number of camping service providers increase by 70 percent year-on-year.
In addition, camping-related homestays are also witnessing a boom. Homestay operator Tujia said that bookings for camping-related homestays rose by 52 percent so far this year, compared with the same period in 2022, and these bookings are 37 times higher than in 2019.
"Spring is the best season for traveling, with everything in nature coming back to life. My husband plans to drive me to Pinggu district on the last weekend of this month to see the peach flowers there," said Lu Yingying, a 31-year-old from Beijing. The district usually organizes a one-month festival of peach flower appreciation from early April to May.
She said that she had recently browsed online for camping equipment. "We plan to rent an RV and also have the idea of spending one night camping to get the immersive experience of the spring's beauty. But we still have much work to do, and I hope that my husband can master the skills of pitching a tent before our trip."