Russia shows 'goodwill' in extending grain deal
Share - WeChat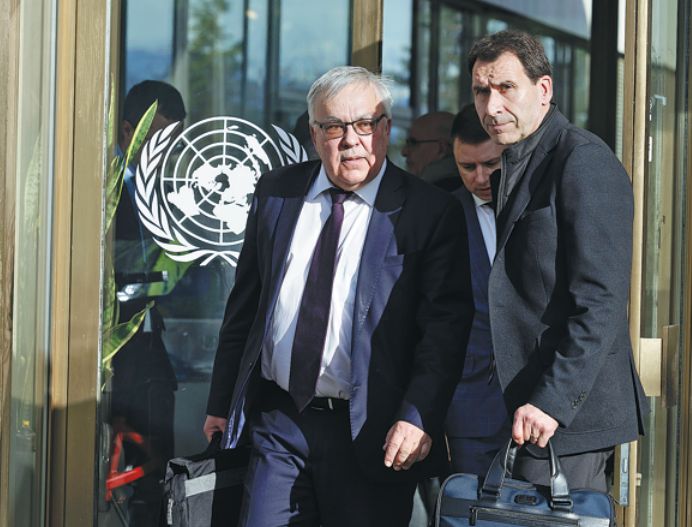 GENEVA — Russia said on Tuesday it had agreed out of "goodwill "to extend the Black Sea deal that facilitates Ukraine's grain exports, but a key part of the agreement was still not being implemented to Moscow's satisfaction.
Kremlin spokesman Dmitry Peskov criticized the West for not doing enough to remove obstacles to Russia's own agricultural and fertilizer exports and said talks over the deal would continue.
Asked why Russia had extended the deal for 60 days, as opposed to the 120-day extension period set out in the agreement, Peskov said Moscow's decision was "a gesture of goodwill … in the hope that after such a long time, the obligations that have been assumed will be fulfilled".
He added: "It is obvious that the second part of the deal, which concerns us, has not yet been fulfilled… The deal cannot stand on (only) one leg."
Russia says Western countries committed to lifting restrictions which hamper Russia's own agricultural and fertilizer exports, but have not met those commitments.
"We appreciate the efforts that have been made by the United Nations, including personally by the Secretary-General," Peskov said on Tuesday.
Western sanctions do not directly target Russia's agricultural sector, but Moscow says measures against Russian insurers, logistics companies, ships and banks act as a de facto block on Russia's exports.
In Washington, the United States has begun an aggressive new push to inflict pain on Russia's economy, and specifically its individuals, with the intent of thwarting the Kremlin's special military operation in Ukraine.
From the Treasury to the Justice Department, US officials will focus on efforts to legally liquidate the property of Russian individuals, expand financial penalties on those who facilitate the evasion of sanctions, and close loopholes in the law that allow them to use shell companies to move through the US financial system.
Economic restrictions
Andrew Adams, who heads the US government's KleptoCapture task force, designed to enforce the economic restrictions imposed on Russia and its billionaires within the US, told The Associated Press that the group is prioritizing its efforts to identify those who help Russians evade sanctions and violate export controls.
More than $58 billion worth of sanctioned Russian assets were blocked or frozen worldwide, according to a report last week from the Treasury Department.
Other attempts to inflict pain on the Russian economy will come from efforts to liquidate yachts and other property owned by Russian individuals, turning them into cash to benefit Ukraine.
Ukrainian President Volodymyr Zelensky has long called for Russian assets to be transferred to Ukraine. Daleep Singh, a former official of US President Joe Biden, told the Senate Banking Committee on Feb 28 that forfeiting Russia's billions in assets held by the US is "something we ought to pursue".
Xinhua - Agencies