Li vows to focus on high-quality growth
Share - WeChat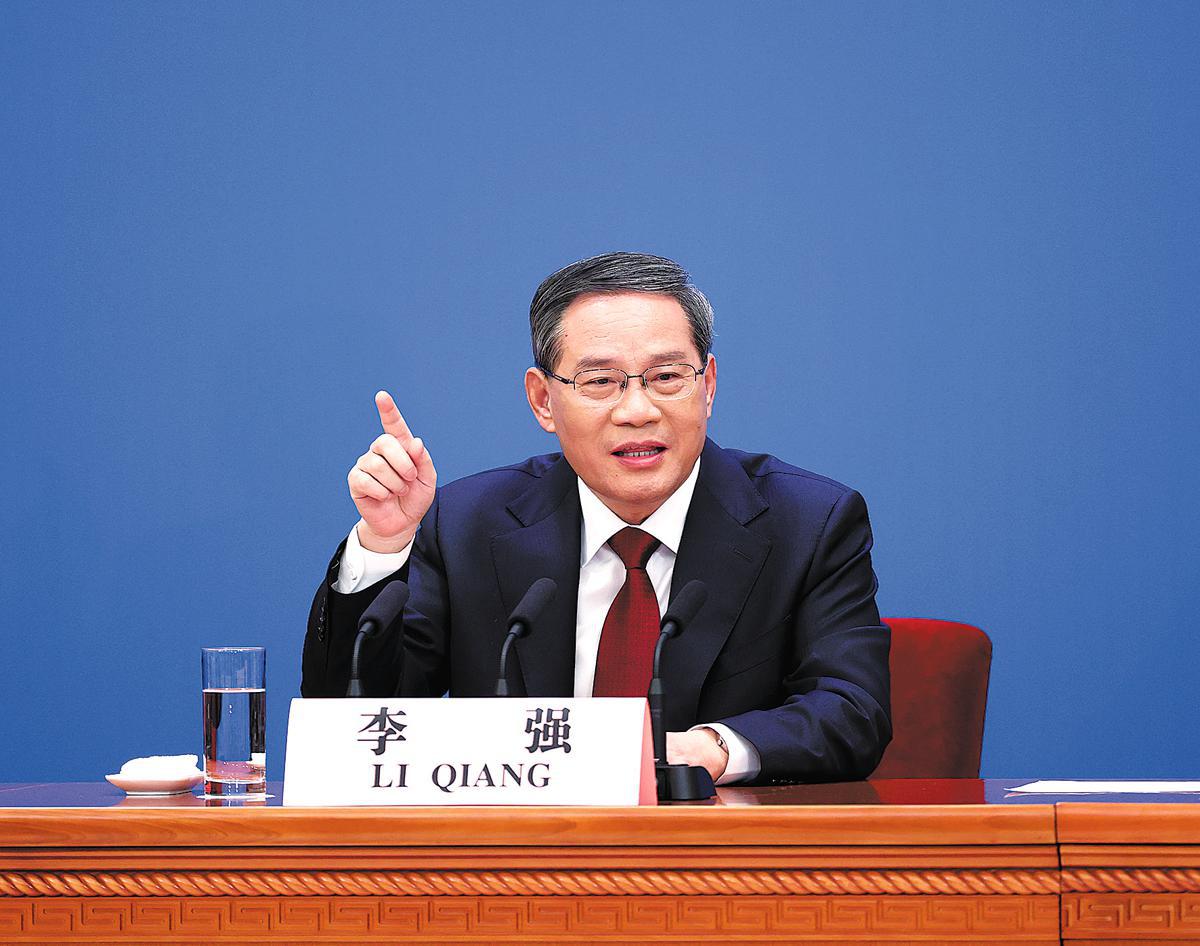 Priorities: Experts warn about risks, challenges
China will focus on improving the quality of its economic growth and people's well-being while intensifying policy support to achieve the annual GDP target of around 5 percent, Premier Li Qiang said on Monday.
At his first news conference as premier, Li outlined the central government's policy objectives and priorities, which underscore its commitment to promoting stable growth, boosting market confidence and better anchoring expectations on the prospects of the world's second-largest economy, analysts said.
While saying that achieving the GDP target will not be an easy task, Li vowed that the central government will intensify its efforts to achieve the goal and continue to push for high-quality growth, especially in terms of housing, income, education and healthcare, which are crucial for people's well-being.
Responding to a question on how to achieve the growth target, he said the government will introduce a number of policy combinations, including measures to expand demand, advance reform, boost technological innovation and defuse risks.
The premier voiced support for private businesses, saying the government will make more efforts to encourage private entrepreneurs to grow and thrive, so that they enjoy a better environment and broader development space.
At the news conference, Li also reiterated China's stance on its opening-up policy, pledging that the country will align with high-standard international economic and trade rules to further expand opening-up this year.
Analysts said the premier's comments indicate that China's policy priority will focus on the stability and quality of development instead of rolling out aggressive stimulus measures to spur a rapid GDP growth rate.
Liu Chunsheng, an associate professor of international trade at the Central University of Finance and Economics in Beijing, said that the premier's remarks underline the government's strong commitment to pursuing economic progress while ensuring stability, which has sent a positive signal to the market and boosted market confidence.
"The premier's remarks showcase the government's firm determination to focus on improving people's well-being and fostering high-quality development, instead of simply pursuing rapid growth," he said.
Liu said that China will strengthen coordination between its fiscal and monetary policies, and focus on driving consumption, preventing and defusing risks in key fields, such as the property sector, and further deepening reforms to boost market vitality.
On Wednesday, China is scheduled to release key economic data for February, which will shed more light on the trajectory of its economic recovery since the country optimized its COVID-19 response measures.
Most economists have revised and raised their projections on the full-year growth rate of the Chinese economy. However, challenges that arise from the cloudy global economic outlook, changes in external demand and risks in the domestic property sector and the financial system need to be closely watched, they said.
David Qu, a senior economist at Bloomberg, said the premier's remarks on Monday emphasized that China's policy priority will focus on ensuring stable growth while addressing structural economic problems that are associated with people's livelihoods, technological innovations, green transition and risk prevention.
"I think the economic data for the first two months is expected to reflect the trend of a steady rebound in China. One of the most important things for China's economic recovery is to restore confidence and to appropriately address problems in the property sector and risks in the local government debt," Qu said.
Luo Zhiheng, chief economist at Yuekai Securities, said the Chinese economy will likely stage a much stronger rebound in the second quarter, after hitting a relatively low point in the first quarter, due to the gradual process of economic recovery and a low comparison base in the previous year.