Easing the housing burden
Share - WeChat The HKSAR government's HK$26.4 billion 'light public housing' program for low-income families has triggered public debate over its cost-effectiveness, with critics saying there are other better methods to improve residents' living conditions. Zhang Tianyuan reports from Hong Kong.
Housing has long been an acute, nagging problem for overcrowded Hong Kong, with the authorities going to great lengths to try to find a way out.
Vowing to take the bull by the horns in his maiden policy address last year, Chief Executive John Lee Ka-chiu rolled out a multibillion-dollar Light Public Housing (LPH) program to build 30,000 temporary homes for low-income families over the next five years and shorten the long wait for public housing in one of the world's least-affordable cities.
But would the program work, and how cost-effective would it be? Officials of the Hong Kong Special Administrative Region government are optimistic, and believe it's a good choice for residents longing for a permanent roof over their heads. However, the move has sparked widespread debate in the city, with many property experts sitting on opposite sides of the fence.
While Hong Kong's home prices plunged 15.6 percent year-on-year in 2022 amid a sluggish economy exacerbated by COVID-19 and soaring interest rates, the SAR remains one of the world's most expensive property markets. The widening gap between supply and demand is the main culprit hamstringing low-income families' struggle for decent apartments.
Hong Kong's skyrocketing home prices have forced many disadvantaged families to crowd themselves into subdivided flats parceled out from apartments that are often less than 150 square feet (13.9 square meters) in area and located in industrial or run-down districts. According to official statistics, the number of households living in such accommodations climbed from 93,900 in 2018 to 107,400 last year. Thus, getting into government rental flats is the best option for the less-privileged in the affluent city.
The SAR government calls the LPH initiative a good choice for families desperately in need of housing as it would ease their financial burdens and shorten the time for them in the waiting list for public flats.
Latest figures of the Hong Kong Housing Authority show that the average waiting time for public housing in the city was 5.5 years at the end of last year. The LPH project is aimed at reducing the time frame to 4.5 years despite the growing number of general applications for public flats, which reached 133,700 by the end of 2022.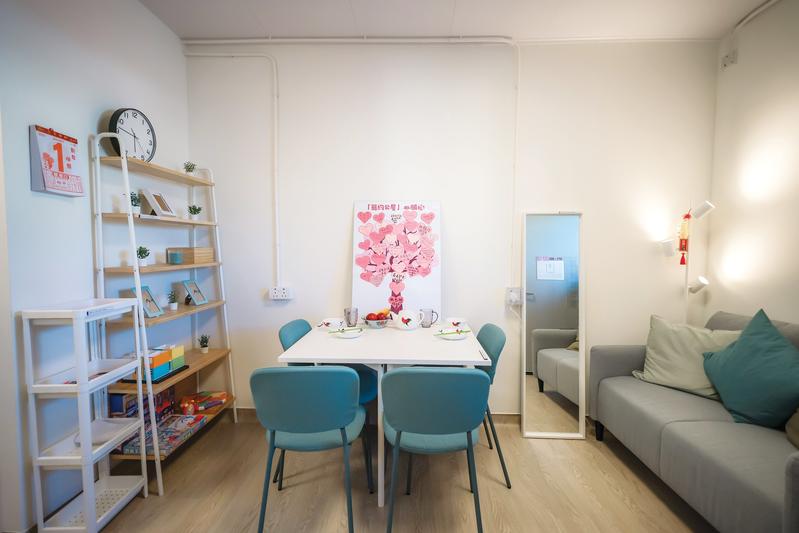 Eight sites have been earmarked to build the LPH units — half of them in the urban areas. With a usable floor area of between 13 and 31 sq m, each unit will cost from HK$530,000 ($67,520) to HK$650,000, depending on the height of the blocks.
The flats, which will take a maximum of five years to complete, have bathroom and kitchen fittings designed to last for five years. The five-year transit arrangement might lead to permanent residence for an occupant, but such a plan has yet to be thrashed out.
With billions of dollars in expenditures to be incurred, Financial Secretary Paul Chan Mo-po has warned of sharply shrinking financial reserves. He has predicted a deficit of HK$140 billion for the 2022-23 financial year — two and a half times the government's initial estimate of HK$56 billion.
An earlier estimated HK$27.4 billion price tag for the short-term "light public housing" project drew brickbats from property experts and moguls for its high construction costs, forcing the authorities to slash it by HK$1 billion.
Secretary for Housing Winnie Ho Wing-yin brushed off the criticisms. "This is a very important social project. That's the value of light public housing — saving people and offering them an option to move out of very, very poor living conditions while still waiting for public rental housing," she said.
Ryan Ip Man-ki, research director and head of land and housing research at Our Hong Kong Foundation, also defended the project as a "sensible measure to cope with the housing shortage predicament". But given its temporary nature and short-term solution to complement the back-loaded public housing supply, "the primary consideration factor should be its construction speed and time of delivery", he said.
"Although additional costs are incurred, the social benefits should not be ignored as well. The 30,000 LPH units would serve as a superior substitute to other inadequate housing options, suppressing rent increases and benefiting the grassroots and low-income groups," Ip said.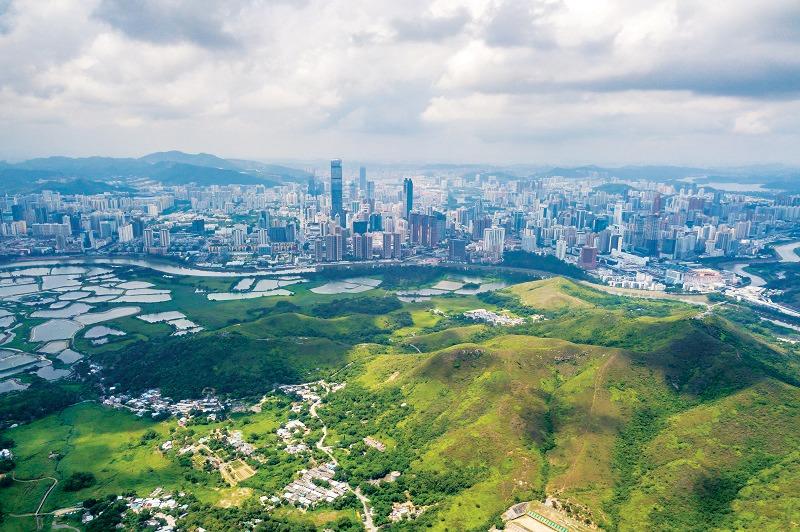 'Legitimize' subdivided flats
Housing analysts and property moguls, however, struck a skeptical tone over the practicality of the initiative, arguing there are more cost-effective methods to improve people's living conditions in a short time.
Shih Wing-ching, who founded Centaline Property Agency — one of Hong Kong's largest property agencies — suggested that subdivided flats should be "legitimized" by readjusting ordinances and regulations to ensure that safety and hygienic standards could be met. He struck a chord with critics of the LPH project by calling for public housing construction to be stepped up to ensure a sufficient supply of low-priced public rental flats that are affordable to low-income families and individuals.
Shih said he believes that issuing temporary business licenses to eligible industrial property owners to allow them to build subdivided flats would be more feasible than a costly LPH program. He said this would not involve using government funds; it would shorten the construction period; and it would turn unbearable living units in dilapidated buildings into livable residences in a comparatively short period.
"Law-abiding property developers would keep themselves away from subdividing flats illegally for profit, but the situation would be different if there's guidance for landlords to divide their property into smaller ones legally," Shih said. "More businesspeople, especially landlords, are expected to take up such a business for lawful profits, increasing the supply of such units while dragging down rental prices without sacrificing safety and hygiene requirements."
Nevertheless, "the biggest challenge for the government in implementing this method is that it's worried about criticisms of being inhumane and lacking accountability," said Shih, who is also a former member of the Hong Kong Housing Authority.
Currently, there are about 50,000 buildings in Hong Kong, of which 9,100 were more than 50 years old in 2021. The number of such aging structures will be almost 14,000 by 2030, said Christine Loh Kung-wai, chief development strategist at The Hong Kong University of Science and Technology's Institute for the Environment. Although not every old building would be retrofitted into subdivided flats to accommodate low-income families, reusing a portion of current housing resources in a cost-efficient way is a promising solution that deserves the authorities' consideration, she said.
"The fundamental approach to resolving the housing problem is to continuously increase land and housing supply," a Housing Bureau spokesman responded. "The HKSAR government has identified sufficient land to provide about 360,000 public housing units that can meet the supply target of public housing units for the next 10 years.
"Given the short time frame for building such a large amount of units (30,000 light public flats), which could immediately improve the living conditions of those residing in inadequate housing, the estimated construction cost is reasonable," the spokesman said.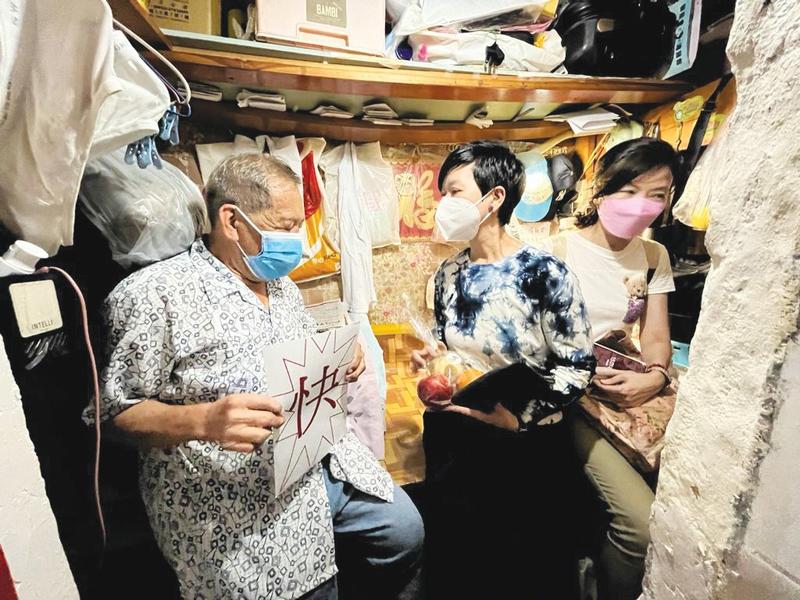 Tame rising prices
Experts are adamant that the urgent problem is how to tame the city's skyrocketing property prices, while the rigid demand from people purchasing homes to live in rather than for investment has not changed, and indeed could even rise.
Ho Lok-sang, director of the Pan Sutong Shanghai-Hong Kong Economic Policy Research Institute at Lingnan University, urged the government to scrap the Special Stamp Duty to cool down prices for first-time homebuyers. The tax, which was introduced in late 2010, deters short-term resales and stands at 5 to 20 percent of the selling price, depending on how quickly the property changes hands.
Ho said that speculators have been virtually driven out of the market a decade after the tax was implemented. But based on Rating and Valuation Department statistics, the stamp duty has "resulted in not only a sharper increase in prices of small flats, but also much sharper growth in rentals for tiny apartments".
In September, per-square-meter rents for a flat of 160 sq m or above on Hong Kong Island, Kowloon, and the New Territories stood at just 93 percent, 82 percent, and 77 percent respectively, compared to those of an apartment with an area of 40 sq m or less.
Ho said the stamp duty has reduced the supply of homes for first-time home buyers, because households living in smaller apartments are unwilling to vacate their units and move to bigger flats. This is because "they fear being locked up for at least three years" due to short-term resale restrictions.
"We are hurting the (economic) dynamics," Ho warned. "Because when people see they are moving up, they will have the incentive to work harder. It's like reducing the size of the middle class."
Shih suggested introducing three different levels of housing prices to tame the frantic residential market. First, public flats with lower-than-market rents should be provided for those who can survive only with government funds. Second, government-subsidized units should be sold to eligible people, such as Hong Kong permanent residents, who are capable of moving up the social ladder and vacating their units. Third, the government should dial back the Buyer's Stamp Duty and open up the private-housing sector to the global market, which could reflect the international market appetite for Hong Kong properties.
Currently, nonlocal residents have to pay a 30 percent stamp duty on home purchases, double that of residents who aren't first-time buyers.
The SAR government is looking for additional land to increase housing supply. The HK$100 billion Northern Metropolis project in the New Territories aims to house 2.5 million people on undeveloped land, while the HK$624 billion Lantau Tomorrow Vision reclamation effort will create about 1,700 hectares of land off Lantau Island as the city's future housing and business center.
Chiu Kam-kuen, Greater China chief executive at Cushman & Wakefield, would like the government to release agricultural land, especially in the New Territories, for residential development.
"The administration should consider applying a standard land premium to farmland across the New Territories, and set up a plan for supporting infrastructure," he said.
The New Territories — the vast swath of rural, low-density land north of Hong Kong Island — is a natural site for development. Before the 1997 handover, the British colonial government had guaranteed public funding and land provision for every indigenous male villager to build one house in the area. The policy was inherited after the SAR returned to the motherland, and it has constricted the supply of developable land for nonindigenous residents.
In 2017, then-chief executive Carrie Lam Cheng Yuet-ngor called for a "reasonable resolution to the issue".
Chiu said the government should also pursue proactive rezoning by increasing the residential plot ratio or the maximum building height in new development areas in the New Territories in converting low-efficiency land into high-efficiency land. And by raising the residential land ratio, housing supply could be marked up in a relatively shorter time.