Guterres seeks extension of Black Sea grain deal
Share - WeChat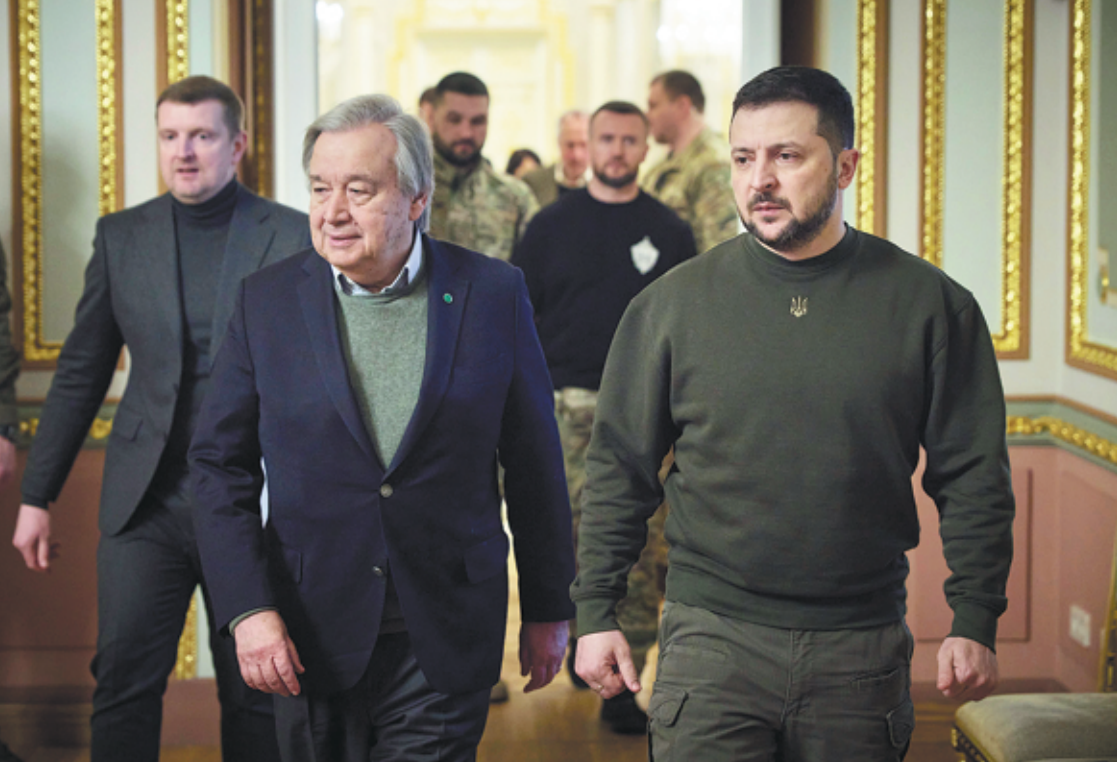 United Nations Secretary-General Antonio Guterres and Ukrainian President Volodymyr Zelensky called on Wednesday for an extension of a deal with Moscow that has allowed Kyiv to export grain through Black Sea ports.
After talks with Guterres in Kyiv, Zelensky said the Black Sea Grain Initiative was "critically necessary "for the world, while the UN chief underlined its importance to global food security and food prices.
The 120-day deal, initially brokered by the UN and Turkiye in July and extended in November, will be renewed on March 18 if no party objects.
"I want to underscore the critical importance of rolling over the Black Sea Grain Initiative on March 18, and working to create the conditions to enable the greatest possible use of export infrastructure through the Black Sea in line with the objectives of the initiative," Guterres told reporters in Kyiv.
Top UN trade official Rebeca Grynspan, who traveled with Guterres to the Ukrainian capital, will meet senior Russian officials in Geneva next week to discuss extending the deal, a UN spokesperson said.
Russia's demands, however, have not yet been met, said a Turkish diplomatic source, adding that Ankara was "working very hard "to ensure the deal continues.
The Russian Foreign Ministry said last Thursday that the deal was not working, as the West sabotaged Russia-related clauses of the agreements.
The ministry pointed to 262,000 metric tons of fertilizers that Russia planned to donate to the poorest countries, but ended up having them blocked in the ports of Latvia, Lithuania, Estonia and the Netherlands.
US State Department spokesman Ned Price said during a regular news briefing that the US administration supports UN efforts aimed at ensuring deliveries of Russian and Ukrainian grain to international markets.
"The Black Sea Grain Initiative is a vital tool to combat global food insecurity and stabilize food prices," said Price, calling for the initiative to be "extended and expanded".
Fresh airstrikes
Separately, Russia unleashed a new wave of airstrikes across Ukraine on Thursday, killing at least six people and knocking out power at the Russian-controlled Zaporizhzhia nuclear power station.
Ukraine's military said Russia fired 81 missiles and eight drones in attacks mainly targeting energy infrastructure, and that the weapons used included six hypersonic Kinzhal missiles that Ukraine could not intercept.
It also said air defenses knocked out at least 34 missiles and four Shahed suicide drones, but regional officials said five people were killed in the western region of Lviv and one in southeastern Dnipropetrovsk.
In Kyiv, about 15 percent of the capital was without electricity following the strikes, Mayor Vitali Klitschko said earlier on Telegram.
Klitschko said that due to emergency power outages after the missile attack, 40 percent of the capital's residents were without heating.
In Moscow, President Vladimir Putin said Russia is facing direct threats to its security and sovereignty. "We see many examples of bravery and determination, courage and willingness to stand up for the truth, to protect people and the very future of our state," Putin said at a ceremony in the Kremlin to present state awards to women on International Women's Day.
Agencies contributed to this story.
renqi@chinadaily.com.cn